Portugal celebrated a hometown gold medal and there were also wins for Hungary and Denmark on day two of the 2018 ICF Canoe Marathon World Championships in Prado Vila Verde on Friday.
A controversial disqualification in the men's U23 K1 threw that race wide open, while Hungary's Olga Bako and Emese Kohalmi defended their K2 junior world title from 2017, and Denmark's Thorbjorn Rask teamed up with Nikolai Thomsen in the men's junior K2 to win his second gold medal in as many days.
But the most popular winner on the day was Portugal's Sergio Maciel, a previous U23 and junior C1 world championship silver medallist, who broke through for his first gold medal in front of a big local crowd.
Maciel and Hungarians Daniel Laczo and Balazs Adolf cleared out to have the race to themselves, but when the Portuguese put the pressure on in the final lap, the Hungarians were unable to answer.
"I am very proud to have won a gold after two silver medals," Maciel said.
"I have had a very complicated season with my club. I felt nervous this morning before the race, competing at home in front of the fans, but as soon as it started I forget about it."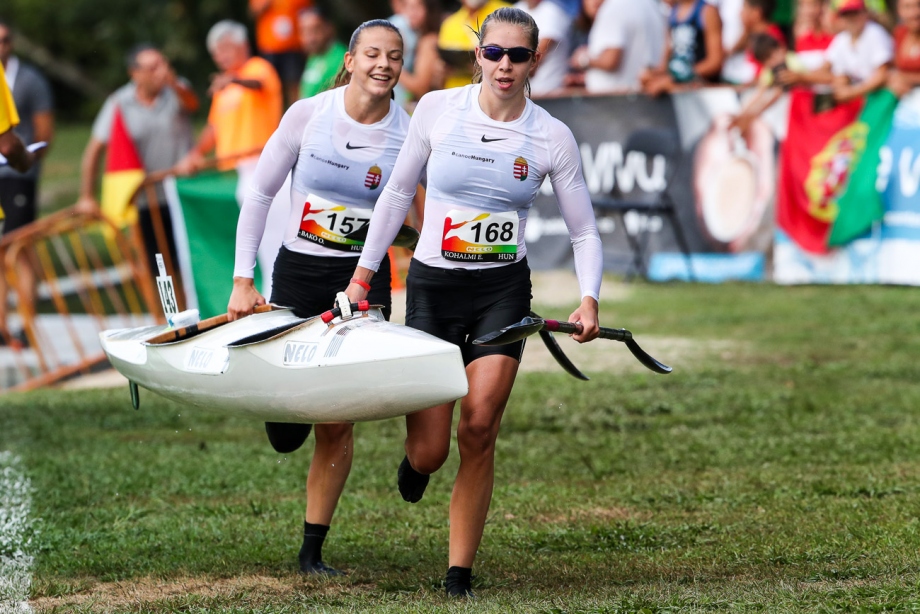 Bako and Kohalmi showed in Pietermaritzburg last year they are a class above the rest of the world junior field, and they were even more impressive on Friday.
For most of the race they paddled alongside fellow Hungarians, Zsoka Csikos and Viktoria Tofalvi, but then broke away on the final lap to finish almost two minutes ahead.
"I think it was easier than last year because we had the second Hungarian team alongside us," Bako said.
"Last year we had to do it alone, and it was long and hard. There was some pressure on us, being defending champions.
"We don't get to train much together, because we both do sprint with other partners. We only had one training session before these championships."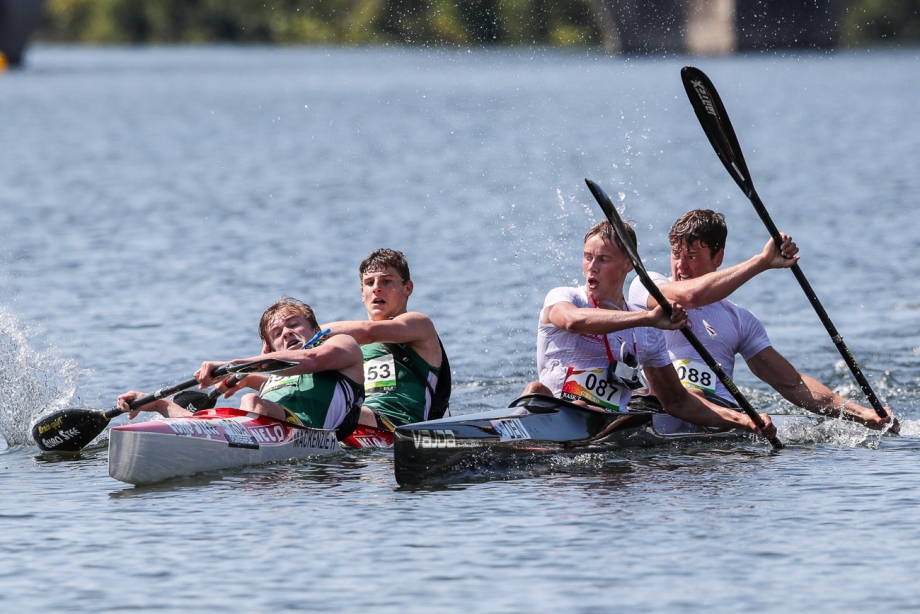 The closest finish of the day came in the men's junior K2, with Denmark's Rask and Thomsen storming to a photo-finish victory over South Africa's Hamish Mackenzie and David Evans.
The South Africans led for all but the final centimetres of the race, but were then relegated to third after incurring a 15-second penalty for a mistake during the race.
Second place went to Spain's Luis Alvarez and Oscar Borrego, but there was no doubting the winners from Denmark.
"When they broke away I thought we wouldn't be able to catch them, and we would have to have the silver medal," Thomsen said.
"Even with 100 metres to go I didn't think we could do it. I thought it was too late, but then my partner said 'go' and we went for it."
Rask said he was shocked to win double gold.
"It's amazing, I had hoped to fight for a gold, so it's amazing to win two gold medals in two days," he said.
Norway's Jon Vold was an impressive winner of the men's U23 K1, but the win did not come without controversy.
Hungary's Mate Gyorgyjkabab was the favourite, and looked to have the race under control until he was involved in a minor collision with a Spanish competitor which resulted in the Spaniard falling in the water.
After a long deliberation by race officials, Gyorgyjkabab was disqualified, clearing the way for a three-way tussle which saw Vold triumph.
"I wasn't aware what had happened, but I saw the Spanish guy had fallen in," Vold said.
"But I didn't know it was the Hungarian's fault. He was looking really strong, so it would have been a hard finish if he had still been in it.
"My plan was to stay on the wash for most of the race and be confident with my finish.
"On the second last portage I felt strong in my legs, so I knew I had a good chance."
Senior competition at the 2018 ICF Canoe Marathon World Championships begins on Saturday.