Several gold medal favourites found the going tough while others underlined why they are the athletes to beat on the opening day of paracanoe competition at the Tokyo Paralympic Games.
Among those to impress in Thursday's rain were Ukraine's reigning KL1 Paralympic gold medalist, Serhii Yemelianov, Great Britain's Charlotte Henshaw, Emma Wiggs and Laura Sugar, Hungary's Peter Pal Kiss, Brazil's Fernando Rufino de Paulo and Germany's Edina Mueller.
Australia's Curtis McGrath was almost disqualified for racing outside his lane before finishing third in his KL2 heat, and then hit the finish line buoy after crossing first in the VL3 heat but will still progress straight to the final.
Ukraine's double world champion Maryna Mazhula was beaten into second in the women's KL1 heat and missed direct qualification into the final, while Brazil's Caio Ribeiro de Carvalho finished fourth in his heat of the men's VL3 and will also race in the semi-final.
McGrath is aiming to become the first paracanoe athlete to win two gold medals at a single Paralympic Games, but had to work hard on the opening day of competition.
"I had a rudder issue in my kayak, which was my fault, maybe it was weed," McGrath said.
"When I warmed up it was fine, but when I raced it wasn't. Thankfully it happened in the heat and not the final.
"This is not like rugby or judo, I don't have to fight anyone or get anyone to make mistakes. I just need to come down my lane and be confident in my ability to do that. So far it's been okay, we'll have another hit out tomorrow and hopefully we'll fix everything up."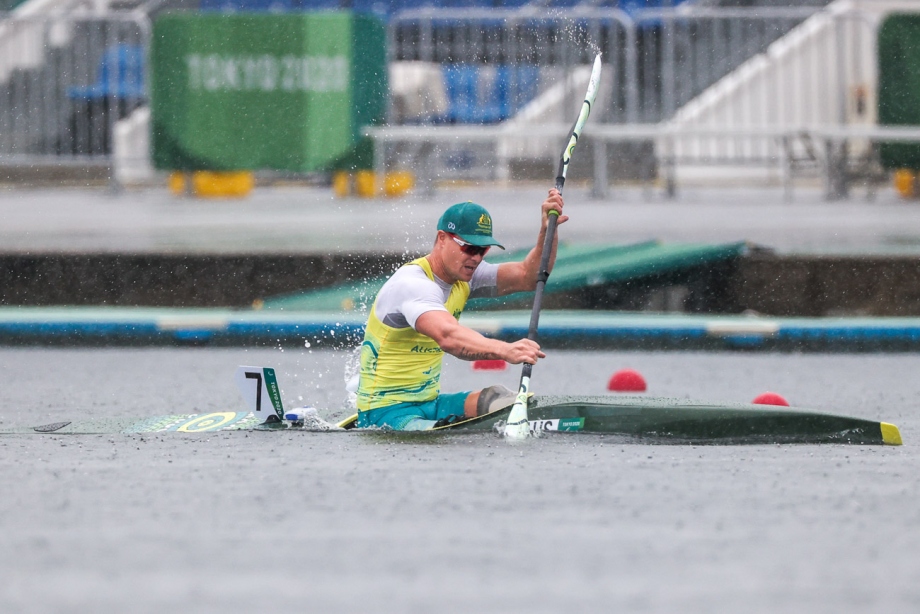 Charlotte Henshaw's meteoric rise through the women's KL2 ranks has her as a gold medal favourite in a sport she only took up post-Rio 2016.
She breezed through her heat on Thursday, dispelling any concerns she had about her lack of recent international competition.
"It's been such a long time since we raced internationally, more than two years since we've been on an international start line," Henshaw said.
"It's a huge relief to be here and be racing. When you work for five years for something and you're not sure if you are going to get that opportunity, it can be quite hard.
"When the Games went ahead in Rio I'd never sat in a kayak before, so now to be here and representing on the biggest stage is a real privilege."
Ukraine's Serhii Yemelianov arrived in Tokyo unbeaten at an international level since winning KL3 gold in Rio in 2016, and showed he deserves to be considered as the hottest favourite in Japan with a blistering win in his Thursday heat.
In an ominous sign for opponents the 28-year-old said he felt in better form than he did in Rio.
"Yes, I am feeling stronger now," he said.
"It's only the start here, but I'm feeling good. All athletes can do well, but I am hoping to continue my record."
Hungarian teenager Peter Pal Kiss is on course to become paracanoe's youngest ever gold medalist after winning his heat of the KL1 in style.
"I worked hard on my focus this morning, I'm so happy just to be here," Kiss said.
"I don't know if I should be favourite, but I hope I can win it."
Germany's Edina Mueller caused one of the major upsets on the opening day, outsprinting Ukraine reigning world champion Maryna Mazhula in their heat of the women's KL1.
"I actually planned to be going to the semi-final because I knew I would have a battle with the Ukranian athlete, so I'm even more happy now that I can concentrate 100 per cent on the final," Mueller said.
"I saw I was ahead at about 150 metres, and I thought I just need to push through. She's an amazing athlete, but I knew I've been fast this year as well. But I didn't think I would be first in this race."
Four gold medals will be decided on Friday, in the men's KL1, KL2 and KL3, and in the women's VL2, the first Paralympic gold medal in the Va'a category after its introduction for the Tokyo Games.
Pics by Dezso Vekassy