The Moldovian brothers Serghei and Oleg Tarnovschi undoubtedly made their mark in the second Canoe Sprint world cup of the olympic season, leaving Czech Republic with two gold, one silver and one bronze medals in their suitcases. Germany dominated the K4 olympic events.
That's a name to remember. The Tarnovschi family didn't leave much to their opponents on Sunday in the canoe men category. After taking control of the C2 1000m over the german duet Sebastien Brendel / Jan Vandrey, the brothers respectively grabbed the gold and the bronze medals in the C1 500m just a few minutes later, barely enough time to change clothes.
"It's a great feeling to win in the same boat as brothers", confided Sergei Tarnovschi to the ICF.
"We are two in the canoe but it's only one mind racing. The first time we tried C2 was in 2014 and it didn't go so well so we took a year off. This season we have the best start of our life, it's very exciting".
Serghei Tarnovsky is only 18 year old and has already a lot to show for himself. The 2014 Youth Olympic champion finished third in the C1 1000m at Milan World Championships last year, second at the two first stages of the 2016 World Cup, and keeps pushing to challenge Brendel's authority, closing the gap a little bit more every time he gets the chance.
"I guess I train like everyone", said Tarnovksy. "But maybe I have a different kind of body type that allows me to do more".
With the young Brazilian Isaquias Queiroz Dos Santos also biding his time, we clearly are looking at a new generation of canoe champions and it is only fair to imagine that Brendel's current hegemony could not last that much longer.
Germany unveils a dream K4
[caption caption="
Marcus Gross
,
Max Hoff
,
Tom Liebscher
and
Max Rendschmidt
(GER), K4 Men 1000m"]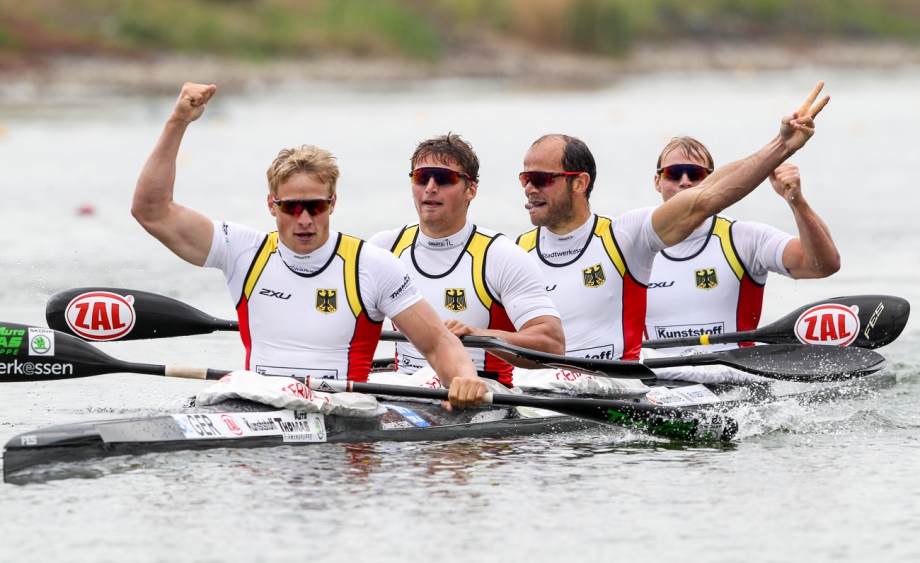 [/caption]
They set the tone on Saturday by bagging three gold medals in Olympic events. Germany  kept the momentum going and added five medals to their tally. They particularly impressed by winning the two K4 olympic events of the day in both the men and women categories.
The German Men K4 1000m is a new experiment that seems to be paying off nicely just a couple of months before Rio Olympics. The quartet made up of superstars Marcus Gross , Max Hoff,  Tom Liebscher and Max Rendschmidt could impress even the most confident crews as the combined weight of their individual medals could simply sink the boat. Sunday's large victory in Racice is shaping up a bright future.
"It was our first race together", explained Max Hoff, the reigning K1 1000m European champion.  
"We had one training session last week. We are absolutely happy with this race because winning is always good. We still have some adjustments to do as during the race we were not perfectly quiet".
"We can now train a little bit for the next month and it's better to start in this position than to be behind".
"Germany did not have so much success in the K4 Men the last few years so it's a good result to work on".
Tina Dietze , Franziska Weber, Steffi Kriegerstein and Sabrian Hering had a harder time in the K4 500m and had to wait for the photo finish to celebrate their win over a very impressive Ukrainian crew. New Zealand took the bronze.
Heath's impressive statistics in K1 200m
[caption caption="
Liam Heath
(GBR), K1 Men 200m"]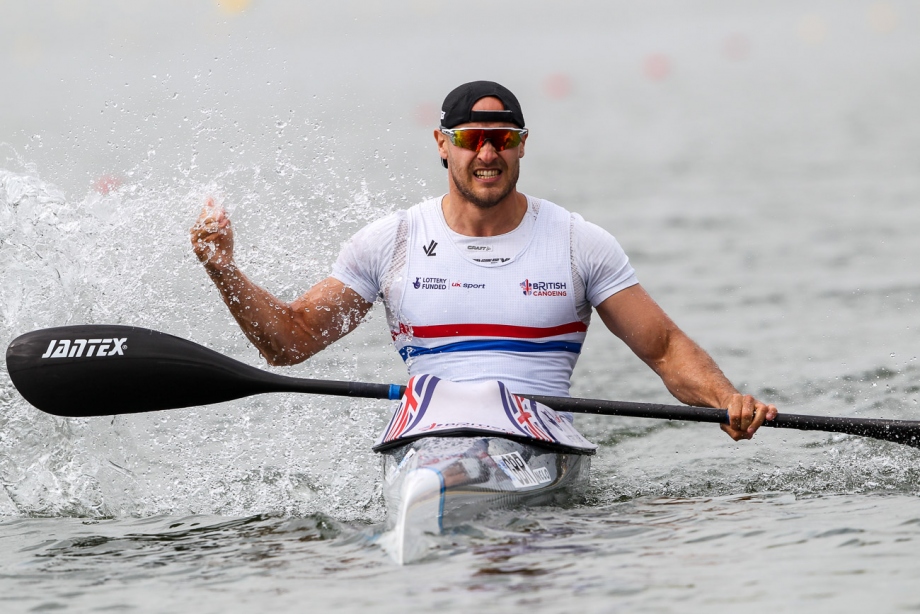 [/caption]
In the great battle of sprinters, the Brit Liam Heath won the K1 Men 200m, while Germany's legend Ronald Rauhe, second, is still going strong at 34 years of age. The French Maxime Beaumont, third, continues to occupy international podiums.
Heath has only raced the K1 200 internationally three times but he has won medals each time; a bronze last week in Duisburg and a silver at the 2014 World Cup in Racice.
"Today just came from a little bit of experience in being more confident in myself and the training that I've done," said a delighted Heath.
"I focussed on what I'm doing and my lane and not getting carried away with what's happening next to me".
 "It was really strong towards the finish which we were looking for and something Jon and I have been talking about in K2 as well."
In the absence of both Lisa Carrington (NZL) and Danuta Kozak (HUN), Azerbaijan's Inna Osypenko Radomska confirmed she will be a serious contender to the K1 Women 500m Olympic title. She led the race from start to finish after winning silver in K1 200m on Saturday, outdistancing the Asian Games champion Yu Zhou (CHN) and the U23 European champion Emma Jorgensen (DEN).
[caption caption="Inna Osypenko Radomska, K1 Women 500m"]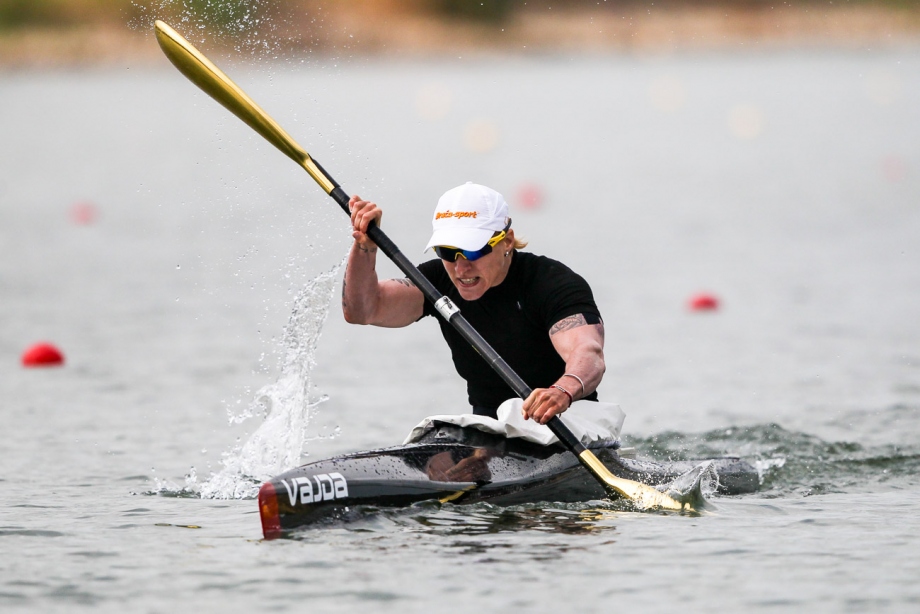 [/caption]
Ukraine successful weekend in team boats

Timur Khaidirov offered Kazakhstan their first medal of the weekend in the C1 Men 200m event.
On Saturday, René Holten Poulsen failed to win the K1 Men 1000m back to back after dominating  last week in Duisburg, but the Dane confirmed his good form by conquering the K1 500m.
In the afternoon, Ukraine got even with Germany, winning the exposive K4 Women 200m a few hours after a second place in 500m. France completed the podium, adding a bronze medal to an already nice tally of 4 in Racice.
Italy's Manfredi Rizza followed up on the gold medal he got last week in the K1 200m, capturing the first step of the podium with his mates in the K4 Men 200m.
[caption caption="
Katie Vincent
/
Nadya Crossman-Serb
(CAN), C2 Women 500m"]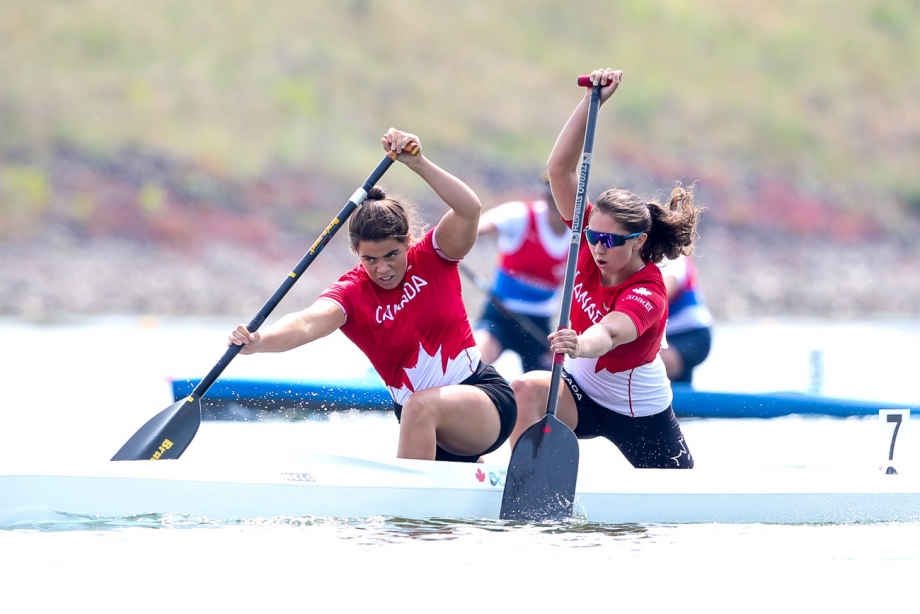 [/caption]
Katie Vincent and Nadya Crossman-Serb brought one more gold medal to Canada in C2 Women 500m, confirming their national expertise in the Canoe Women category.
Denys Kamerylov, Vitaliy Vergeles, Eduard Shemetylo and Denys Kovalenko pulled out to victory in the C4 Men 200m, winning Ukraine's second gold medal of the day.
Full results: https://www.canoeicf.com/results-records
2016 ICF Canoe Sprint World Cup 2 Medallists - Sunday

K1 Women 500m
K1 Men 200m
C1 Men 200m
C2 Men 1000m
K4 Men 1000m
K4 Women 500m
C1 Men 500m
GOLD - Sergei Tarnovsky (MDA)
SILVER - Martin Kuksa (CZE)
BRONZE - Oleg Tarnovsky (MDA)
K1 Men 500m
C2 Women 500m
C4 Men 200m
K4 Women 200m
K4 Men 200m