New Olympic cycle begins this weekend in Portugal
The 2017 ICF Sprint Canoe World Cup season kicks off this weekend in Montemor-0-Velho, Portugal, heralding the start of a new Olympic cycle and a new chapter for the sport.
Many athletes are expected to experiment with new boats and new distances, Olympic veterans will test their stamina for another four-year cycle, and exciting new faces will burst onto the scene as the season builds up towards the 2017 World Championships in Racice, Czech Republic, in August.
The new cycle also signals new Olympic events for Tokyo 2020; a women's C1 and C2 race will replace the men's K2 200 and C1 200, while the men's K4 1000 will become a 500 metre race.
"The start of a new Olympic cycle always brings with it excitement and anticipation," International Canoe Federation President, Jose Perurena, said.
"It's exciting for us to kick off the campaign at the beautiful Montemor-o-Velho in Portugal. It really is a world-class venue, which will showcase everything that is good about sprint canoe.
"And as the venue for the 2018 ICF Sprint Canoe World Championships, we know organisers are keen to put on a good show this weekend."
Several hundred athletes from 28 nations around the world have entered this weekend, including Olympic and World Champions.
Underlining the changing landscape for many of the athletes, two-time Olympic gold medallist Lisa Carrington will be racing in a K4 this weekend, as New Zealand look to put together a crew that can challenge for a K4 500 medal in Tokyo.
Mr Perurena said the modern athlete is very adaptable and always looking for new challenges.
"It's never easy to make changes to our Olympic program, but at the ICF we are very aware that we need to adapt to the times," he said.
"We have a proud reputation in our sport for fighting for fairness and equality, and its a fight that we will continue.
"The bottom line is we want to produce a product in Tokyo in 2020 that will not only thrill our existing stakeholders, but also bring new fans to the sport. We know that when people see how hard our athletes work, and how exciting our racing is, they will be impressed."
World Cup 1 begins in Montemor-o-Velho on Friday and runs through until Sunday.
World Cup 2 begins in Szeged, Hungary, on Thursday of next week, and then the final World Cup 3 will be held in Belgrade the following weekend.
World Cups 2 and 3 will also include Paracanoe events.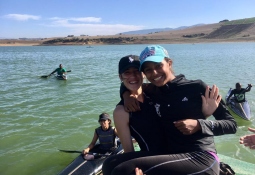 Canoe Slalom Canoe Freestyle