New twist on African Freestyle
Multiple World Champion Dane Jackson and Freestyle super coach Sam Ward are on a mission to build a new wave of talent in Africa under the auspices of the ICF Freestyle Development Programme deep in the depths of Uganda.
Eager to learn from the best, a group of future freestyle stars met on the banks of the river excited to take the next step on their Freestyle journey, here are their stories:
"I haven't slept since I got the email," said an excited Paul Teasdale.  
Paul grew up in Zimbabwe surrounded by dry arid landscapes – there's no such thing as kayaking near his home…it doesn't exist! He learnt to kayak on the Zambezi two years ago after taking a raft trip down the river. Eight months later he was competing in his first whitewater event.Paul spent most of his kayaking career river running so he's super excited to get the opportunity to be coached by Dane and Sam and work on his freestyle.
Sadat Kawawa is from Uganda, he was born in a small village next to the river Nile and he has been living there most of his life. He learnt to kayak on the River Nile before the Bujagali Dam was built. The local people thought he was crazy to learn to kayak. He started working on the river as a safety kayaker and has since progressed to raft guide and is now also a kayak coach. Sadat represented Uganda in the ICF World Champs last year, placing 57th. It's his dream to travel and kayak in more countries.
Julius Nalishebo is from Livingstone, Zambia. He grew up in a town up in the North of Zambia and moved to Livingstone 16 years ago. He used to be so scared of the water, but he watched some videos of his brother who worked on the river and was interested in giving it a go. His brother taught him the basics and the rest he learnt himself. He now works for Safpar as a videographer / photographer filming the raft trips down the river. He's always wanted to kayak some other rivers and is now in Uganda to kayak the Nile. He's excited to be kayaking with the World Number 1 freestyle kayaker.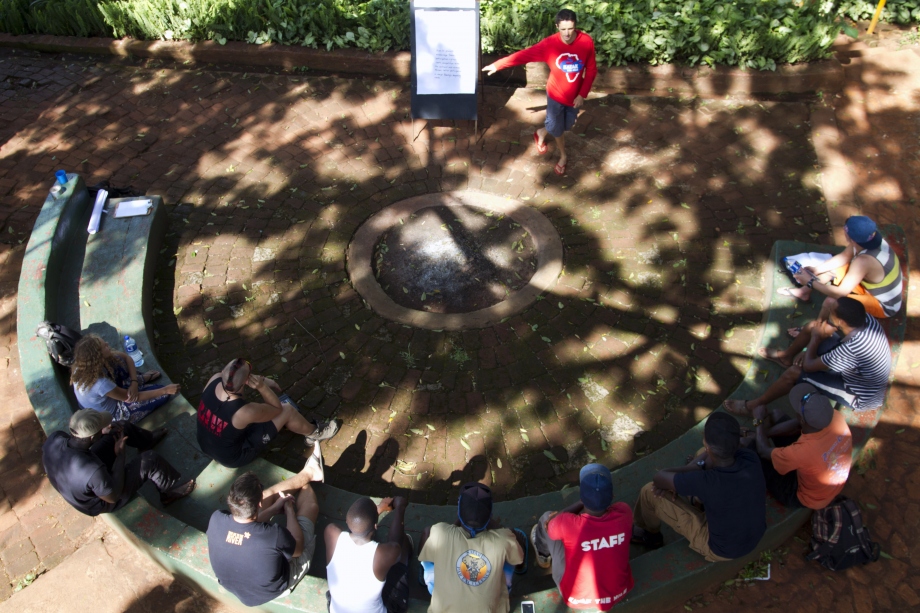 David Egesa grew up in Bujagali, Uganda a rural village on the banks of the River Nile. David was taught to kayak by his friends on the Nile and had not kayaked anywhere else until he competed at the ICF World champs in Canada last year. He works on the river as a kayak coach for Kayak The Nile and has recently started teaching his son to kayak. He's been itching for the camp to start since he heard about it. He's hoping to get much better, to meet friends and after the camp has finished he's looking forward to sharing the scheme with other friends who didn't get a place on this years camp.
Shane Walker is half kikuwu half Australian and is representing Kenya. He was born in Kenya but lived in Botswana for a few years before moving back to Kenya after his dad passed away. Having been to college and set up his own business 17 months ago he got an opportunity to join Savage Wilderness – a rafting company in Kenya. This was his first time to try a kayak and immediately fell in love. He's now a kayak coach on the Tana river and has spent a lot of time creek boating. He wants to try as many kayaking disciplines as possible and cant wait to learn to freestyle. He's very nervous about the camp, it's his first time in big water and a lot of the other guys have been paddling for a long time.
Melusi  Magagula is representing Swaziland, a land locked country in South Africa. He was born in a rural, remote area and is the youngest of nine children. His father died in 2012 and his mother is a farmer, growing vegetables and maize. Most of his siblings work at home and help his mother on the farm. His homestead is on the bank of the river and on the weekends and in his spare time he used to go and watch the guys rafting down the section. He trained as the first safety kayaker for SwaziTrails. He's never been out of his country and this was the first time he's ever travelled internationally. He's looking forward to having fun on the river and learn more with the help of the other guys in the group and the coaches. This river is 100 times bigger than his local river.
Francis Mwangi is from Kenya. He grew up in Kenya next to the river Tana. He started kayaking when he was 12 years old and used to compete in the Kenyan Slalam team. There aren't many freestyle spots on the Tana River so he has mainly spent his time creek boating. Francis is a kayak instructor. He travelled to Jinja in January for the first time to compete in the Nile River Festival. There are currently no freestyle kayakers in Kenya and he's totally new to freestyle kayaking and cant wait to learn more about it and be able to share the knowledge with friends and clients back on the River Tana.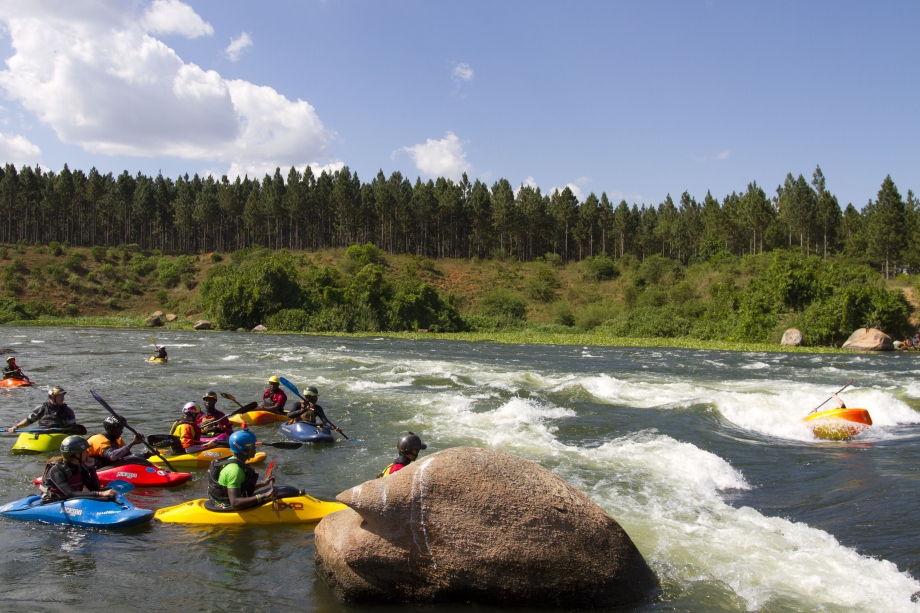 Yusuf Basalirwa was born and grew up in the small village of Bujagali in Uganda. The white water used to be right on his doorstep and he gradually fell in love with it. He joined the local kayak club in 2007 for 20,000ugx ($5), they provided him with gear and taught him to kayak. He works as photographer for one of the local rafting companies. He was inspired to start freestyle kayaking all of the world-class kayakers who visit Uganda every year. Last year he placed 56th in the ICF World Champs and would really like to represent Uganda in the upcoming World Champs in Brazil.
Tammy Muir grew up in Johannasberg and is now living on the south coast of South Africa. She works as a raft guide and splits her time between Norway and South Africa.  She doesn't really have much playboating experience but is really excited to learn as much as she can from some of the world's best. Tammy's planning on taking whatever she's learnt on the development camp back to S.A and teach some people who are even less experienced than herself. She's the only female in the group.
Phillip Claassens is from South Africa and grew up in the Vol triangle, which is near to the Vol river where he learnt to kayak. He learnt to kayak as a kid in an old kayak that was always kicking about at home. He's got two kids, two and five-years-old. The oldest is just starting to learn to kayak. He's done a lot of international travelling with his kayaking and is a very active member of the local kayaking community. He's looking forward to learning from the best and is feeling some nervous excitement as the camp begins. He's planning on taking what he learns on this development camp back to S.A and working with Tammy and Melusi to develop the sport with the local guys and get more people on the water.