There was no Olympic hangover for four Rio gold medallists as they won titles on the final day of the ICF Sprint Canoe World Championships in Racice, Czech Republic, on Sunday.
Liam Heath, Lisa Carrington, the Hungarian women's K4 500 and the German men's K4 crew all won gold in front of a capacity crowd and in perfect paddling conditions.
In other Olympic events, Canada's Laurence Vincent-Lapointe won the women's C1 200, and Germany's Yul Oeltze and Peter Kretschmer won the men's C2 1000.
There was also a popular hometown win for Czech's Josef Dostal in the K1 500, and Martin Fuksa in the C1 500.
Germany's Sebastian Brendel was the most successful athlete of the weekend, picking up gold medals in the C4 1000 and the C1 5000 to add to his C1 1000 from Saturday.
Heath, who is set to become a father next month, withstood a strong challenge from Hungary's Bence Horvath to win the K1 200 title.
"I felt the most pressure going into the first World Cup, because you don't know what everyone else has been doing over the winter," he said.
"As soon as you get that first race you get an idea how they're going, and how you're going, and I've always believed no-one can put more pressure on you than yourself to do the things you want to do, and you're in complete control of that, so that's how I've dealt with it."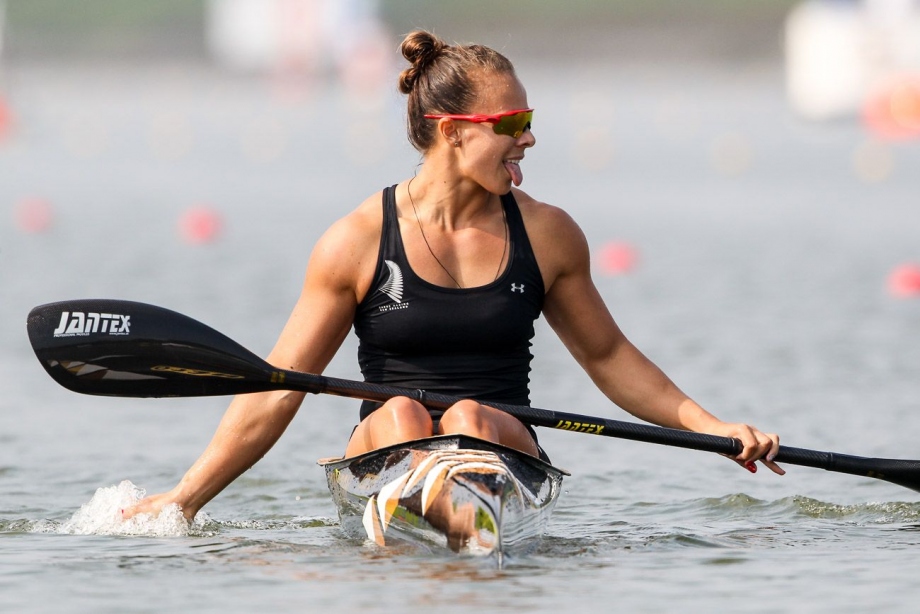 Carrington's busy weekend of four events ended with two gold medals, the K1 200 victory continuing her unbeaten run at a World Championships and Olympic level since 2011.
But she's not sure she'll be able to maintain that schedule in the future.
"I do really enjoy it, I love going out there and performing, and the girls that I'm racing against inspire me to race as fast as I can," Carrington said.
"It's really difficult, the program doesn't really allow for it. I hope that in the future we can do more, and there's more leniency around it.
"And there's a lot of really amazing paddlers in New Zealand as well, so we've got to give everyone a chance. I love doing every event, and I'm lucky to have that chance only because I have such a great team behind me."
The Hungarian K4 women's team returned to the top of the tree with a powerful win in their 500 metre final.
New Zealand went into the race as favourites, but the Hungarians paddled the perfect race to see if long-time rivals, Germany, with New Zealand finishing with the bronze.
Krisztina Fazekas-Zur, the only remaining member of the London and Rio gold medal winning crews, said
"I was expecting a very hard and close race, but we made our plan well and stuck to that well," she said.
"We always believe that this event is very strong for us, so we really want to win all the time. Sometimes it doesn't happen, but usually we manage to win."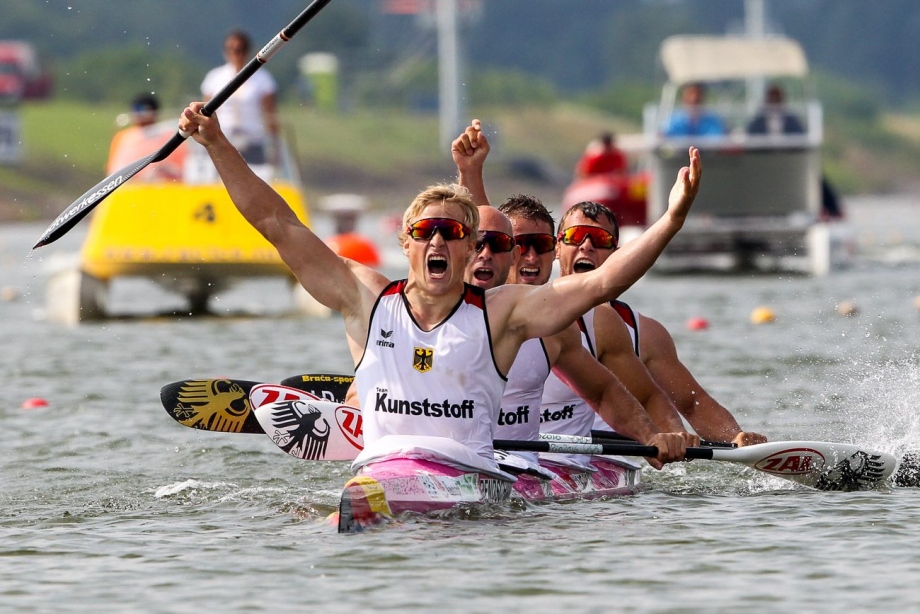 The men's K4 1000 will be replaced by the K4 500 in Tokyo, and the Germans, 1000 gold medallists in Rio, have had no trouble transitioning to the shorter distance.
They powered to victory in Racice ahead of Spain and the Czech Republic.
"It's a good starting point for us, because we put the new boat together, it makes us look forward to the next three years together," Max Lemke said.
"It gives us some confidence for the next three years."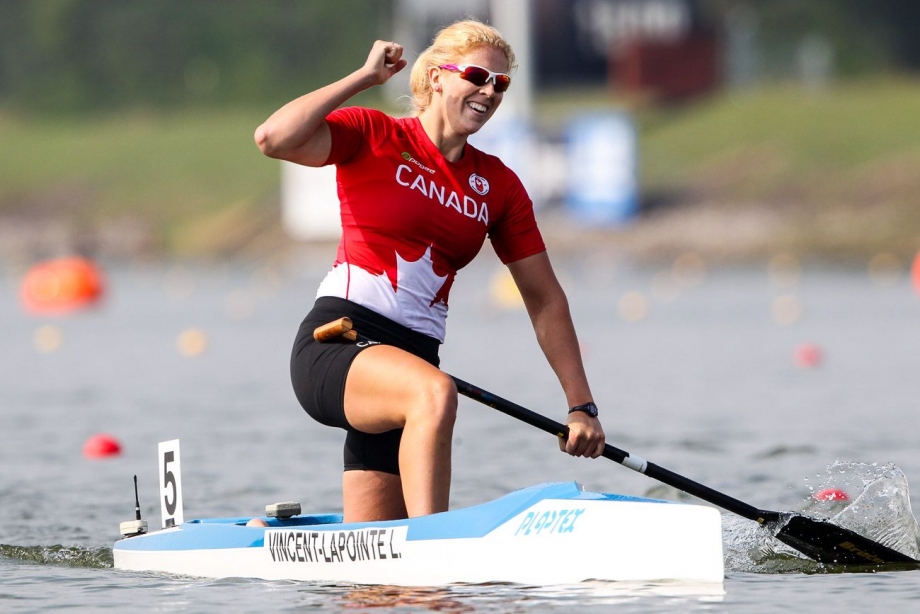 Vincent-Lapointe followed her C2 500 win from Saturday with a win in the C1 200 on Sunday, and said she was thrilled to post a world best time in the semis and again in the final.
"Today I felt more confident, and I went even faster, so I'm incredibly surprised and happy," she said.
"This year I've got to paddle more with my C2 partner, and it's made me more challenged in every practice, and that has made me faster."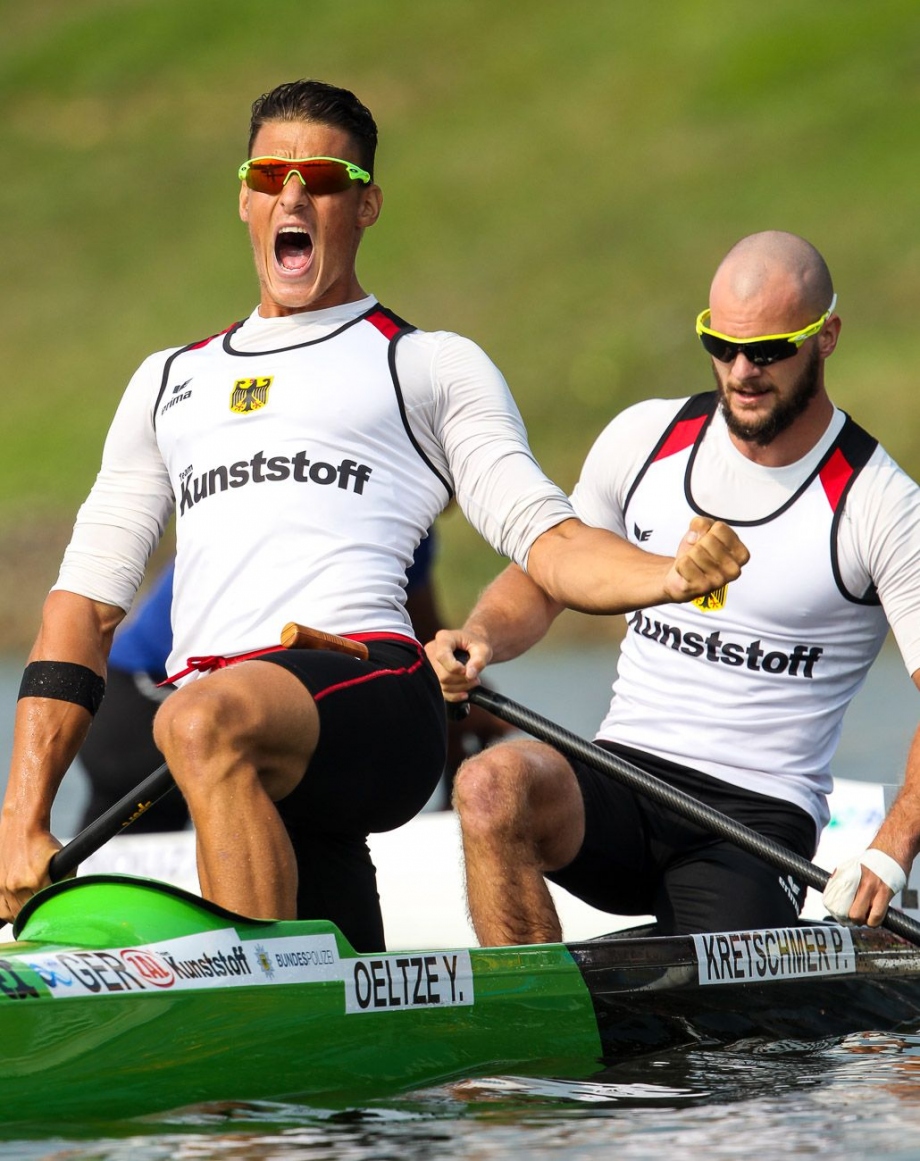 Germany's Oeltze and Kretschmer surged late to snatch C2 1000 gold from the tiring Cubans in one of the closest finishes of the day.
"This year has been very good for the Germans, because it is after the Olympic Games and everybody trained hard for the Games," Kretschmer said.
"Everybody took the good conditions from the Olympics through to the World Championships. We will take a little break now and then try and be as good for Tokyo as we did for Rio."
Czech Dostal said it was an incredible feeling to win K1 500 gold in front of his home crowd, but said he was disappointed with his bronze medal performance in the K1 1000 on Saturday.
"I felt a little bit disappointed yesterday because it was a really close race, so today I was not even nervous," he said.
"I have to say in the final 100 metres the cheering helped me a lot, just with my mind, not with my muscles."
Teammate Martin Fuksa also bounced back from the disappointment of 24 hours earlier to claim gold in the C1 500.
"I am absolutely happy that I can be a World Champion here in the Czech Republic," he said.
"I won for all my family and all my friends."
In other events, Hungary's Reka Hagymasi and Agnes Szabo won gold in the women's K2 200, and Russia's Alexander Kovalenko and Ivan Shtyl followed their C2 500 medal from Saturday with gold in the C2 200.
There was double gold for Australia, with Alyce Burnett winning the K1 1000 and the men's K4 team winning the 1000 metre final.
And Sebastian Brendel added his second and third gold medals for the weekend, firstly with the German C4 1000 team, and then winning the grueling C1 5000 final.
In other 5000 metre finals, Hungary's Dora Bodonyi won the women's final, while Portugal's Fernando Pimenta, a close second in the K1 1000 on Saturday, won the men's K1 5000 ahead of German veteran, Max Hoff.
RESULTS
C2 Men's 1000
GERMANY (Kretschmer/Oeltze)    3:31:613
CUBA (Torres Madrigal/Jorge Enriquez) 3:31:955
RUSSIA (Melantev/Chebotar)                 3:33:123
K1 Women's 200
CARRINGTON Lisa (New Zealand)         38.433
JORGENSEN Emma Aastrand (Denmark) 38.996
PONOMARENKO JANIC Spela (Slovenia) 39.564
STAROVIC Milica (Serbia)                          39.564
K1 Men's 200
HEATH Liam (Great Britain)                     33.733
HORVATH Bence (Hungary)                    34.070
RUMJANCEVS Aleksejs (Latvia)             34.439
C1 Women's 200
VINCENT-LAPOINTE Laurence (Canada) 45.478
ROMASENKO Olesia (Russia)                    46.136
TAKACS Kincso (Hungary)                         47.136
K4 Women's 500
HUNGARY (Takacs, Medveczky, Fazekas-Zur, Vad)  1.29.784
GERMANY (Dietze, Weber, Kriegerstein, Hering)      1.30.084
NEW ZEALAND (Fisher, Ryan, Imrie, Carrington)     1.30.215
K4 Men's 500
GERMANY (Liebscher, Rauhe, Rendschmidt, Lemke)  1.17.734
SPAIN (Germade, Toro, Garrote, Walz)                          1.18.729
CZECH REPUBLIC (Havel, Sterba, Spicar, Slouf)         1.18.371
K4 Men's 1000
AUSTRALIA (Wallace, Wood, Fitzsimmons, Stewart)   2:50.576
HUNGARY (Kammerer, Pauman, Toth, Ceiner)             2:50:931
GERMANY (Spenner, Reuschenbach, Stroinski, Gecso) 2.53.146
C4 Men's 1000
GERMANY (Scheibner, Kiraj, Brendel, Vandrey)           3.14.893
POLAND (Glazunow, Barniak, Kuleta, Grzybowski)      3.16.798
UKRAINE (Vergeles, Kamerylov, Kovalenko, Shemetylo) 3.17.198
K1 Women's 1000
BURNETT Alyce (Australia)                                             3.55.971
JOHANSSON Karin (Sweden)                                           3.58.181
CAWTHORN Rachel (GREAT BRITAIN)                       3.59.036
C2 Men's 200
RUSSIA (Kovalenko, Shtyl)                                                36.088
POLAND (Sliwinski, Lubniewski)                                      36.673
HUNGARY (Hajdu, Fekete)                                                36.762
K2 Women's 200
HUNGARY (Hagmasi, Szabo)                                              37.445
ITALY (Cicali, Genzo)                                                          37.508
GREAT BRITAIN (Brown, Hannah)                                    37.993
K1 Men's 500
DOSTAL Josef (Czech Republic)                                        1.36.520
POULSEN Rene Holten (Denmark)                                     1.38.267
KUKHARYK Oleh (Ukraine)                                              1.38.483
C1 Men's 500
FUKSA Martin (Czech Republic)                                        1.49.725
TACCHINI Carlo (Italy)                                                      1.50.309
PIATROU Maksim (Belarus)                                               1.50.583
C1 Men's 5000
BRENDEL Sebastian (Germany)                                        23.34.796
TORRES MADRIGAL Serguey (Cuba)                             23.37.312
KAMINSKI Mateusz (Poland)                                            23.42.522
K1 Women's 5000
BODONYI Dora (Hungary)                                                23.17.862
MEDERT Tabea (Germany)                                               23.19.214
BELCHER Lani (Great Britain)                                          23.28.236
K1 Men's 5000
PIMENTA Fernando (Portugal)                                          20.46.907
HOFF Max (Germany)                                                        20.50.259
YURENIA Aleh (Belarus)                                                  21.00.828