Olympic champions Lisa Carrington, Balint Kopasz and Shixiao Xu and Mengya Sun showed they have lost none of the form that took them to gold in Tokyo last year, winning ICF canoe sprint world championship gold in Dartmouth on Saturday.
There were also breakthrough wins for the Polish women's and Spanish men's K4 500 crews, and the Spanish C2 500 crew of Cayetano Garcia and Pablo Martinez.
New Zealand's Carrington was made to work hard into a strong headwind to secure her third K1 500 world title.
"We knew it was going to be a headwind all week, so I was definitely prepared, it's just about having that mindset about how to strategically paddle into that headwind," Carrington said.
"There's still lots to learn from, like today continuously putting myself into a position where I have to rise up to the challenge, or take some opportunities or some learnings from it, so every moment of pressure is a great learning opportunity."
Poland's women's K4 finally broke through for their first ever world championship gold medal. In a surprising result, former women's K4 powerhouses Germany, Hungary and New Zealand all finished out of the medals, with Australia taking silver and a young Mexican crew winning their first world championship medal.
"We have been waiting for a gold medal for 13 years, so it's been a lot of time," Pulawska said.
"Now we are really happy. Our next stop is the European championships so we hope we can be strong again. We are super motivated to win this."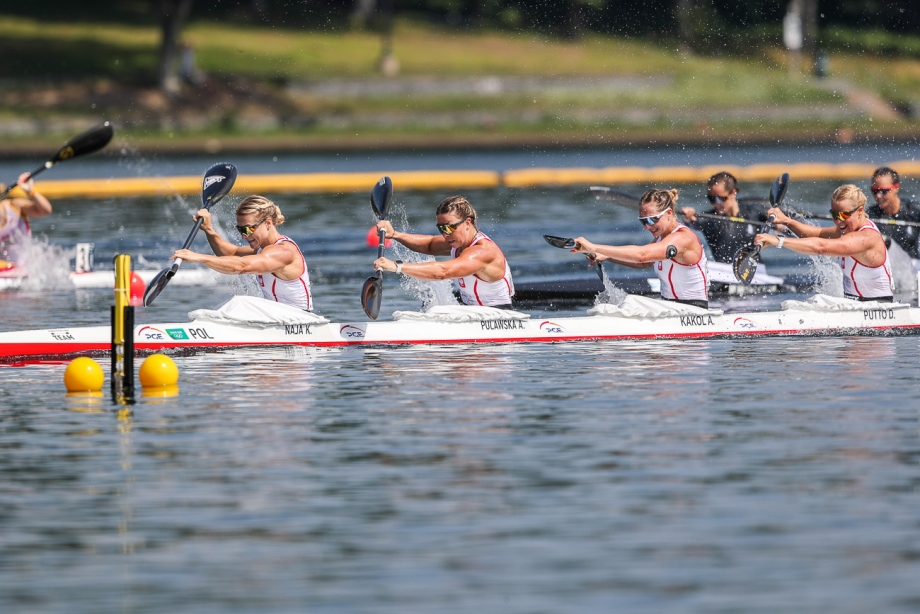 After three consecutive world championship defeats at the hands of Germany, the Spanish men's K4 broke through on Saturday to finally take gold. The quartet of Saul Craviotto, Carlos Arevalo, Marcus Cooper and Rodrigo Germade also took silver behind the Germans in Tokyo.
Cooper said his team were showing the benefit of being together for so long.
"We've done a great job over these last few months, and now we are world champions it gives us extra strength to continue this Olympic season to Paris," he said.
"There's still two years to Paris, but next year we have to qualify for the Olympics so it's a really important year. Apart from sport colleagues we are very good friends, we're like family. We know each other well, we get on well together daily. We've gone through problems, good days, bad days together and we end up doing our job in a very happy way."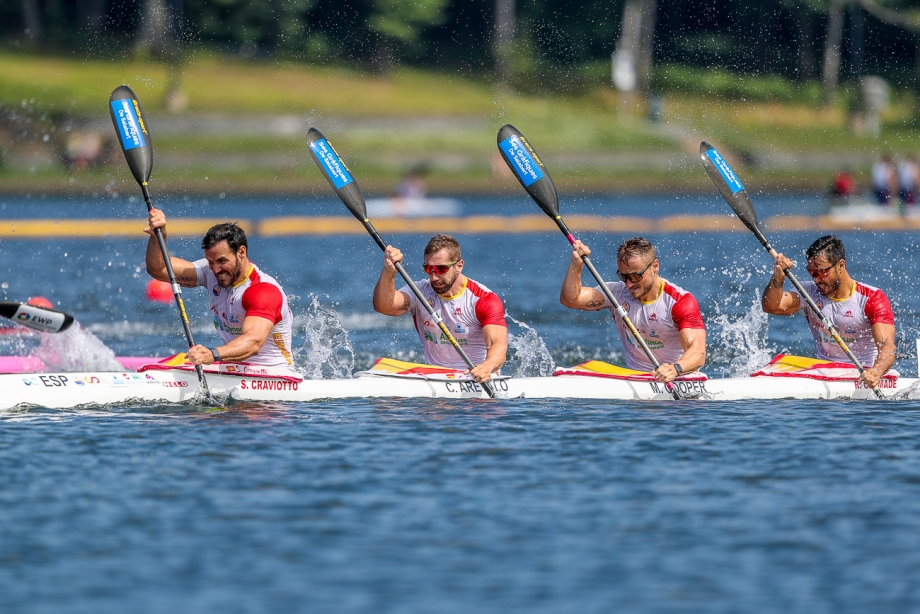 Hungary's Balint Kopasz won K1 1000 gold in Tokyo, but then lost his world title crown to Portugal's Fernando Pimenta in Copenhagen. The pair went head-to-head from the start in Satuday's final, with Kopasz holding on to take his second world title.
"This year I felt in very good form," Kopasz said.
"Every year I am getting a little bit stronger which is so important for the 1000, and my endurance was also strong. I felt like I was in better form for these world championships then last year.
"I think I am in a very good position heading towards the Paris Olympic Games."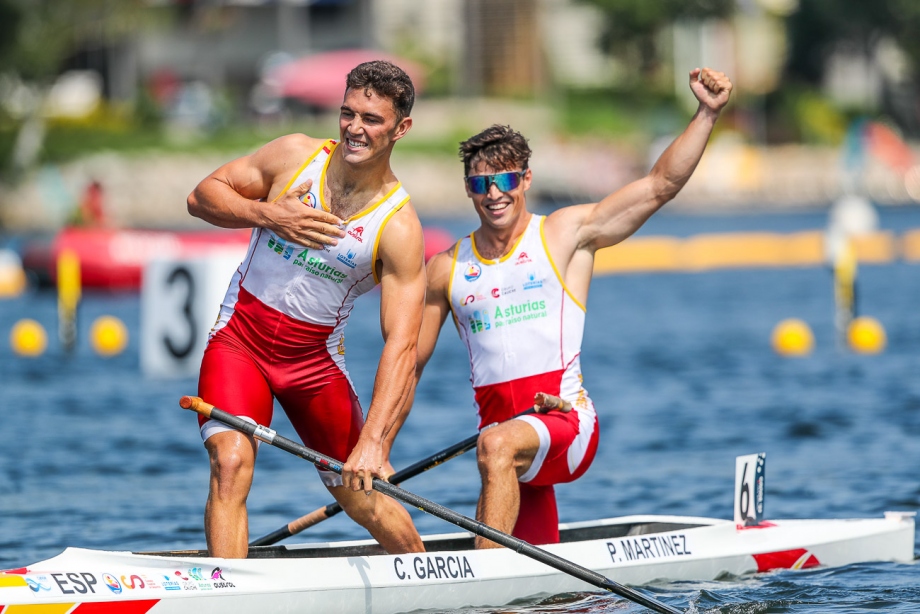 The men's C2 500 will be a new event in Paris, and Spain's Cayetano Garcia and Pablo Martinez have put themselves forward as early favourites with a nail-biting win on Saturday.
The Spaniards finished just ahead of Poland's Wikto Glazunow and Tomasz Barniak.
"This is amazing, there are no words," Martinez said.
"It was such a big race, with so many big people. We are young, we are little, but we are so happy. We have been throw so many changes, but we know we have each other, and that is the most important thing."
China's Shixiao Xu and Mengya Sun have not looked like being beaten since winning Olympic gold in the women's C2 500 last year, and emphasized their class with another hard-fought win on Saturday.
The Chinese crew said they felt rewarded for their hard work.
"Since the Tokyo Olympic Games we kept training, we haven't had a rest, so it's a great pleasure to come here and compete with so many high level athletes," Xu said.
"In China we have a saying – 'it is easy to get, it is hard to keep', so we hope we will hope more progress in our training to help us get a good result for Paris."
RESULTS – OLYMPIC RACES
K4 WOMEN 1000
POLAND 1:30.70
AUSTRALIA 1:32.78
MEXICO 1:33.24
K4 MEN 1000
SPAIN      1:20.83
GERMANY 1:21.27
UKRAINE 1:21.38
C2 WOMEN 500
XU/SUN                       (CHN) 2:01.26
LUZAN/CHETVERIKOVA (UKR) 2:03.32
BRAGATO/NAGY (HUN) 2:04.70
C2 MEN 500
GARCIA/MARTINEZ    (ESP) 1:46.32
GLAZUNOW/BARNIAK (POL) 1:46.81
LIU/JI (CHN) 1:46.90
K1 WOMEN 500
CARRINGTON Lisa               (NZL) 1:58.69
GOVORCINOVIC Anamaria (CRO) 1:59.97
HAKE Jule (GER) 2:00.30
K1 MEN 1000
KOPASZ Balint        (HUN)  3:38.93
PIMENTA Fernando (POR) 3:38.98
SCHOPF Jacob (GER) 3:40.27
Pics by Dezso Vekassy