The Paris Olympics are still more than one year away, but the pressure that comes with Games qualification was lifted a notch on day two of the International Canoe Federation's Canoe Sprint and Paracanoe World Cup in Szeged, Hungary, on Saturday.
New Zealand's Lisa Carrington added another K1 500 title to her collection, but had to withstand a strong challenge from teammate Aimee Fisher, while Olympic and world champion Balint Kopasz had his K1 1000 colours lowered by Hungarian teammate, Adam Varga.
China's Olympic and world women's C2 500 champions, Shixiao Xu and Mengya Sun, again showed their class with a comfortable win, while Romanian world champion Catalin Chirila confirmed his favouritism for Paris with another win in the men's C1 1000.
Carrington has dominated the women's K1 500 since 2019, and looked set to cruise to victory again on Saturday. But former K4 teammate Aimee Fisher, back on the national team after walking away from the program ahead of the Tokyo Olympics, finished strongly to push Carrington to the finish.
The Olympic champion said it was good to be pressured, but wouldn't be drawn on what future NZ K2 and K4 combinations might look like.
"You just can't be complacent at all, it just helps everyone when the racing is tight," she said.
"It's what is best for everyone in the boat, we're doing some awesome stuff with the team we've got at the moment, and what's amazing is just learning how to paddle the boat as fast as we can, so it's exciting."
Fisher finished with the silver, while Denmark's Emma Jorgensen picked up the bronze.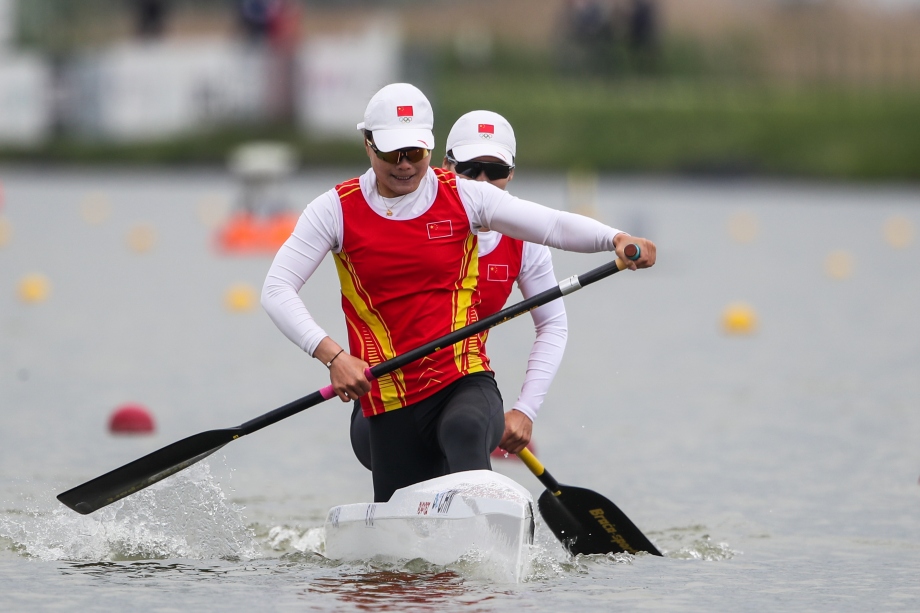 China's Xu and Sun have looked unbeatable in recent seasons, with Olympic and world championship titles already on their resumé. They rarely looked under threat in Saturday's C2 500 final.
"Our ultimate motivation for us is to try and do better every time we race," Sun said.
"Every time we race against the strong competitors from the different countries, it gives us the goal to continue to push ourselves."
The silver medal went to Spain's Antia Jacome and Maria Corbera, while Canada's Sloan MacKenzie and Katie Vincent won the bronze.
In Tokyo in 2021 it was Balint Kopasz who triumphed in the battle of the Hungarians, but on Saturday Adam Varga turned the tables, with the 23-year-old taking control of the K1 1000 men's final early and then defying running down.
It was also the first gold medal for host-nation Hungary, but Varga said he was feeling no pressure to break his country's run of minor medals.
"Of course I felt pressure, but not because Hungary did not have a gold medal," Varga said.
"It was a selection race for us in K1 1000, and I felt pressure because it was my first race, so I had no clue what I could do, or what the others could do, so it's always stressful for us in the first race."
Tokyo bronze medalist Fernando Pimenta from Portugal took the silver, while Kopasz, racing in the outside lane, had to settle for bronze.
Romania's Charila caused something of an upset when he beat Brazil's Olympic champion, Isaquias dos Santos, for the 2022 C1 1000 world title in Halifax. Dos Santos was absent on Saturday, but Chirila never looked in doubt to add to the C1 500 gold he won 24 hours earlier.
Germany's Conrad Scheibner celebrated his return to top-level international racing with silver, with Poland's Wiktor Glazunow third.
The ICF Canoe Spint and Paracanoe World Cup will wrap up in Szeged on Sunday. Full broadcast of all the races can be found on the ICF's Recast platform.
Pics by Bence Vekassy