Five-time Olympic champion Danuta Kozak made a triumphant return to top level racing, but Portugal's Fernando Pimenta stole the day when he thrilled a capacity home crowd to snatch the K1 1000 crown at the 2018 ICF Canoe Sprint World Championships.
While Kozak reminded the canoe sprint world of her class with two gold medals, it was the win for Pimenta which sent the crowd into raptures and create history for Portuguese canoe racing.
His win also overshadowed world-class performances by five-time Olympic champion, Sebastian Brendel, and by red-hot women's C1 Olympic favourite, Laurence Vincent-Lapointe.
Pimenta arrived at Montemor-o-Velho carrying the hopes of the nation, but shrugged off the pressure to become the first Portuguese athlete to win a world title in an Olympic class event.
"I don't believe it, I can feel my legs failing," Pimenta said.
"It's such a crazy moment. I think maybe next week I will believe this moment has happened.
"I slept for nine hours last night because I was so relaxed. I know that this is such an important result for Portugal, a good start for us for the next season."
Pimenta started slowly but took control over the middle stages of the race to beat Germany's Max Rendschmitt and Czech Olympic silver medallist, Josef Dostal.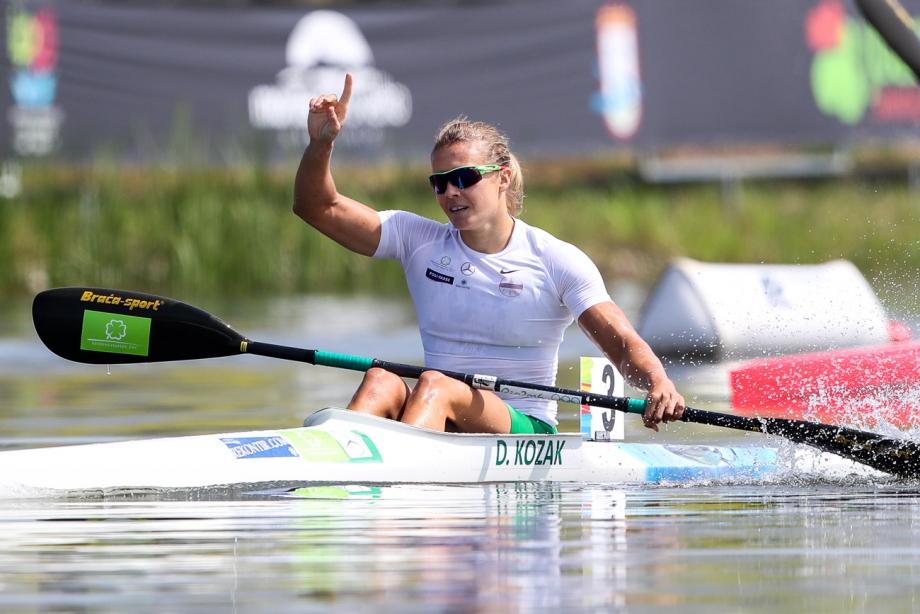 Any question marks over Danuta Kozak's form on her long-awaited return to top-level paddling were quickly dispelled on Saturday, with the Hungarian overpowering New Zealand's Lisa Carrington and reigning world champion Volha Khudzenka of Belarus to take the women's K1 500 crown.
"It's very hard to get to the top of the world, it takes a lot of training, very hard training," Kozak said.
"I am not the sort of person who feels confidence, I always feel nervous, so I am happy to get a win."
Kozak teamed up later in the day with Anna Karasz to win the K2 500, pipping New Zealand's Carrington and Caitlin Ryan at the finish line to win by just 0.023 of a second.
Karasz said it was special to race in the same boat as the reigning Olympic K2 champion.
"This is a really big thing for me," she said.
"The K2 is working really well, I'm just very pleased and glad to have the opportunity to paddle with Danuta."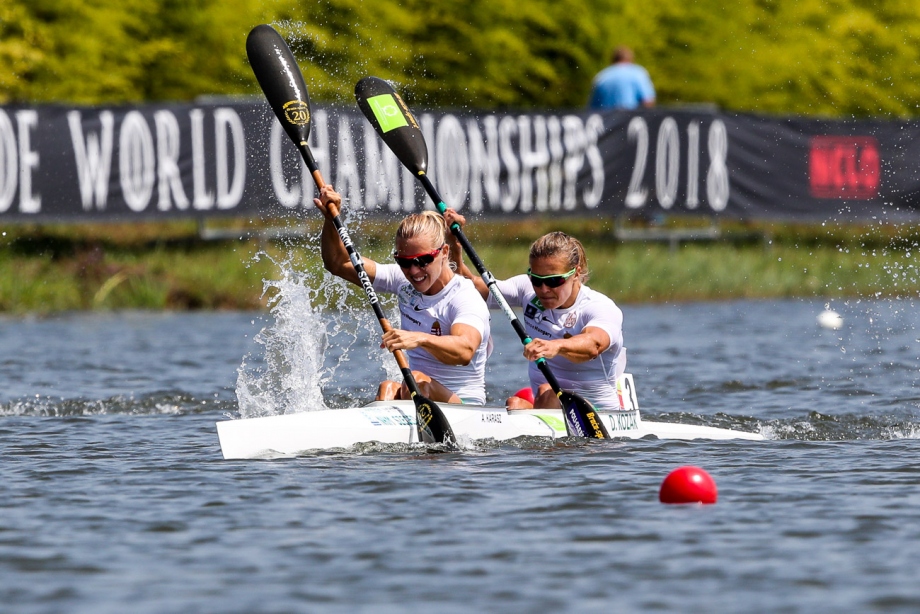 Sebastian Brendel showed once again why he is the undisputed king of men's canoe racing, with a powerful start-to-finish performance in the men's C1 1000.
It was his fourth consecutive C1 1000 world title, with Czech Martin Fuksa second and Brazil's Isaquias Dos Santos, who turned the tables on Brendel in the 500 one day earlier, finishing third.
"This was a very big race for me today because Isaquias was very fast yesterday," Brendel said.
"I always have pressure, because everyone always wants to beat me, and everyone is always expecting that I will win.
"It's not easy to do it every year, it takes a lot of high level presentation, so I am happy to have been able to do it again this year."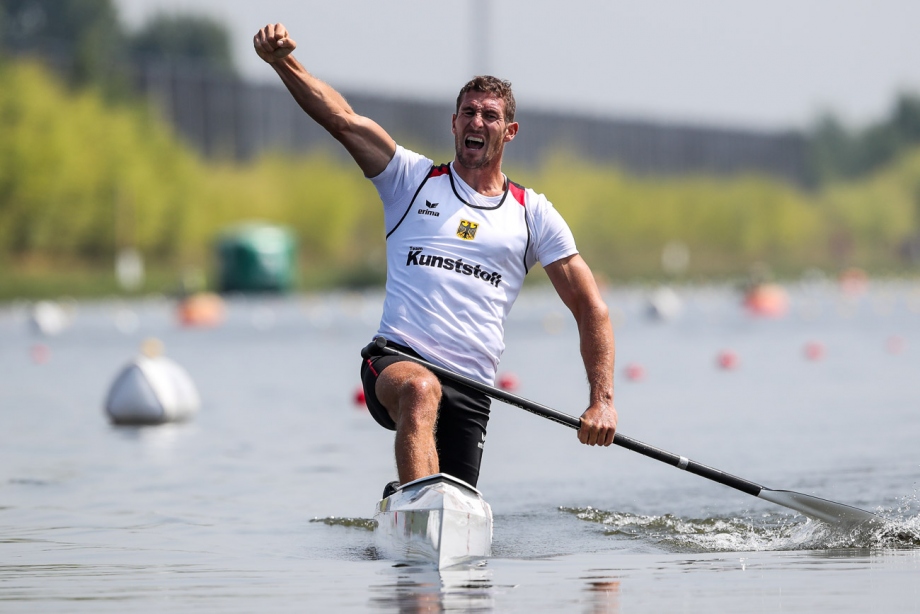 Canada's Laurence Vincent-Lapointe had to work harder than in any previous races to hold her C1 500 world title.
Vincent-Lapointe finished ahead of Russia's Olesia Romasenko, with Poland's Dorota Borowska third.
"I feel the pressure, but I try and do my best and work to get faster and faster every year," Vincent-Lapointe said.
"There is no way you cannot feel the nerves before a race at worlds, I feel very stressed before, but that's the game."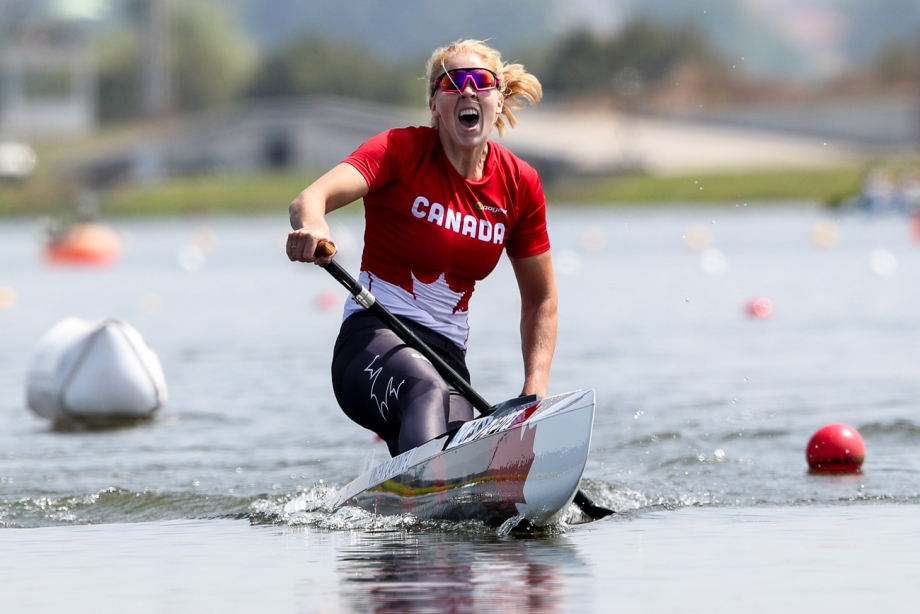 In non-Olympic events, Germany's 2016 K2 500 silver medallists, Tina Dietze and Franziska Weber overcame a disrupted campaign to win K2 200 gold, while Hungary's Mark Balaska and Balazs Birkas won the men's K2 200.
Russia took the men's C4 500 title, and Germany won the final medal on offer for the day, the men's K4 1000.
The 2018 ICF Canoe Sprint World Championships finish on Sunday, with highlights including the showdown between Hungary, Germany and New Zealand in the women's K4 500, and the clash of Spain, Germany and Hungary in the men's K4 500.