Great Britain's freestyle paddling prodigy Ottilie Robinson-Shaw etched her name into the world record books on Friday by becoming the first ICF canoe world champion, delighting her home crowd supporters at the Nottingham Whitewater Centre.
And American teenager Landon Miller announced himself on the world stage, outscoring two former world champions to land the men's canoe gold.
20-year-old Robinson-Shaw could set another record on Saturday if she becomes the first athlete to win three gold medals at a single world championships. She has dominated the women's K1 through every round so far.
Women's C1 is being contested for the first time as a medal event at an ICF world championships, and Robinson-Shaw showed her class by more than doubling the next best score in Friday night's final.
"I'm really proud of all the girls in this final and all the girls who have committed to this class, because without them and without me it wouldn't be a thing," Robinson-Shaw said.
"It's because we've paddled with C1's, we've asked for it, and if you don't ask, you don't get. I think it will take off, especially after this world championships, I think more girls will be inspired to do it, and it's about time. It wasn't fair that there was just a men's category.
"I'm gunning for it tomorrow. I hope the other women in the class land their best rides, and I hope I land my best rides, and we'll see what happens."
British teammate Rebekah Green took the silver and Germany's Anica Schacher the bronze.
18-year-old Landon Miller emulated the feats of his father Brian by winning the men's canoe final, edging out three-time world champion and American teammate Dane Jackson, with 2019 world champion Tom Dolle taking the bronze.
"Ever since my dad won the worlds, I've always had the dream to become a world champion just like him," Miller said.
"A tremendous amount of work goes into this. It's like waking up when it's night, and boating when it's cold, raining, snowing – whenever the water's running you've just got to go and get into the water and you have to be motivated to do it."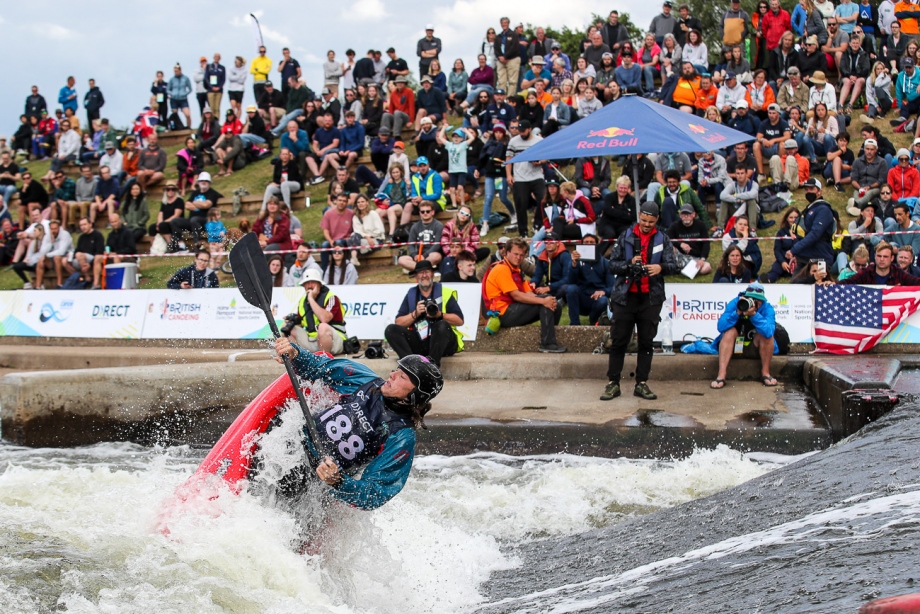 Robinson-Shaw has finished on top of the leaderboard in every round she has competed in and in every discipline at Nottingham this week, and will start a red-hot favourite in the women's K1 final tomorrow.
The Brit finished her semi-final on Friday with 810 points, ahead of two-time silver medalist Marlene Devillez of France on 733.33 points, and Japan's reigning world champion, Hitomi Takaku, on 675.
Tears flowed freely for American Emily Jackson after she squeezed into Saturday's final in fifth position. Eighteen years after her first world championship, the 32-year-old two-time world champion is into another final.
"It's been a long couple of years, all these women have been training so hard and there paddling is so much improved, I didn't think I quite had it to make the finals here," Jackson said.
"I was really proud to have my competitive edge come out when I needed it. You can never take away experience. All of the girls here have rides that are higher than what's on the board, and they've been pushing it all week so it's been really cool to watch.
"I'm just incredibly proud to be in the final. Getting my butt kicked over here by an 18-year-old, but I'm still glad that it's here and I'm excited to go to the next round."
Irishman David McClure maintained his exciting form, qualifying in top spot for Saturday's final in a very competitive men's K1 competition. McClure, the reigning European champion chasing Ireland's first world title, posted 1626.67 points, ahead of Great Britain's Robert Crowe on 1503.33 and Poland's Tomasz Czaplicki on 1393.33.
American three-time world champion Dane Jackson was fourth, while Great Britain's Harry Price will live out a dream by competing in his fist final in front of a homecrowd.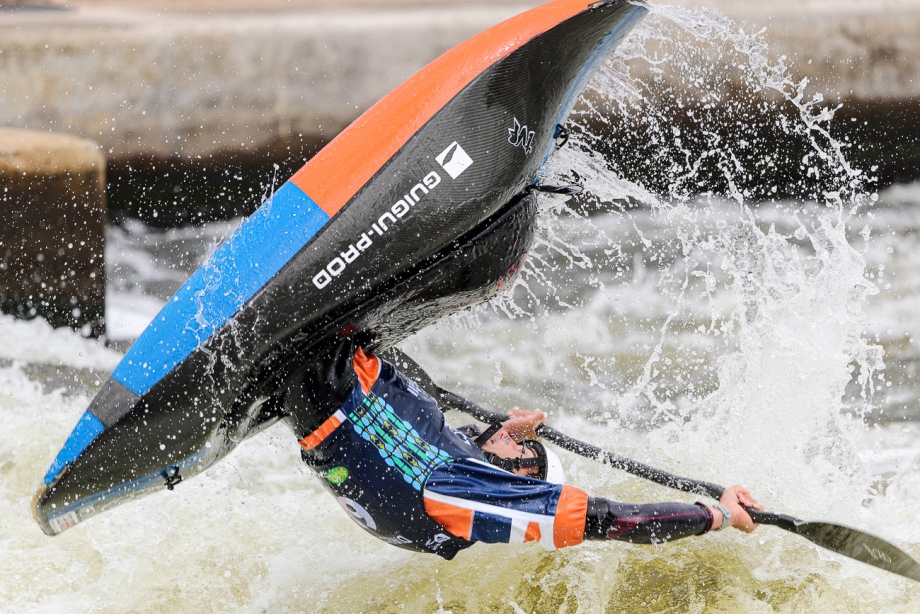 "Every day for the last three years I've dreamt of being in the final," Price said.
"Throughout the competition I've been trying to build it up, and each round I've been getting a little bit higher and so I want to keep that going."
Americans filled the top two qualifying positions in the women's junior kayak, with Makinley Hargrove posting 746.67, Abby Holcombe registering 453.33 and Great Britain's Niamh Macken finishing on 353.33.
Great Britain's Ben Higson on 1381.67 leads the men's junior field into Saturday's final, ahead of German Tim Rees on 1170 and Japan's Nanase Okazaki on 873.33.
RESULTS
WOMEN'S CANOE
ROBINSON-SHAW Ottilie (GBR) 690.00
GREEN Rebekah (GBR) 303.33
SCHACHER Anica (GER) 293.33
MEN'S CANOE
MILLER Landon (USA) 993.33
JACKSON Dane (USA) 840.00
DOLLE Tom (FRA) 836.67
Pics by Bence Vekassy