Great Britain's Ottilie Robinson-Shaw is closing in on at least two gold medals after an impressive day on the water at the ICF Canoe Freestyle World Championships in Nottingham on Tuesday.
And in a field packed with former and current world champions, four of the top five positions after the preliminary rounds of the men's K1 were filled by athletes who have never won the title. In a good day for Great Britain, Alex Edwards posted the highest score of the men's squirt semi-final.
Hometown favourite Robinson-Shaw looks set for a big week in Nottingham, posting an ICF record score in the semi-finals of the women's squirt, and then also recording the highest score in the women's canoe decked surface semi-finals, the first time women's canoe has been at an ICF world championships.
"I didn't know I was capable of that, it was my dream ride," Robinson-Shaw said after her squirt semi-final.
"I felt pretty awful before the meeting today. So to pull that out and to cruise through to the final, I'm pretty happy.
"I think everyone thinks I'm feeling pressure, but I'm not feeling pressure. I love kayaking, and if I'm loving kayaking I'm winning."
Poland's Tomasz Czaplicki, one of the most consistent freestyle athletes on the planet to never have won an ICF world crown, put together two eye-catching rounds to finish the men's K1 with 2693.33 points, more than 250 points ahead of hometown favourite, Robert Crowe.
Ireland's David McClure, recent winner of the European K1 freestyle title, finished with the third highest score, 30 points behind Crowe. No Irish athlete has ever won an ICF freestyle world title, but McClure is not getting ahead of himself.
"That's cheeky, but yes, I would love to be there," McClure said.
"I've put the work in, so hopefully. I think it's possible, but it will be tough. Anyone in finals can make it. Two weeks ago I wasn't sure, but the last two weeks have really come together.
"It feels a bit like before the Euros, where I really have a lot of energy and I'm quite excited. We've got so much paddling going on in Ireland, and so many people, it's going great."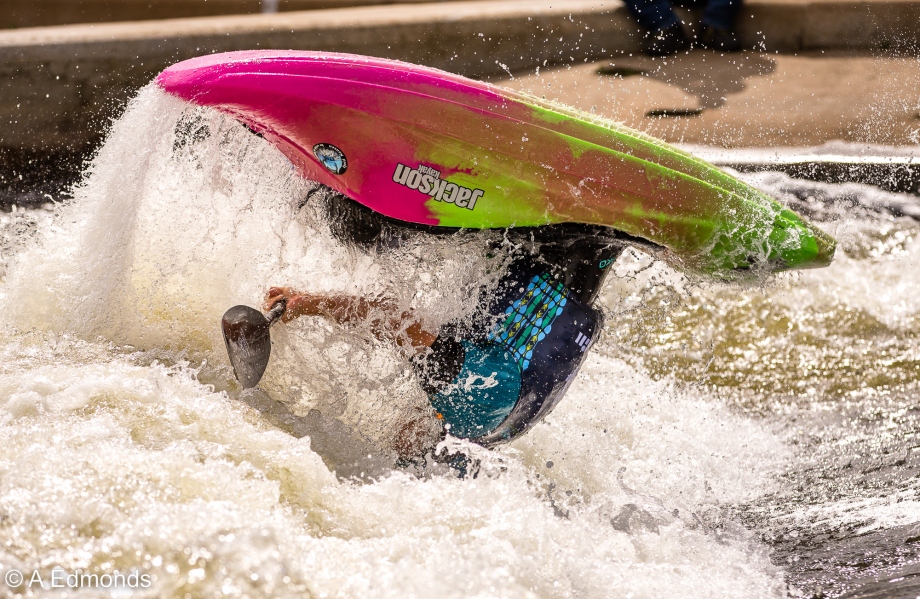 Spain's Joaquim Fontane Maso, world title winner in Argentina in 2017, was fourth, while three-time world champion and reigning title holder Dane Jackson finished ninth. The top twenty athletes all progressed to the quarter finals.
Eric Jackson, who won the inaugural world title in 2007, just missed the cut, but his son-in-law and 2009 world champion, Nick Troutman, was untroubled in moving through in 14th position. Every mens K1 world champion dating back to 2007 is in the Nottingham field.
"I definitely still have the passion," 33-year-old Troutman said.
"It's definitely changed over the years, having kids, I mean I'm just as passionate now to go out and do some class two with both of my kids, or to go run some rivers with some friends. It doesn't have to be the most extreme stuff anymore, but the passion is still there.
"There's just something about it where everybody loves the sport so much thatthey just want to keep coming back. Whether they're still winning or not, it doesn't even matter as much as getting out on the water and having a good time."
The first gold medals of the world championships will be decided on Wednesday, with the men's and women's squirt finals.
Pics by Antony Edmonds/AE Photos