A golden double for Germany's Conrad Scheibner was one of the highlights on the U23 program on day two of the ICF canoe sprint world championships in Pitesti, Romania, on Friday.
Scheibner made it back-to-back golds in the men's U23 C1 1000, and then teamed up with Tim Hecker to win the U23 C2 1000 title just over one hour later.
Teammate Jule Hake also defended her U23 K1 1000 title, although the 19-year-old had to withstand a spirited challenge from Hungary's Noemi Pupp.
"I'm very proud of myself because it's been a really long season for me," Hake said.
"With 100 metres to go, I told myself it was my turn, that I had to do it for my family, and I just wanted to win the world championships again.
"This year was even harder for me, because last year it was a real surprise and now I really had to fight for it. I had a lot of pressure."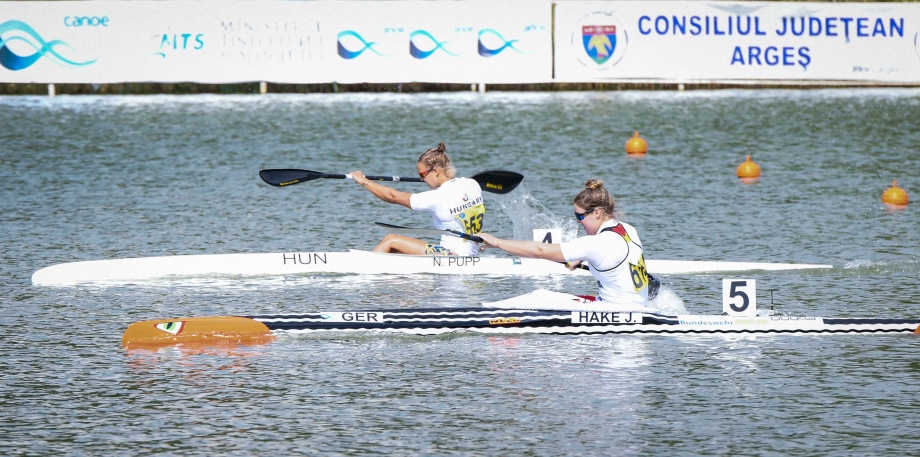 Australia's Tom Green was also impressive, leading all the way to take gold in the K1 1000. Green showed his potential by making a senior world cup final earlier this year.
"It was good fun, but it was also a bit tough," he said.
"I was just trying to keep control of the race, and it seemed to go well."
Scheibner was the stand-out on the day, leading from start to finish in the C1 1000, and then helping Hecker to a last-gasp gold in the C2 1000.
"I wanted to save some energy for the C2, so I took out my C1 hard and just tried to defend my position," Scheibner said.
"Winning a title is great, but I think just defending it, only a few people have done that, so I feel quite honoured to be among those people."
At the halfway stage of the C2 1000 Scheibner and Hecker were closer to the back of the field than they were the front, and even with 100 metres to go they looked unlikely to win a medal.
But a withering finish saw them pip the home-town Romanian favourites for the gold, allowing Hecker to defend the C2 gold he helped win last year.
"At 500 metres I thought 'oh my god'," Hecker said.
"We had a bit of a struggle, but we managed it quite well. For me, winning this event for two years in a row is very special."
Poland's Martyna Klatt, Malgorzata Pulawska, Klaudia Cyrulewska and Julia Olszewska teamed up to win the women's U23 K4 500, ahead of Hungary and Russia.
"This is our first gold medal, and we feel very good but a little tired," Pulawska said.
"We have been together one year. We have a good team and train very hard."
Hungary's Matyas Koleszar and Viktor Nemeth triumphed in the men's U23 K2 1000.
"It was a long race, into a headwind," Nemeth said.
"We felt from the start okay. It was very close at 500, but we felt strong."
Alena Nazdrova from Belarus went one better than her silver medal 12 months ago when she won the women's U23 C1 1000 final, ahead of Hungary's Giada Bragato and China's Lingzhi Cheng.
The junior and U23 world championships will continue on Saturday.
Pics by Adam Collins