Great Britain picked up two gold medals and the Slovakian C1 men's team won an incredible eighth consecutive title on the opening day of the 2018 ICF Canoe Slalom World Championships in Rio, Brazil.
France picked up the fourth gold medal on offer, the women's K1, with Great Britain taking the men's K1 and the women's C1.
Britain showed off its depth in canoe slalom with bronze medals in the men's C1 and women's K1.
In men's C1, Alexander Slafkovsky, Michal Martikan and Matej Benus have won every men's C1 World Championship teams title since the 2008 Beijing Olympics, clocking up their eight title by just 0.28 seconds from Slovenia, with Great Britain third.
"We are changing the history, it's amazing," Slafkovsky said.
"It was a very tough race today, the other teams had very strong, very good runs. And I touched the last upstream gate, so I thought it would not be enough.
"We really are a compact team, everybody knows what to do, and even if something goes wrong, we are very fast at creating and we think well."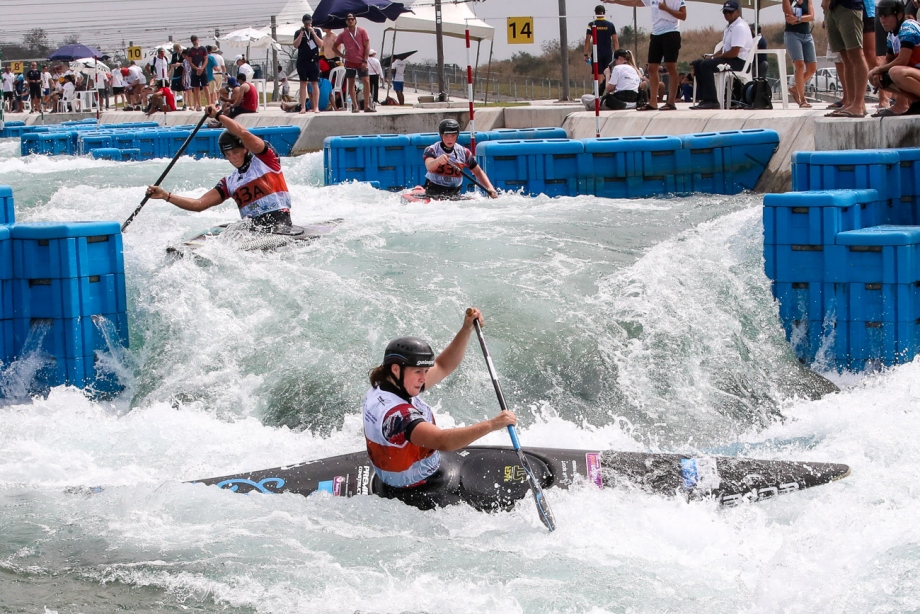 17-year-old Bethan Forrow teamed up with C1 world champion Mallory Franklin and former European champion Kimberley Woods to help Great Britain defend the women's C1 team title.
Franklin and Woods were part of the successful team in Pau last year, and said it was exciting to have Forrow join the team.
"It's so good in Britain that we have this depth, and to have Beth be able to come in and paddle at this level," Franklin said.
"She hasn't had that much exposure yet, but she'll get there."
"I was definitely nervous," Forrow said.
"My expectations were, like, way above my level. I'm really pleased with the way I paddled, and to be able to do it with these two."
The British K1 men's team added to the gold medal haul a short time later, with Olympic gold medallist Joe Clarke teaming with Bradley Forbes-Cryans and Chris Bowers to beat Poland and the Czech Republic.
It was the first K1 men's team title for Great Britain since 1997, a year before Bowers was born.
"We've had a really good feeling throughout the whole of the British team, in this camp and throughout the year as well," Forbes-Cryans said.
"We've put in a lot of work to be more of a team, and I think that paid off today. Myself, Joe and Chris work incredibly hard back at Lee Valley and I think this is all just testament to that hard work.
"Everyone's thinking about that one Tokyo boat, and there is definitely competition, extremely tough competition, fighting it out for that one position. But we all do our best just to leave that on the water and to get on with it while we are on the team together."
The first gold medal of the 2018 ICF World Championships went to the French women's K1 team of Lucie Baudu, Marie-Zelia Lafont and Camille Prigent.
"It's awesome, we are so happy, it's good to start the world championships like this," Prigent said.
"It makes us confident for the next races. It's good for the team. Everyone was happy this morning and excited to race."
The French finished ahead of Germany and Great Britain.
The World Championships continue in Rio on Wednesday, with the heats of the men's C1 and the women's K1.