The 2023 ICF Wildwater Sprint Canoeing World Championships has wrapped up with individual gold medals to Czech Republic, France and Slovenia, who had an excellent weekend of racing at the 1972 Olympic course in Augsburg, Germany.
The first gold medal of the day was awarded to Marie Nemcova from Czech Republic, who found the fastest lines in women's kayak final. The tears were flowing down the cheeks of the 22-year-old paddler who was celebrating her second title of the year in women's kayak. Nemcova repeated her success from less than a month ago, when she became European Champion in Skopje.
"It feels amazing. It was really stressful," Nemcova said.
"After me, there were still five girls at the top, so I had to wait here at the finish line. The time between the girls was so tight. It was stressful to see if they are going to do it or not. I am so happy."
Nemcova won her second individual medal of the day in the women's canoe final, where she finished third. France's Laura Fontaine, also the reigning European Champion in the women's canoe event, repeated her success in Augsburg. She stopped the clock at 70.68, which was a little over a second faster than Italian Cecilia Panato. Nemcova in third place was 2.28 seconds behind.
After the race Laura Fontaine could not hide her satisfaction.
"I changed a bit my training, and it works this year. I am happy I managed to cope with the pressure," she said.
"It was quite good. I felt calm. After the brigde, the big wave of the course is really tricky. I know I did well at that part."
Fontaine has a busy schedule ahead, as she will continue her season at World Cup in Mezzana and U23 World Championships in Roudnice nad Labem in July.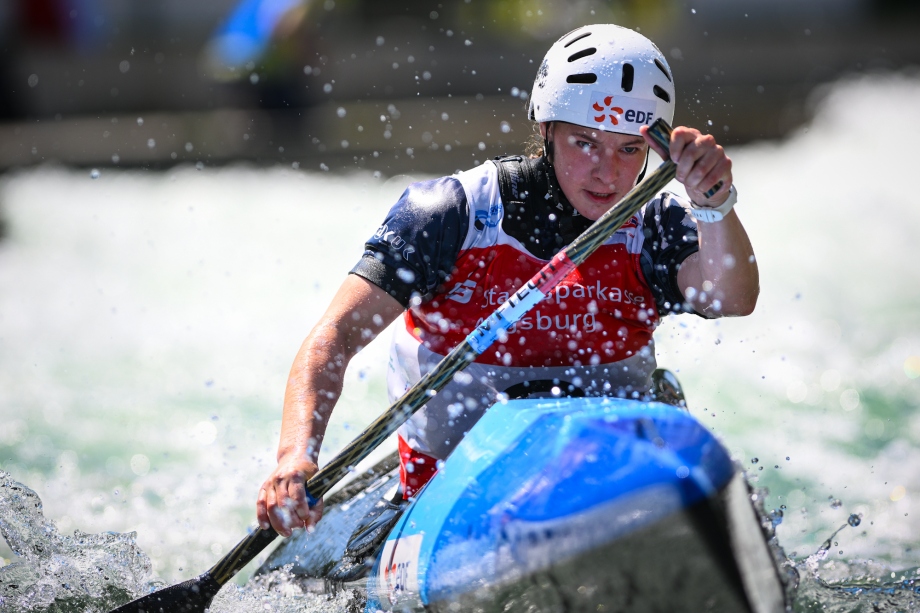 In the men's kayak event the world champion title stays in Slovenia, but it will be in different hands. It was Anže Urankar who was unbeatable on the rapids of Lech River.
Nejc Žnidarčič, the defending champion from 2022, was chasing the record seventh world champion title, which would secure him a top position in the all-time greatest paddlers, but was left empty-handed after his final run. He finished fourth, just outside the medals.
However, the Slovenian team and loud fans who came to support them in Augsburg were celebrating a double win. Anže Urankar proved to be in excellent shape this year, after being already crowned European champion in wildwater sprint this May in Skopje. This is his second wildwater sprint world champion title, after being the best already in 2017 at the World Championships in Pau.
Silver medal went to Slovenia, too, through Simon Oven, the 2018 Classic World Champion, while Luca Barone from France won the bronze medal.
"I am really happy. The top part was perfect. At the end I was a little bit tired, but it was enough," Urankar said.
"I did it after six years. In Skopje, I expected the European Champion title, but here I was not so sure. You need a little bit of luck, had it today. I am super, super happy."
Urankar will now prepare for the canoe sprint competitions at the European Games, where he will compete in kayak over 200 and 500 metres and in mixed K2 500 metres event together with Špela Ponomarenko Janić.
Charles Ferrion is unbeatable at this year's major international wildwater canoeing competitions. The young French canoeist had a big advantage of 0.73 seconds over second placed Blaž Cof from Slovenia, while František Salaj from Czech Republic in third position recorded 1.54 seconds slower time. Ferrion is also reigning European Champion in wildwater sprint.
"It is very good to win this title after my European Champion title," Ferrion said.
"The qualification day was very difficult for me, I took my final ticket after the second run. Today, I had a very good final with a very good time. This was the best time of the week in men's C1. It's amazing."
In men's Canadian double final the Czech duo Daniel Suchanek - Ondrej Rolenc picked up the gold medal and celebrated World Champion titles. Two French crews joined them on the podium. Nicolas Sauteur - Theo Viens were second and Hugues Moret - Pierre Troubady were third.
Elsa Gaubert and Margot Beziat (FRA) were the best in women's Canadian double final. Their closest opponents were sisters Alice and Cecilia Panato from Italy who were 0.38 seconds behind to win silver medal, and Swiss duo Hannah Mueller - Mona Clavadetscher won bronze medal.
In the afternoon, the team events were held in the 'Eis Kanal'. The Slovenian trio justified the role of the main favourites for the team gold medal in men's kayak event. Anže Urankar, Simon Oven and Nejc Žnidarčič produced a superb run, finishing the race half a second ahead of German team, while France picked up bronze medal.
In the women's kayak team event France took the win ahead of Czech Republic, while bronze medal surprisingly went to Slovenia. The last set of medals was awarded in the men's canoe team event. Here Germany won gold on their home course, ahead of teams from France and Czech Republic.
Nina Jelenc/ Pics Damiano Bendetto