Germany's Sideris Tasiadis and Great Britain's Mallory Franklin struck important blows in their quest for Tokyo 2020 Olympic selection with impressive ICF Canoe Slalom World Cup wins at Lee Valley, England, on Saturday.
For Tasiadis it is the third year in succession he has won C1 gold at the opening world cup, while it was Franklin's first world cup gold.
Both athletes are in tight battles for Olympic selection for their countries, with Tasiadis up against current world champion, Franz Anton, while Franklin is in a three-way tussle with two-time Olympian Fiona Pennie and 21-year-old Kimberley Woods.
"I didn't feel so much pressure in the final, I just said to myself to keep my line and make my own race, and see what happens," Tasiadis said.
"I knew that I had to go fast to beat the British guys, and if I did that, Franz would have to go faster."
Tasiadis finished ahead of British duo Adam Burgess and Ryan Westley, with Anton, who qualified fastest for the final, finishing eighth.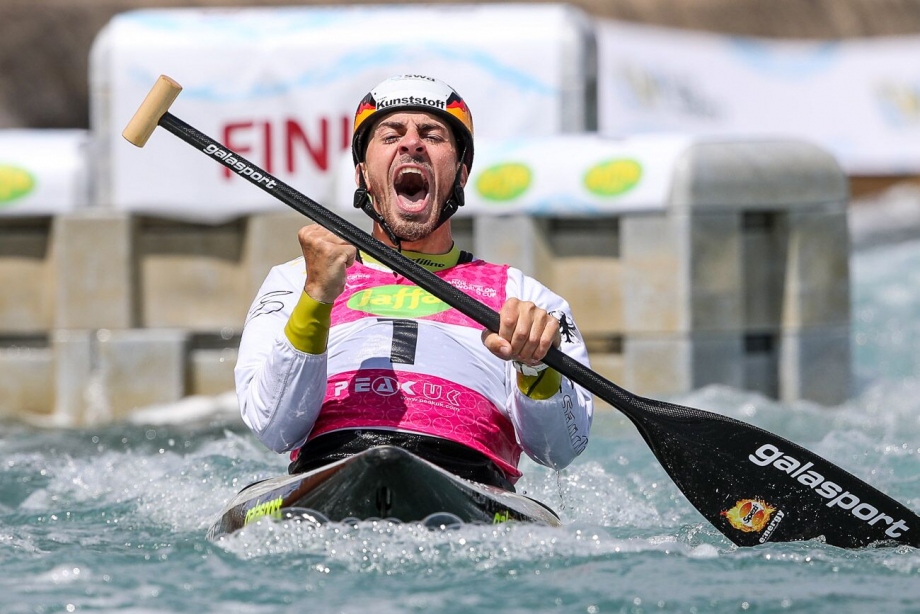 Franklin bounced back from a disappointing qualifying performance to deliver an almost perfect run in the women's K1 final, posting the only time under 100 seconds and finishing more than two seconds ahead of Germany's Ricarda Funk.
"Yesterday I struggled quite a bit mentally with my racing, not quite putting down the runs that I liked, but I had two good runs today and I'm really happy to have shown that form, especially in a home world cup," Franklin said.
"I don't have many world cup gold medals, I keep coming second behind Jess (Fox). I was quite nervous, there's kind of the appreciation for me that I've never been an athlete focussed on the Games."
Three-time world champion Jessica Fox once again ran into difficulties on the challenging Lee Valley course, but the Australian was still good enough to finish third.
There was more joy for the passionate British fans on Saturday afternoon, with Etienne Chappell winning the men's extreme slalom final, ahead of 2018 world champion Christian de Dionigi of Italy. Russia's Sergey Maimistov was third.
The women's extreme slalom final was won by Russia's Alsu Minazova, ahead of teammate Polina Mukhgaleeva and USA's Ashley Nee.
The opening ICF Canoe Slalom World Cup continues at Lee Valley on Sunday, with finals in the men's K1 and the women's C1.
RESULTS
MEN'S C1
TASIADIS Sideris         (GER)   94.63 (0 penalties)
BURGESS Adam          (GBR)   94.70 (0)
WESTLEY Ryan            (GBR)   95.07 (0)
WOMEN'S K1
FRANKLIN Mallory     (GBR)    99.42   (0)
FUNK Ricarda              (GER)   101.86 (0)
FOX Jessica                  (AUS)   105.39 (2)
Pics by Bence Vekassy/ICF