Olympic champions Lisa Carrington, Isaquias dos Santos, Nevin Harrison and Balint Kopasz are among the headline acts at this week's ICF Canoe Sprint and Paracanoe World Championships in Dartmouth, Canada.
Paralympic champions Charlotte Henshaw, Peter Kiss, Emma Wiggs, Fernando Rufino and Edina Muller will all be in action in the Paracanoe competition, as Dartmouth hosts the ICF World Championships for the first time since 2009 and the third time overall.
The men's K1 and C1 1000 and women's K4 500 and C1 200 are looming as some of the most exciting races this week. Olympic champion Kopasz and world champion Fernando Pimenta will go head-to-head in a men's K1 1000 which will also feature former world champion Josef Dostal of the Czech Republic and Olympic finalists Tom Green of Australia and Jacob Schopf of Germany.
The women's C1 200 will see the return of American Nevin Harrison for her first international race since becoming Olympic champion at the sport's debut in Tokyo. Her duel with hometown favourite Katie Vincent, Ukraine's Liudmyla Luzan and Cuba's Yarisleidis Duboys will go down to the wire.
Brazil's Isaquias dos Santos broke through for Olympic gold in the men's C1 1000 in Tokyo, but will face stiff competition from Czech Martin Fuksa, unbeaten at a world cup level this year, and reigning world champion Conrad Scheibner of Germany.
Reigning Olympic champion Lisa Carrington presents as the only clear favourite this week, her K1 500 form which took her to gold in Tokyo holding strong in world cup competition in 2022.
The men's K2 and women's C2 gold medalists from Tokyo will be in action in Dartmouth. The change from 1000 to 500 will present a new challenge for Australia's Thomas Green and Jean Van Der Westhuyzen, while China's Shixiao Xu and Mengya Sun will once again do battle with Ukrainian world champions and Olympic silver medalists Liudmyla Luzan and Anastasiia Chetverikova in the C2 500.
The beginning of a new Olympic cycle has seen multiple crew changes in team boats. Hungary, Germany, Poland and New Zealand are among the women's teams who will present women's K4 boats in Dartmouth dramatically different from the crews that competed in Tokyo.
In the men's K4 Spain has kept the same crew who won silver in Tokyo, while Olympic champions Germany have replaced the retired Ronald Rauhe with Jacob Schopf. Ukraine has a relatively stable K4 crew which have performed strongly at world cups this year.
Poland's Karolina Naja and Anna Pulawska will be hard to beat in the women's K2 500, after their Olympic silver medal. Carrington has a new K2 partner after Caitlin Regal announced her retirement after winning gold in Tokyo, while Hungary has an entirely new K2 combination.
Tokyo and Rio gold medalists Curtis McGrath from Australia and Serhii Yemelianov from Ukraine are the only big-name absentees from a packed paracanoe program in Dartmouth.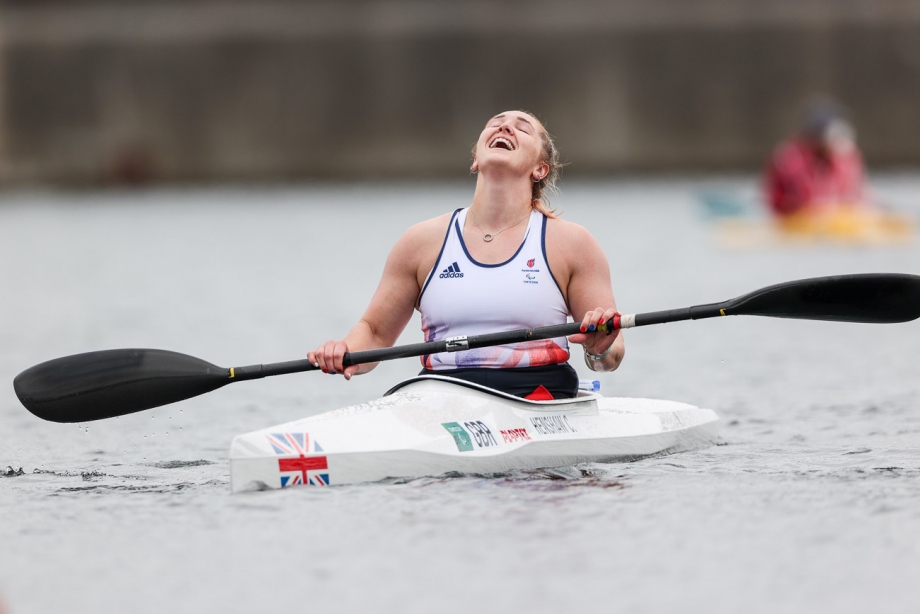 Great Britain's Charlotte Henshaw, Emma Wiggs and Laura Sugar will once again look to dominate the women's events, with Henshaw aiming to defend her KL2 title and the world championship gold she won in the new Paralympic event, the VL3.
German Edina Mueller and Ukraine's Maryna Mazhula will resume a KL1 battle which has seen them share Olympic and world titles in recent years.
The absence of McGrath and Yemelianov, who have both dominated their events since paracanoe made its Paralympic debut in 2016, will thrown the race for world championship gold in the men's KL2, KL3 and VL3 wide open.
The ICF Canoe Sprint and Paracanoe World Championships begin on Wednesday and run through until Sunday.