Canoe sprint and paracanoe athletes have overcome chaotic weather conditions and a four hour delay to progress through the second day of the ICF world cup in Poznan on Friday.
Strong winds forced a delay in the competition during the early afternoon. Organisers have also decided to delay Saturday's racing until 530pm local time due to the expected weather conditions.
In early morning racing, Cuba's Yarisleidis Cirilo Duboys once again impressed by setting the fastest time in the women's C1 200, with the 20-year-old set to start favourite in Sunday's final.
After the delay it was China's Pengfai Zheng who set the quickest time in the men's C1 1000, while last weekend's double gold medalist, Czech Martin Fuksa, also moved into the final. He said Friday's conditions reminded him of a race at the same venue a decade ago.
"It was a bit of a flashback, because ten years ago I was competing here in an Olympic qualifier before London, and the conditions were like this," Fuksa said.
"But I am through to the final and that's what is important."
Poland's Wiktor Glazunow has paddled at the Poznan venue many times in conditions similar to Friday, and although he won his C1 1000 heat, he still found the going tough.
"This was terrible, we are getting pushed from side-to-side, and we must be focused for the whole race," he said.
"I train here and there is often bad weather, so I know how to go. I feel like I'm going well for the final."
There was a major surprise in the men's K2 500 with the Canadian pairing of Pierre-Luc Poulin and Simon McTavish making the most of the strong tailwind to record the fastest semi-final.
"We had a bit if a disappointment last week after our semi, so it was important for us to get back out there and show what we've been working on," Poulin said.
"We've done a lot of training in bumpy conditions so I'd like to think it's made us pretty tough, so we're excited about these sorts of conditions," McTavish said.
Lithuania's Mindaugas Maldonis and Andrej Olijnik are also into Sunday's K2 500 final.
"This morning in the heats it was like a lottery, you could catch some waves and increase the distance from the rest, if you didn't catch, it was a lottery," Maldonis said.
In the women's K2 500 it was Germany's Paulina Paszek and Jule Hake who were quickest, but the happiest crew were the Dutch pairing of Selma Konijn and Ruth Vorsselman, who one week after becoming the first Dutch women's boat to qualify for a final in an Olympic-class event, repeated the performance on Friday to qualify for another final.
"Last week we were really excited, but we thought maybe we were just lucky," Vorsselman said.
"But now we've done it again. Today was pretty hard, in the heats this morning we were terrible and we almost didn't go past the heats. But we relaxed between the races and here we are."
There were strong results for two crews who only came together this weekend for the women's K2 500. France's Manon Hostens and Lea Jamelot joined forces after Covid struck down their regular partners.
"We only learned this morning that we would race together, so yes, we are pretty new," Jamelot said.
"We paddle together in K4, and we had a K2 race in Australia several years ago. But this is good."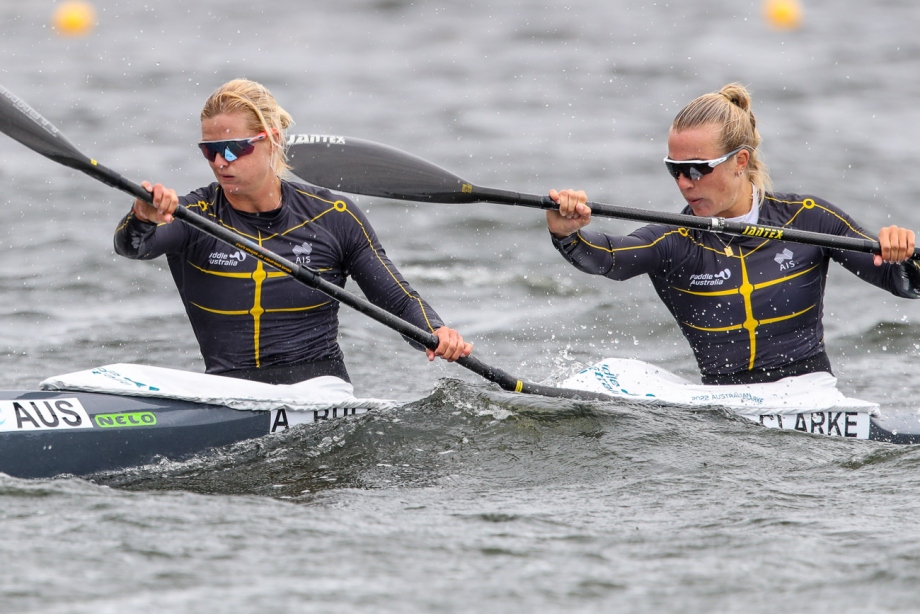 Australia's Alyssa Bull and Alexandra Clarke both come from a surf life saving background, and had their first K2 500 race together on Friday morning.
"The girls squad we've got at the moment is really strong, and everyone can jump in and out of crews pretty easily," Bull said.
"It's just nice to be able to jump into any boat and put some work in and feel pretty comfortable."
In the paracanoe, Ukraine's Vladyslav Yepifanov posted the fastest time in the heats of the men's VL3.  
The ICF canoe sprint and paracanoe world cup will continue in Poznan from 530pm on Saturday.
Pics by Bence Vekassy