Uzbekistan won its first ever canoeing gold medal at a Youth or senior Olympic Games, and two months after almost walking away from the sport, Hungary's Adam Kiss won an emotional gold medal in Buenos Aires on Saturday.
At just 16 years of age Uzbekistan's Gulbakhor Fayzieva has already earmarked herself as a canoeing star of the future, following a slashing gold medal performance in the women's canoe.
Fayzieva was the standout performer in the women's canoe sprint at the YOG qualifiers in Barcelona in April, and in a repeat of the final six months ago, once again showed herself a class above with a 10-second win over Hungary's Laura Gonczol.
"We worked very hard to be prepared for this," Fayzieva said.
"I've been training two times a day, preparing for these Games in Tashkent. I'm very honoured and proud, because this is the first Olympic medal in Uzbekistan history.
"I want to go to an Olympic Games now, I want to win a medal at the senior Olympic Games."
Fayzieva grew up in the same Uzbek village as Vadim Menkov, Uzbekistan's two-time C1 world champion and a sporting legend throughout the country. It made canoeing an easy choice, especially given her village was located on the banks of a popular canoeing lake.
The bronze medal went to Mexico's Stephanie Angle Rodriguez Guzman, spreading the medals across three continents.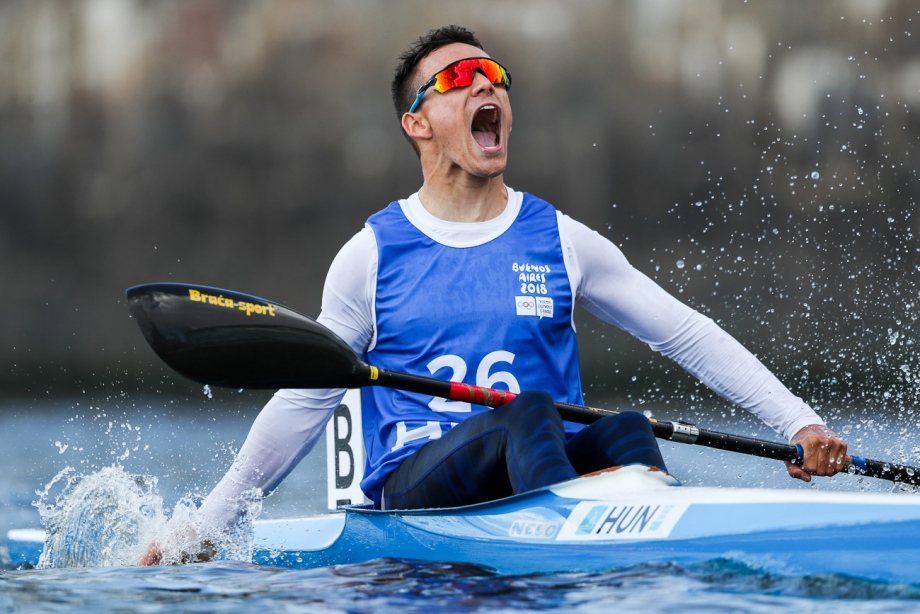 Hungary's Kiss had to work all the way to the finish line to hold off Belgium's Jules Vangeel in the men's kayak final.
The 16-year-old said the race had been a blur, but he used the support he had received from family and friends in recent days to drive him to the finish line.
He later revealed he almost didn't get to Buenos Aires.
"I touched rock bottom two months ago," Kiss said.
"I was really close to breaking down totally and quitting canoeing altogether. But I'm really happy that I overcame that weakness of mine and that I came here and got the gold.
"It was a combination of things, and I just felt a little fed up. I was maybe training too much, it was a little bit of everything.
"In my career, this is a very important stepping stone, maybe the most important stepping stone there is."
Argentina's Valentin Rossi thrilled the big local crowd by winning bronze.
RESULTS
WOMEN'S CANOE HEAD-TO-HEAD SPRINT
FAYZIEVA Gulbakhor                     (UZB) 2:06:28
GONCZOL Laura                              (HUN) 2:16:14
RODRIGUEZ GUZMAN Stephanie (MEX) 2:16:04
MEN'S KAYAK HEAD-TO-HEAD SPRINT
KISS Adam                   (HUN)  1:38:77
VANGEEL Jules            (BEL)    1:39:88
ROSSI Valentin            (ARG)   1:38:88