A visit by a former French President, the first ever ICF Masters World Championships, records broken and the return of a paddling legend – the 2022 ICF wildwater canoe world championships in Treignac was an event to remember.
It's taken four years to get back onto a natural river for a wildwater world titles, thanks to Covid, but the four days of action in France showed it was worth the wait.
The championships were blessed by the presence of two legends – former French President, Francois Hollande, and Olympic gold medalist and 2006 wildwater world title holder, Max Hoff.
And on the water, new legends were created, reputations were enhanced, and careers came to an end.
ICF wildwater committee chair, Manuela Gawehn, said it was a triumphant return to nature for the sport.
"This really was wonderful celebration of the beauty and passion of wildwater canoeing, on one of our most beautiful courses, in front of a colourful and engaged crowd," Gawehn said.
"We've had to wait four years to hold a full world championships, so what better way to announce our return then to come back to where it all began for our sport in 1959.
"We were excited to host our first Masters world titles, excited to see new champions crowned, and excited to see athletes enhance their reputations. Wildwater canoeing is alive and well."
France's Manon Hostens was already considered one of wildwater's most consistent performers, but in Treignac she took that to a whole new level with four gold medals – two individual titles, and two as a member of the French team.
Sadly for wildwater fans, that's the last they will see of Hostens, until at least after the Paris Olympics. 27-year-old Hostens has already been to two Olympics, and wants to make her home Games something special.
"I come to wildwater only for Treignac because it is in France, but after this I will just focus on Paris and the Olympic Games," Hostens said.
"I will be sad because I like it very much, but it is very hard to do both."
Wildwater teammate Claire Bren has made a similar decision, but unlike Hostens, she's unlikely to return.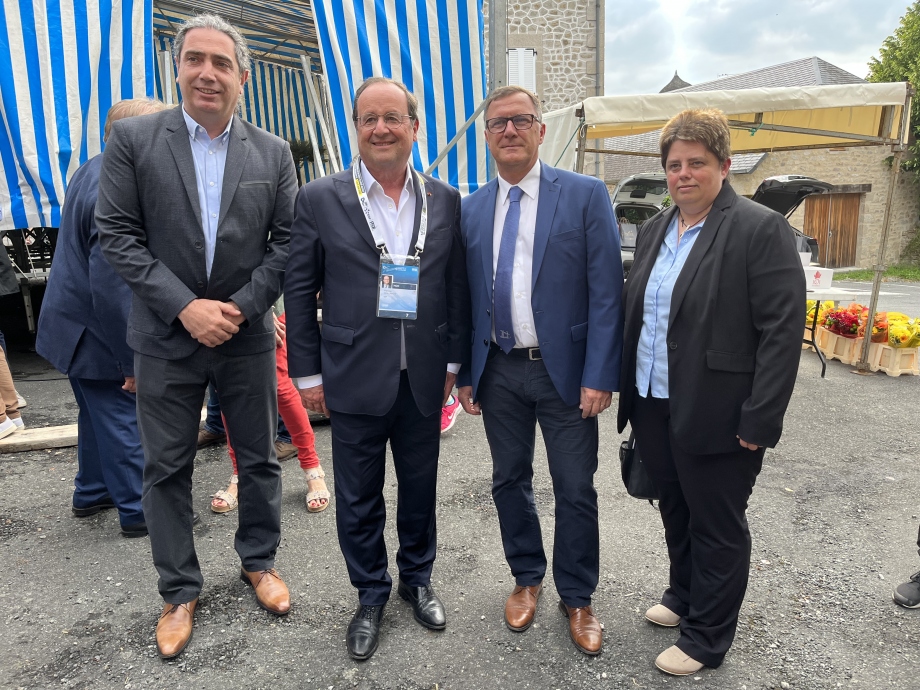 Czech Ondrej Rolenc won his seventh ICF wildwater canoe world title on Sunday when he triumphed in the men's C1 classic. He's also won five C1 sprint titles, and a C2 sprint gold. He is one win off joining Italian legend Vladi Panato as the most successful wildwater athlete of all time.
But it's unlikely it's going to happen. An emotional; Rolenc said he has had enough.
"This was the hardest win in my career," Rolenc said.
"I still love wildwater, but I feel older, the youngest are coming, so maybe now I say thank you very much and goodbye.
"I feel it's time to leave while I'm on the top. I hate when I lose, so I would like to say to everyone who loves this sport, thank you so much for everything you've given me."
Slovenia's Nejc Znidicar joined Panato and Croatia's Emil Milihram as the most successful paddler in a single event when he won his sixth K1 sprint title on Saturday. A win next year will give the 38-year-old his seventh crown, and alone he will stand on the list of most titles in one event.
"Last year was my fifth, and I became the first athlete with five world titles, so this year for sure I wanted to keep it," Znidarcic said.
"I will finish once I am not competing for the podium, but I still feel the drive to be successful."
And then there was the return of the Hoff – not David Hasselhoff, much bigger. Max Hoff only has the one ICF wildwater world title, but in his defence he spent more than a decade winning Olympic medals and canoe sprint world titles.
Last year he announced his retirement from canoe sprint. But he never stopped paddling, so when an opportunity to return to the sport where it all began for him beckoned, he grabbed it with both hands.
The reverence which is held for Hoff among fellow athletes was evident in the number of selfies he posed for, and the applause he received for winning individual bronze and team silver.
"For me it was just fun, I think I was the relaxed person on the start line," Hoff said.
"It was totally different for me then when I was on the canoe sprint start line where there was a lot of pressure. This morning when I was warming up in the boat, I had a really good feeling. I knew that feeling from canoe sprint, when I feel like I'm going to go well.
"It was a great experience, and I'm happy to have this experience again after having retired from professional paddling last year."
The thrill of being back was very real for everyone involved in the weekend's racing. Already people are counting down the days until the next one.