The world's best paracanoe athletes battled strong winds and choppy water to post strong results on the opening day of the ICF Canoe Sprint and Paracanoe World Cup in Poznan, Poland, on Thursday.
Among those to impress in the early rounds were Ukraine's Serhii Yemelianov and Italy's Esteban Farias, and Great Britain's Charlotte Henshaw and Poland's Katarzyna Sobczak.
The ICF World Cup will be the only major international event for most of the world's top paddlers before this year's ICF Paracanoe World Championships.
Austria's Markus Swoboda, who won silver in the men's KL2 in Rio in 2016, won his heat on Thursday but said he is still well off his best.
"I've gained a lot of weight, but there is still another three months until the world championships, and one and a half years until the Paralympics," Swoboda said.
Great Britain's Emma Wiggs is another who is happy there is still several months until the world championships. The 2016 Rio gold medallist won her KL2 heat, but is still recovering from wrist surgery in the off-season.
"The winter has been a long challenging one, so I'm just chuffed to be back on the international stage and lining up," Wiggs said.
"I was back on the water gently at the end of January, so it's been challenging. But we love a challenge."
British teammate Charlotte Henshaw took the KL2 world title from Wiggs last year, and finished ahead of her again this week at the European Championships. She was also a very convincing heat winner.
"I think there's definitely things that I've learnt in the past 12 months, that perhaps if this had been the conditions this time last year I wouldn't have coped so well," Henshaw said.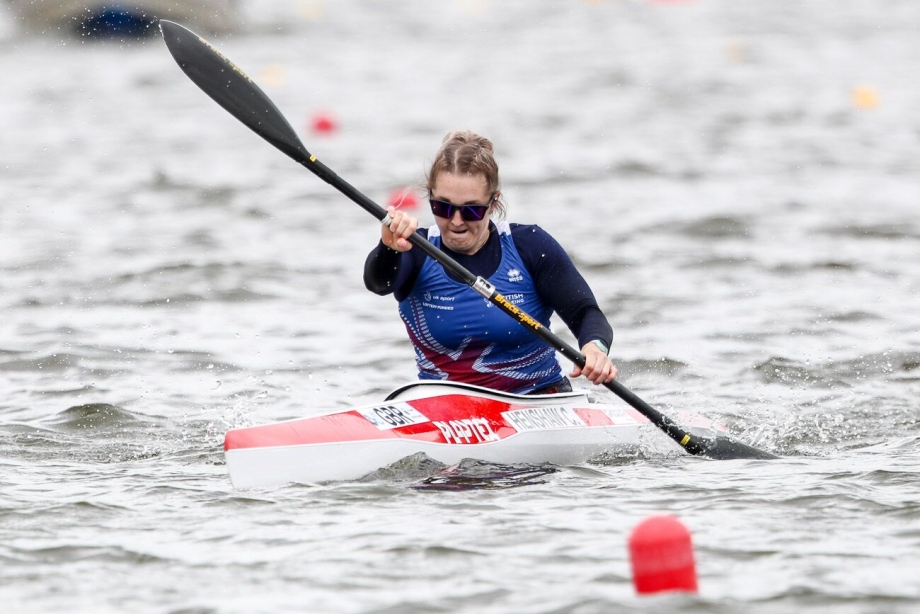 Ukraine's Serhii Yemelianov has dominated the men's KL3 event since before Rio, and he was untroubled winning his heat in the strong wind on Thursday.
"The wind is no problem for me," Yemelianov said.
"I feel I am getting better. Next year will be power, power and power."
Poland's Katarzyna Sobczak is having a third attempt at qualifying for a Paralympic Games, after missing out twice as a swimmer.
She looked impressive in winning her heat of the KL3 on Thursday in front of her home crowd.
"Tomorrow marks two years of being a paddler, after ten years of being a swimmer," Sobczak said.
"Here is my heart. I know Polish people, its for me much better to paddle here than in any other country."
Paralympic and world champion Curtis McGrath is not competing in Poznan, with New Zealand's Scott Martlew one of several athletes hoping to take over in the absence of the big Australian.
He was impressive in his heat of the men's KL2, and said being re-classified into a new category has changed his focus.
"With the new classification it definitely has given me new motivation," he said.
"The Paralympics is obviously my big goal on the not-too-distant horizon, so I'm pretty excited for that."
The first medal of the Poznan world cup was won by Russia's Larisa Volik in the non-Paralympic VL3 race.
Volik, who has won the past two VL3 world titles, had to fight off a strong finish by Ukraine's Nataliia Lahutenko to snare the gold. She said it made up for a disappointing race in the kayak class earlier in the day.
"It was so hard because the wind is very strong and it was difficult to feel the water," Volik said.
"It was difficult to do a good race after my kayak, I want to believe I could do my kayak better."
There were finals in two other non-Paralympic events, the women's VL1 and the men's VL1. Japan's Monika Seryu took gold in the VL1, while Russia's Artur Chuprov won the men's race.
There were few surprises during afternoon racing on the canoe sprint program, with all the big names safely progressing through to their semi-finals or finals.
The 2019 ICF Canoe Sprint and Paracanoe World Cup will continue on Friday morning.