Paracanoe Ergometer Challenge
Instructions for recording the videos
1/ First the video recording must show the ergometer screen that is set up for the 500m race.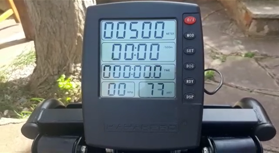 2/ Then, within the same recording, the video recorder (or smartphone) will then be positioned properly to capture the entire race of the athlete (can be done by another person or by positioning properly the device).
Ideally the video should face the athlete, slightly position from the side, to have the best capture of the movement and the athlete.  
3/ When finished, the same video should then capture the final time on the screen of the ergometer. The video can then be stopped.
Please click on the image below to see an example of a video recording (in this example, the 500m distance has not been completed, and the submission will then not be approved)
4/ In addition, it is advised to take a simple picture of the screen showing the final time, to attached it in the submission 
IMPORTANT: the videos and pictures might be posted, or used in creating promotional videos:
Athletes comments are allowed, but must not make the video too long
if an athlete would want to participate to the challenge, but refuse to have his videos/pictures published, the athlete should contact the ICF paracanoe manager by mail to explicitely state that the submitted video must not be published at michel.alarcon@canoeicf.com
5/ Finally, the athlete will have to submit his time and videos/picture on the submission page. a coordinator will review the submission and the video, to make sure the submission is correct. Then the time will appear in the 'Rankings' page.