Adam VAN KOEVERDEN (CAN)
Canada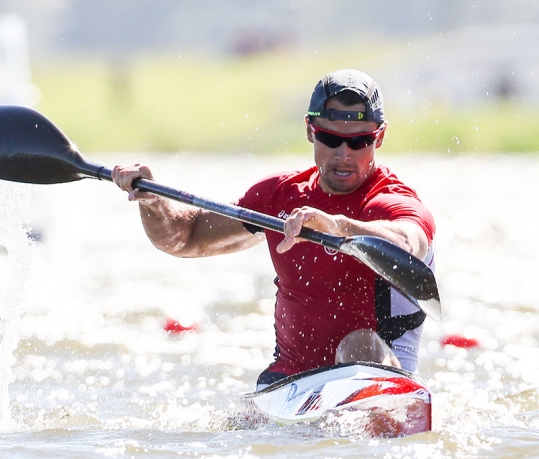 Biography
General Interest
Nicknames
Vank (olympic.ca, 10 Aug 2014)
Sporting philosophy / motto
"To give anything less than your best is to sacrifice the gift." [Steve Prefontaine] (olympic.ca, 10 Aug 2014)
Awards and honours
He was named Canada's Athlete of the Year in 2012. (speakers.ca, 10 Jul 2015)

He was flag bearer for Canada at the opening ceremony of the 2008 Olympic Games in Beijing. (olympic.ca, 10 Aug 2014)

He received the Lou Marsh Award as Canada's Outstanding Athlete of the Year for 2004. (olympic.ca, 10 Aug 2014)
Other information
COMMUNITY INVOLVEMENT
He has served as an ambassador for Right To Play, an organisation that uses sport to improve health, build life skills and foster peace for disadvantaged children and communities. Following the 2012 Olympic Games in London, he helped raise money for the charity 'Climbing For A Cause' by hiking up Mount Kilimanjaro in Tanzania. He has also worked with the David Suzuki Foundation and Colon Cancer Canada. (speakers.ca, 26 Jul 2015; olympic.ca, 10 Aug 2014; canoekayak.com, 12 Feb 2013; righttoplay.com, 22 Apr 2008)

COMMENTATOR
He worked as an analyst for a television channel in Canada, covering the 2014 Olympic Winter Games in Sochi. He also wrote a blog during the Games that gave training advice on cross-country skiing. (vankayak.com, 08 Jul 2014; speakers.ca, 26 Jul 2015)

ATHLETES' COMMISSION
He was one of six athletes elected to the Canadian Olympic Committee's [COC] Athletes' Commission in September 2008. He was re-elected in 2012 and serves as the vice-chair of the commission. (olympic.ca, 10 Aug 2014)

NATIONAL FIRSTS
He won gold in the K1 500m and bronze in the K1 1000m at the 2004 Olympic Games in Athens. It was the first time a Canadian male paddler had claimed a medal in either event. (SportsDeskOnline, 07 Aug 2015; olympic.ca, 17 Aug 2008)
Sport Specific Information
When and where did you begin this sport?
He began paddling at age 13 at the Burloak Canoe Club in Oakville, ON, Canada.
Why this sport?
He took up the sport after his mother saw an advert in the local newspaper that read 'Future Champions Wanted'. "She was concerned I was going to find trouble after school. Canoe club was her solution."
Club / Team
Burloak Canoe Club: Oakville, ON, CAN
Name of coach
Scott Oldershaw [club, national], CAN; Larry Cain [club, national], CAN
Further Personal Information
Date of birth
29 January 1982
Residence
Toronto, ON, CAN
Occupation
Athlete, Motivational Speaker
Higher education
Human Movement Studies - McMaster University: Hamilton, ON, CAN