Alena NAZDROVA (BLR)
Belarus
Languages:
Belarussian and Russian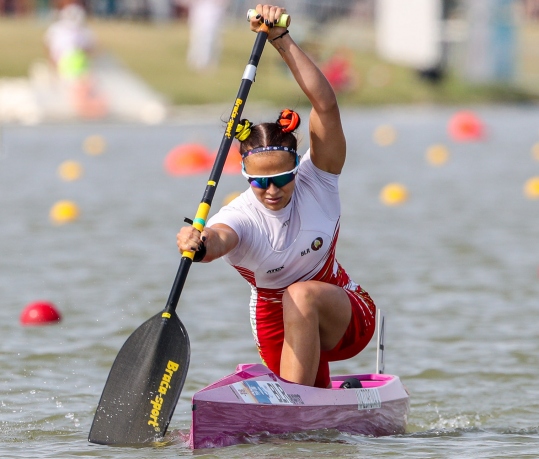 Biography
Further Personal Information
PLACE OF RESIDENCE
From December until May I stay at Turkey, and other time I'm at Belarus but often change place because of competition and camp.
OCCUPATION
Belarus, Mazyr
HIGHER EDUCATION
Student of pedagogical university
WHEN/WHERE DID YOU START CANOEING/ KAYAKING?
At 2013 I start my canoeing at Gomel city in Belarus. At my school come trainer of canoe and check our power. They like me and advance me to come to their club.
HOBBIES
Music, Motobike, photography
NAME OF COACH
National team, Mudrahel Pavel
SENIOR INTERNATIONAL DEBUT YEAR
2016
SENIOR INTERNATIONAL DEBUT COUNTRY
Germany
SENIOR INTERNATIONAL DEBUT COMPETITION
World Cup
MEMORABLE SPORTING ACHIEVEMENT
At 2015 was my first competition at Portuguese. It was Junior championships. I was my first gold medal.
MOST INFLUENTIAL PERSON IN CAREER
My parents, because they every time near me at all situation and my personal coach Zbarouski Siargey
HERO/IDOL
Darya Domracheva, biathlon. Because she won 3 medals after she born baby and come back to the sport and win more 2 medals. She has strong, true way in her life. She is an ideal example of the best sportsman.
SUPERSTITIONS/ RITUALS/ BELIEFS
Before the competition I every time listen music of the same group-this give me power.
SPORTING PHILOSOPHY/ MOTTO
From my success I want to show for all world that Belarus very strong, sporting and worthy country
FAVOURITE PADDLING COURSE
I like Romani channel because it is a very beautiful place and nature and good for competition. But of course I like our Minsk channel and this is the best place.
FAVOURITE FOOD
Chocolate cake
FAVOURITE MUSIC
Rock and modern electronic music
AMBITIONS
I want be at Olympic Games in Tokyo 2020 because it's first-time women canoe at Olympic Games and I wish to win.
AWARDS AND HONORS
2016, Moscow, Europe championship, gold. 2017 Czech Republic, World championship, C2 500, bronze
SPORTING RELATIVES
My mother finished sport school