Amanda JENNINGS (AUS)

Australia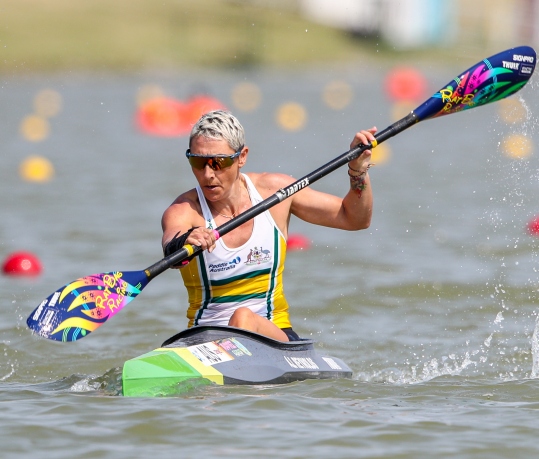 Biography
Further Personal Information
BIOGRAPHY
Type of Impairment
Limb deficiency (canoe.org.au, 17 May 2016)

Origin of Impairment
Acquired (canoe.org.au, 17 May 2016)

Impairment Details
In April 2012 she underwent surgery to amputate her right leg below the knee. She made the decision to remove the limb as a result of living in constant pain after injuring her knee 20 years earlier. Her injury had been aggravated by a condition that affected her central nervous system. (canoe.org.au, 17 May 2016; heraldsun.com.au, 20 Apr 2016; au.news.yahoo.com, 13 May 2014)

Awards
She was Australia's flag bearer at the 2016 World Championships in Duisburg, Germany. (canoe.org.au, 17 May 2016)

She received the People's Choice Award at the 2015 Australian Canoeing Awards. (canoe.org.au, 15 Nov 2015)

General
BOAT
She competes in a rainbow coloured boat, which she has named 'Douglas' or 'Doug' after US boxer James 'Buster' Douglas and World War II double amputee pilot Douglas Bader. "I am very excited to show off my new rainbow boat. It is about demonstrating that elite athletes can have fun at the same time." (canoe.org.au, 11 Feb 2016)


PLACE OF RESIDENCE
Macclesfield, Victoria
WHEN/WHERE DID YOU START CANOEING/ KAYAKING?
Aura Vale Lake (Sherbrooke Knox Canoe Club) 2012
WHEN/WHERE DID YOU START CANOEING/ KAYAKING?
She began competing in the sport in 2013
REASON FOR TAKING UP THE SPORT
Initially introduced as a favour for a close friend (compete in Murray Marathon). Gained an immediate enjoyment from the freedom of canoeing/kayaking provided as well as met some amazing people. 
HOBBIES
Spending time with family, friends and animals, horse riding, riding her motorbike.
CLUB
Patterson Lakes Canoe Club (PLCC)
NAME OF COACH
Andrea KING (National)
NATIONALITY OF YOUR COACH
Australian
TRAINING REGIME
She has personal training sessions twice a week, and also does Pilates three times a week. She trains on the water every day.
SENIOR INTERNATIONAL DEBUT YEAR
2014
SENIOR INTERNATIONAL DEBUT COUNTRY
Russia
SENIOR INTERNATIONAL DEBUT COMPETITION
World Championships
SENIOR INTERNATIONAL DEBUT LOCATION
Moscow
HERO/IDOL
Australian swimmer Dawn Fraser.
SPORTING PHILOSOPHY/ MOTTO
"Anything is possible by being the best you can be and loving what you do."
AMBITIONS
To compete at the 2020 Paralympic Games in Tokyo.
OTHER INFORMATION
Rank
Event
Year
Location
Result
World Championships
1
KL3
2015
Milan, ITA
50.501
2
KL3
2016
Duisburg, GER
51.686
3
K1 200m LTA
2014
Moscow, RUS
51.247