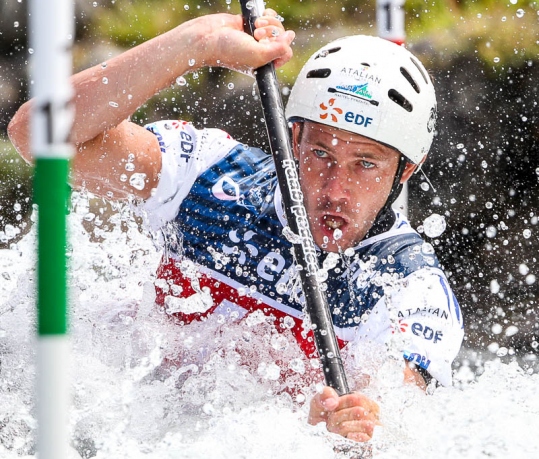 Boris Neveu (FRA)
France
Canoe Slalom
Date of birth
12 April 1986
Residence
Bagnères-de-Bigorre, FRA
Higher education
Sport Studies - Nation Institute for Sport and Physical Education [INSEP]: Vincennes, FRA
Biography
General Interest
Hobbies
Running, biking, skiing. (galasport.com, 04 May 2015)
Memorable sporting achievement
Winning gold at the 2014 World Championships in Deep Creek, MD, United States. (larepubliquedespyrenees.fr, 14 Aug 2015)
Hero / Idol
French slalom canoer Patrice Estanguet. (franceolympique.com, 09 Apr 2015)
Sporting philosophy / motto
"Train hard, win easy." (galasport.com, 04 May 2015)
Ambitions
To win gold at the 2015 World Championships in London, England and to qualify for the 2016 Olympic Games in Rio de Janeiro. (larepubliquedespyrenees.fr, 14 Aug 2015)
Sport Specific Information
When and where did you begin this sport?
"I started when I was about five, on weekends with my parents and my brother, just for fun. It was only around the age of 14-15 that I started to compete." By 18, he had integrated into France's national 'Rising Stars' programme.
Why this sport?
He credits his parents with getting him into the sport, as they would go on family kayaking trips during holidays. "Every holidays, we would be out paddling on the Garonne, in the Landes." At age 15 he started competing, when a coach brought together several clubs in his region for a competition. "Canoe-kayak for me is more than a passion. I love it."
Club / Team
ALCK Bagneres-de-Bigorre: Bagnères-de-Bigorre, FRA
Name of coach
Sylvain Curinier, FRA
Results
Competition
Event
Location
Date
Season
Gender
Result
Rank
Mentions
World Championships
K1
England, London
20 September 2015
2015
Men
94.38
11

Best result

World Championships
K1 Team
England, London
20 September 2015
2015
Men
110.42
5

Best result

World Championships
K1
United States, McHenry, MD
20 September 2014
2014
Men
101.61
1

Best result

World Championships
K1 Team
United States, McHenry, MD
20 September 2014
2014
Men
112.79
1

Best result

World Championships
K1
Czech Republic, Prague
15 September 2013
2013
Men
98.80
11

Best result

World Championships
K1 Team
Czech Republic, Prague
15 September 2013
2013
Men
112.12
3

Best result

World Championships
K1
Slovakia, Bratislava
11 September 2011
2011
Men
147.45
9

Best result

World Championships
K1 Team
Slovakia, Bratislava
11 September 2011
2011
Men
111.83
2

Best result

World Championships
K1
Slovenia, Tacen
12 September 2010
2010
Men
99.90
6

Best result

World Championships
K1 Team
Slovenia, Tacen
12 September 2010
2010
Men
102.92
2

Best result

World Championships
K1
Spain, La Seu d'Urgell
13 September 2009
2009
Men
94.89
2

Best result

World Championships
K1 Team
Spain, La Seu d'Urgell
12 September 2009
2009
Men
147.27
10

Best result

World Championships
K1
Czech Republic, Prague
5 August 2006
2006
Men
12
World Championships
K1 Team
Czech Republic, Prague
4 August 2006
2006
Men
223.51
1

Best result

European Championships
K1
Slovakia, Liptovský Mikuláš
14 May 2016
2016
Men
97.37
6

Latest result

Best result

European Championships
K1 Team
Slovakia, Liptovský Mikuláš
14 May 2016
2016
Men
109.07
2

Latest result

Best result

European Championships
K1
Germany, Markkleeberg
30 May 2015
2015
Men
90.80
1

Best result

European Championships
K1 Team
Germany, Markkleeberg
30 May 2015
2015
Men
117.55
8
European Championships
K1
Austria, Vienna
31 May 2014
2014
Men
94.52
13
European Championships
K1 Team
Austria, Vienna
31 May 2014
2014
Men
100.34
5

Best result

European Championships
K1
Poland, Kraków
8 June 2013
2013
Men
131.36
12
European Championships
K1 Team
Poland, Kraków
8 June 2013
2013
Men
142.93
15
European Championships
K1
Germany, Augsburg
12 May 2012
2012
Men
29
European Championships
K1 Team
Germany, Augsburg
12 May 2012
2012
Men
108.35
1

Best result

European Championships
K1
Spain, La Seu d'Urgell
12 June 2011
2011
Men
21
European Championships
K1 Team
Spain, La Seu d'Urgell
12 June 2011
2011
Men
106.79
3

Best result

European Championships
K1
Slovakia, Cunovo
15 August 2010
2010
Men
24
European Championships
K1 Team
Slovakia, Cunovo
14 August 2010
2010
Men
215.72
7

Best result

European Championships
K1
England, Nottingham
31 May 2009
2009
Men
92.93
2

Best result

European Championships
K1 Team
England, Nottingham
30 May 2009
2009
Men
94.80
3

Best result

European Championships
K1
France, L'Argentière-la-Bessée
2 July 2006
2006
Men
11
European Championships
K1 Team
France, L'Argentière-la-Bessée
1 July 2006
2006
Men
248.07
6

Best result

Oceania Open Championships
K1
Australia, Penrith, NSW
26 February 2012
2012
Men
34
Oceania Open Championships
K1
Australia, Penrith
21 February 2010
2010
Men
100.36
4

Best result

World Cup
K1
11 September 2016
2016
Men
21

Latest result

World Cup
K1
16 August 2015
2015
Men
4

Best result

World Cup
K1
17 August 2014
2014
Men
5

Best result

World Cup
K1
25 August 2013
2013
Men
18
World Cup
K1
2 September 2012
2012
Men
9
World Cup
K1
13 August 2011
2011
Men
15
World Cup
K1
4 July 2010
2010
Men
11
World Cup
K1
3 August 2009
2009
Men
11
World Cup
K1
15 July 2007
2007
Men
33
World Cup
K1
11 June 2006
2006
Men
29
World Cup
K1
24 July 2005
2005
Men
43