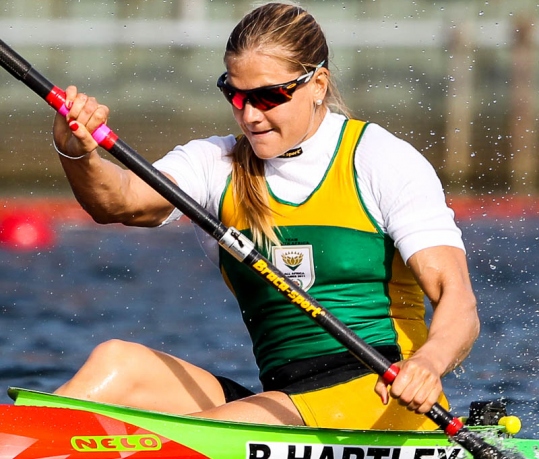 Bridgitte Hartley (RSA)
South Africa
Canoe Sprint
Date of birth
14 July 1983
Family
Partner Andy Birkett
Residence
Pietermaritzburg, RSA
Languages
Afrikaans, English
Higher education
Human Movement Studies - University of Pretoria: South Africa
Biography
General Interest
Hobbies
Surfing, travelling, being outdoors, reading, spending time with friends. (fetishmedia.co.za, 12 Jan 2011; Facebook page, 13 Mar 2016)
Memorable sporting achievement
Winning a bronze medal in the K1 500m at the 2012 Olympic Games in London. (Facebook page, 04 Jun 2015)
Injuries
She missed two World Cup events in May 2013 with chicken pox. (bridgittehartley.com, 10 Jun 2015)
Awards and honours
She was named the 2014 KwaZulu-Natal Sportswoman of the Year. (gsport.co.za, 09 Nov 2014)

In 2009 the Confederation of African Canoeing named her the Women's Paddler of the Year. (kayakafrica.org, 22 Oct 2009)
Other sports
She has competed at a national level in surfing and canoe marathon. (bridgittehartley.com, 10 Jun 2015; natalcc.co.za, 01 May 2015)
Famous relatives
Her partner Andy Birkett competes in canoe marathon. (sport24.co.za, 07 Apr 2015)
International Debut
Competing for
South Africa
Sport Specific Information
When and where did you begin this sport?
She took up kayaking during high school. She started competitive river kayaking in 2002, and started sprint training in 2004.
Why this sport?
Her father introduced her to the sport. "I was initially introduced to river marathon kayaking by my dad in high school, however I was more focused on school sports at that time."
Club / Team
Natal Canoe Club: Pietermaritzburg, RSA
Name of coach
Craig Mustard [national]
Results
Competition
Event
Location
Date
Season
Gender
Result
Rank
Mentions
Olympic Games
K1 200m
Brazil, Rio de Janeiro
16 August 2016
2016
Women
42.066
13

Latest result

Best result

Olympic Games
K1 500m
Brazil, Rio de Janeiro
18 August 2016
2016
Women
2:01.890
16

Latest result

Best result

Olympic Games
K1 500m
England, London
9 August 2012
2012
Women
1:52.923
3

Best result

Olympic Games
K2 500m
China, Beijing
23 August 2008
2008
Women
14

Best result

World Championships
K1 200m
Italy, Milan
23 August 2015
2015
Women
43.253
23

Best result

World Championships
K1 500m
Italy, Milan
22 August 2015
2015
Women
1:52.461
10

Best result

World Championships
K1 200m
Russia, Moscow
10 August 2014
2014
Women
40.888
16

Best result

World Championships
K1 500m
Russia, Moscow
10 August 2014
2014
Women
1:50.496
3

Best result

World Championships
K1 200m
Germany, Duisburg
1 September 2013
2013
Women
42.737
17

Best result

World Championships
K1 500m
Germany, Duisburg
31 August 2013
2013
Women
2:02.626
8

Best result

World Championships
K4 500m
Germany, Duisburg
1 September 2013
2013
Women
1:46.326
16

Best result

World Championships
K1 4 x 200m Relay
Germany, Duisburg
1 September 2013
2013
Women
3:10.274
17

Best result

World Championships
K1 200m
Hungary, Szeged
21 August 2011
2011
Women
42.572
20

Best result

World Championships
K1 500m
Hungary, Szeged
20 August 2011
2011
Women
1:46.906
10

Best result

World Championships
K1 500m
Poland, Poznan
22 August 2010
2010
Women
1:54.730
13

Best result

World Championships
K1 1000m
Poland, Poznan
21 August 2010
2010
Women
4:10.501
19

Best result

World Championships
K1 500m
Canada, Dartmouth
16 August 2009
2009
Women
1:54.130
10

Best result

World Championships
K1 1000m
Canada, Dartmouth
15 August 2009
2009
Women
4:00.966
3

Best result

World Championships
K1 1000m
Germany, Duisburg
11 August 2007
2007
Women
4:14.737
5

Best result

World Championships
K2 500m
Germany, Duisburg
12 August 2007
2007
Women
1:54.249
21

Best result

World Cup
Individual Kayak
5 June 2016
2016
Women
18

Latest result

Best result

World Cup
Individual Kayak
23 August 2015
2015
Women
23

Best result

World Cup
Individual Kayak
10 August 2014
2014
Women
12

Best result

World Cup
Individual Kayak
1 September 2013
2013
Women
24
World Cup
Individual Kayak
3 June 2012
2012
Women
15

Best result

World Cup
Individual Kayak
21 August 2011
2011
Women
22

Best result

World Cup
Individual Kayak
22 August 2010
2010
Women
12

Best result

World Cup
Individual Kayak
7 June 2009
2009
Women
1

Best result

World Cup
Individual Kayak
29 June 2008
2008
Women
11

Best result