Colin SIEDERS (AUS)

Australia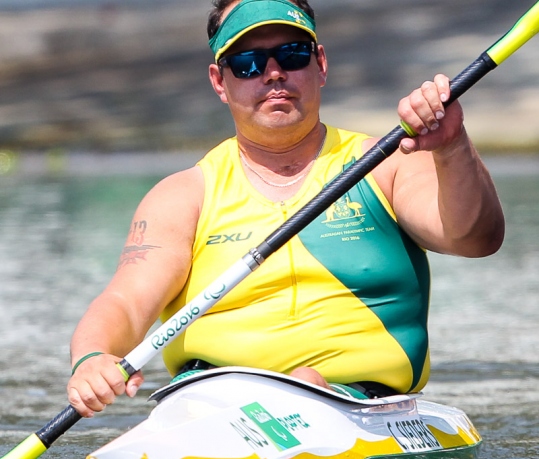 Biography
Further Personal Information
BIOGRAPHY
Rank
Event
Year
Location
Result
World Championships
6
K1 200m A
2014
Moscow, RUS
53.733
7
K1 200m A
2013
Duisburg, GER
54.925
9
KL1
2015
Milan, ITA
55.300
13
KL1
2016
Duisburg, GER
55.267
PLACE OF RESIDENCE
Sydney, NSW
OCCUPATION
Business person
WHEN/WHERE DID YOU START CANOEING/ KAYAKING?
He took up the sport in 2012
REASON FOR TAKING UP THE SPORT
After sustaining further injuries in a second car accident in December 2011, he began focusing on other sports. "It was developing into a serious problem so I looked around for something to do. It had to be a low-impact sport because of my injured hip. I'm a water-lover, so kayaking was the way to go." (penrithcitygazette.com.au, 19 Jun 2013)
NAME OF COACH
Andrea King [national]; Sam Norton [personal]
TRAINING REGIME
He does up to seven sessions on the water each week, in addition to three to four sessions in the gym
SENIOR INTERNATIONAL DEBUT YEAR
2013
SENIOR INTERNATIONAL DEBUT COUNTRY
Germany
SENIOR INTERNATIONAL DEBUT COMPETITION
World Championships
SENIOR INTERNATIONAL DEBUT LOCATION
Duisburg
MEMORABLE SPORTING ACHIEVEMENT
Making his international debut in Para canoe sprint at the 2013 World Championships in Duisburg, Germany
HERO/IDOL
Italian Para cyclist and racing driver Alex Zanardi.
OTHER INFORMATION
Classification
KL1

Type of Impairment
Impaired muscle power (Facebook page, 03 Mar 2017)

Origin of Impairment
Acquired (Facebook page, 03 Mar 2017)

Impairment Details
In 1997 he was in a car driven by his friend's mother when the vehicle hit a patch of black ice and collided with a tree. He spent 51 weeks in hospital and underwent 30 operations on the internal injuries he sustained in the accident. He used a wheelchair for three years and required several years of rehabilitation, eventually regaining around 30% use of his left leg. He also had muscles in his lower back and abdomen removed. In 2011 he was involved in a second road accident, which resulted in broken bones in his knee and damage to his hip. He is only able to stand for 10 minutes and has to walk with crutches due to a compressed nerve in his leg. (adelaidenow.com.au, 09 Aug 2016; paralympic.org.au, 2016)

General
OTHER ACTIVITIES
He is an ambassador for CareFlight, an aero-medical charity that provided assistance when he was involved in his car accident at age 15. (sunshinecoastdaily.com.au, 08 Sep 2016; paralympic.org.au, 2016)

OCCUPATION
He works full-time for his family business. (paralympic.org.au, 2016)


OTHER SPORTS
He competed at the national motorsport championships for people with an impairment, which was part of the 2003 Australian Racing Car Series.