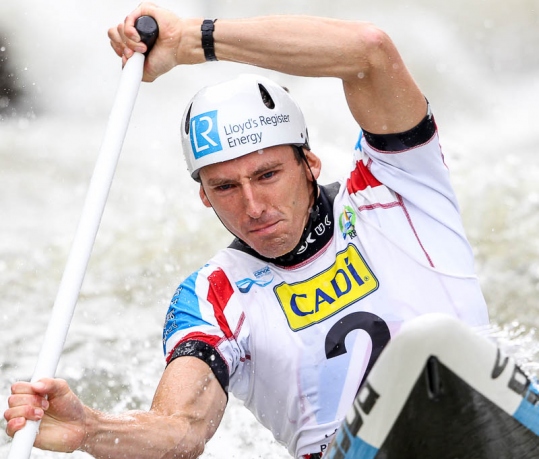 David Florence (GBR)

United Kingdom
Canoe Slalom
Date of birth
08 August 1982
Languages
English, French, German, Mandarin, Russian
Higher education
Physics - University of Nottingham: Nottingham, ENG
Biography
General Interest
Hobbies
Snowboarding, wakeboarding, golf, tennis, learning languages, bagpipes, guitar. (Facebook page, 11 Jan 2016)
Memorable sporting achievement
Winning both the C1 and C2 events at the 2013 World Championships in Prague, Czech Republic and competing at both the 2008 Olympic Games in Beijing and the 2012 Olympic Games in London. (britishcanoeing.org.uk, 31 Aug 2015)
Sporting philosophy / motto
"The race is long, but in the end it's only with yourself." (NOC, 31 Jul 2008)
Famous relatives
His father George, brother Fraser and uncle Angus have all represented Scotland in canoeing. (dailyrecord.co.uk, 13 Aug 2008; telegraph.co.uk, 02 Aug 2012)
Other information
UK SPORT PODIUM PROGRAMME
He receives funding and support from the UK Sport Podium Programme, a programme supporting athletes with medal-winning capabilities at the 2016 Olympic Games in Rio de Janeiro. (britishcanoeing.org.uk, 31 Aug 2015)

NATIONAL FIRST
He was the first British canoe slalom paddler to win both the C1 and C2 world titles in the same year, which he achieved in 2013. (bbc.co.uk, 21 Sep 2014)
Sport Specific Information
When and where did you begin this sport?
He began recreational canoeing in 1996 in Comrie, Scotland. His first experience of the sport was his father and uncle taking him canoeing on the sea.
Why this sport?
"When I first started, I loved the feeling of just being able to control a canoe, and the excitement of paddling down big white-water rivers, and smaller ones as well, to start with. I am quite a competitive person so to get the chance to combine the skills of mastering white-water in competition gave me great enjoyment. Apart from anything else, it is a good sport to train for. It is hard and requires a huge amount of commitment but compared to some sports, where it is just a case of putting in the miles or the time, it is great fun every day. It is a very technical sport and always challenging with different rivers to tackle."
Club / Team
Forth Canoe Club: Edinburgh, SCO
Name of coach
Mark Delaney [national], GBR
Results
Competition
Event
Location
Date
Season
Gender
Result
Rank
Mentions
European Championships
C2 Team
England, Nottingham
30 May 2009
2009
Men
112.17
2

Best result

European Championships
C1 Team
Poland, Kraków
9 May 2008
2008
Men
234.39
5
European Championships
C1 Team
England, Nottingham
30 May 2009
2009
Men
106.40
5
European Championships
C2
England, Nottingham
30 May 2009
2009
Men
119.37
9
European Championships
C1
England, Nottingham
31 May 2009
2009
Men
98.02
5
European Championships
C1 Team
Slovakia, Liptovský Mikuláš
15 June 2007
2007
Men
239.96
8
European Championships
C1
France, L'Argentière-la-Bessée
2 July 2006
2006
Men
14
European Championships
C1
FYR Macedonia, Skopje
6 June 2004
2004
Men
205.49
9
European Championships
C1 Team
FYR Macedonia, Skopje
4 June 2004
2004
Men
242.44
5
European Championships
C1 Team
Slovenia, Tacen
24 June 2005
2005
Men
248.85
7
European Championships
C1
Slovenia, Tacen
26 June 2005
2005
Men
203.58
4
European Championships
C1 Team
France, L'Argentière-la-Bessée
30 June 2006
2006
Men
327.88
11
European Championships
C2 Team
Slovakia, Cunovo
14 August 2010
2010
Men
133.13
3

Best result

European Championships
C1 Team
Slovakia, Cunovo
14 August 2010
2010
Men
7
European Championships
C1 Team
Germany, Augsburg
12 May 2012
2012
Men
8
European Championships
C2 Team
Germany, Augsburg
13 May 2012
2012
Men
129.38
1

Best result

European Championships
C2
Germany, Augsburg
13 May 2012
2012
Men
108.07
4
European Championships
C1
Germany, Augsburg
12 May 2012
2012
Men
1:06.45
10
European Championships
C2 Team
Poland, Kraków
9 June 2013
2013
Men
171.30
5
European Championships
C1
Spain, La Seu d'Urgell
12 June 2011
2011
Men
105.22
10
European Championships
C2
Spain, La Seu d'Urgell
11 June 2011
2011
Men
108.77
4
European Championships
C2
Slovakia, Cunovo
15 August 2010
2010
Men
103.38
3

Best result

European Championships
C1
Slovakia, Cunovo
15 August 2010
2010
Men
145.50
9
European Championships
C2 Team
Spain, La Seu d'Urgell
11 June 2011
2011
Men
6
European Championships
C1 Team
Spain, La Seu d'Urgell
12 June 2011
2011
Men
9
European Championships
C1 Team
Slovakia, Bratislava
12 July 2002
2002
Men
257.57
8
Oceania Open Championships
C1
Australia, Penrith
21 February 2010
2010
Men
154.08
10
World Cup
C2
4 July 2010
2010
Men
8
World Cup
C1
3 August 2009
2009
Men
1

Best result

World Cup
C1
4 July 2010
2010
Men
9
World Cup
C2
14 August 2011
2011
Men
17
World Cup
C1
13 August 2011
2011
Men
11
World Cup
C2
Slovakia, Bratislava
5 July 2009
2009
Men
112.74
11
World Cup
C1
6 July 2008
2008
Men
42
World Cup
C1
25 July 2004
2004
Men
20
World Cup
C1
24 July 2005
2005
Men
10
World Cup
C1
11 June 2006
2006
Men
6
World Cup
C1
15 July 2007
2007
Men
2

Best result

World Cup
C2
2 September 2012
2012
Men
14
World Cup
C1
2 September 2012
2012
Men
7
World Cup
C1
11 September 2016
2016
Men
39

Latest result

World Cup
C2
11 September 2016
2016
Men
23

Latest result

Pan American Championships
C1
Brazil, Foz do Iguaçu
18 March 2007
2007
Men
196.67
3

Best result

Oceania Open Championships
C1
New Zealand, Levin
1 February 2009
2009
Men
97.09
1

Best result

Oceania Open Championships
C2
Australia, Penrith
21 February 2010
2010
Men
117.66
6
World Cup
C1
16 August 2015
2015
Men
5
World Cup
C2
16 August 2015
2015
Men
14
World Cup
C2
25 August 2013
2013
Men
10
World Cup
C1
25 August 2013
2013
Men
4
World Cup
C2
17 August 2014
2014
Men
5
World Cup
C1
17 August 2014
2014
Men
2

Best result

European Championships
C1 Team
Poland, Kraków
8 June 2013
2013
Men
110.54
5
European Championships
C2
Poland, Kraków
9 June 2013
2013
Men
100.58
9
Olympic Games
C1
Brazil, Rio de Janeiro
9 August 2016
2016
Men
109.00
10

Latest result

Olympic Games
C2
Brazil, Rio de Janeiro
11 August 2016
2016
Men
102.01
2

Latest result

Best result

Olympic Games
C1
England, London
31 July 2012
2012
Men
106.16
10
Olympic Games
C2
England, London
2 August 2012
2012
Men
2

Best result

Olympic Games
C1
China, Beijing
12 August 2008
2008
Men
178.61
2

Best result

World Championships
C1
England, London
20 September 2015
2015
Men
94.32
1

Best result

World Championships
C2
England, London
19 September 2015
2015
Men
104.68
5

Best result

World Championships
C1 Team
England, London
20 September 2015
2015
Men
119.29
6

Best result

World Championships
C2 Team
England, London
19 September 2015
2015
Men
123.59
3

Best result

World Championships
C1
United States, McHenry, MD
20 September 2014
2014
Men
123.95
26
World Championships
C2
United States, McHenry, MD
21 September 2014
2014
Men
123.87
22
World Championships
C1 Team
United States, McHenry, MD
20 September 2014
2014
Men
135.52
7
World Championships
C2 Team
United States, McHenry, MD
21 September 2014
2014
Men
213.38
9
World Championships
C1
Czech Republic, Prague
15 September 2013
2013
Men
102.53
1

Best result

World Championships
C2
Czech Republic, Prague
15 September 2013
2013
Men
114.10
1

Best result

World Championships
C1 Team
Czech Republic, Prague
15 September 2013
2013
Men
172.89
11
World Championships
C2 Team
Czech Republic, Prague
15 September 2013
2013
Men
141.59
3

Best result

World Championships
C1
Slovakia, Bratislava
11 September 2011
2011
Men
107.14
14
World Championships
C2
Slovakia, Bratislava
10 September 2011
2011
Men
110.33
4

Best result

World Championships
C1 Team
Slovakia, Bratislava
11 September 2011
2011
Men
173.16
9
World Championships
C2 Team
Slovakia, Bratislava
11 September 2011
2011
Men
129.51
3

Best result

World Championships
C1
Slovenia, Tacen
12 September 2010
2010
Men
103.05
12
World Championships
C2
Slovenia, Tacen
11 September 2010
2010
Men
109.36
3

Best result

World Championships
C1 Team
Slovenia, Tacen
12 September 2010
2010
Men
118.57
6

Best result

World Championships
C2 Team
Slovenia, Tacen
11 September 2010
2010
Men
129.11
5

Best result

World Championships
C1
Spain, La Seu d'Urgell
13 September 2009
2009
Men
101.65
5

Best result

World Championships
C2
Spain, La Seu d'Urgell
13 September 2009
2009
Men
118.85
10
World Championships
C1 Team
Spain, La Seu d'Urgell
12 September 2009
2009
Men
12
World Championships
C2 Team
Spain, La Seu d'Urgell
12 September 2009
2009
Men
117.20
3

Best result

World Championships
C1
Brazil, Foz do Iguaçu
22 September 2007
2007
Men
196.49
5

Best result

World Championships
C1 Team
Brazil, Foz do Iguaçu
21 September 2007
2007
Men
241.37
7
World Championships
C1
Czech Republic, Prague
6 August 2006
2006
Men
214.70
8
World Championships
C1 Team
Czech Republic, Prague
5 August 2006
2006
Men
245.51
3

Best result

World Championships
C1
Australia, Penrith
1 October 2005
2005
Men
15
World Championships
C1 Team
Australia, Penrith
3 October 2005
2005
Men
248.69
7
World Championships
C1
Germany, Augsburg
24 July 2003
2003
Men
28
World Championships
C1 Team
Germany, Augsburg
25 July 2003
2003
Men
280.33
12
World Championships
C1
France, Bourg-Saint-Maurice
25 August 2002
2002
Men
35
World Championships
C1 Team
France, Bourg-Saint-Maurice
23 August 2002
2002
Men
726.32
9
European Championships
C1
Slovakia, Liptovský Mikuláš
14 May 2016
2016
Men
109.90
15

Latest result

European Championships
C2
Slovakia, Liptovský Mikuláš
15 May 2016
2016
Men
143.86
17

Latest result

European Championships
C1 Team
Slovakia, Liptovský Mikuláš
14 May 2016
2016
Men
128.67
3

Latest result

Best result

European Championships
C1
Germany, Markkleeberg
30 May 2015
2015
Men
104.76
12
European Championships
C2
Germany, Markkleeberg
31 May 2015
2015
Men
106.06
3

Best result

European Championships
C1 Team
Germany, Markkleeberg
30 May 2015
2015
Men
119.24
3

Best result

European Championships
C2 Team
Germany, Markkleeberg
31 May 2015
2015
Men
188.99
6
European Championships
C1
Austria, Vienna
31 May 2014
2014
Men
95.18
15
European Championships
C2
Austria, Vienna
1 June 2014
2014
Men
99.61
7
European Championships
C1 Team
Austria, Vienna
31 May 2014
2014
Men
113.47
8
European Championships
C2 Team
Austria, Vienna
1 June 2014
2014
Men
120.82
7
European Championships
C1
Poland, Kraków
8 June 2013
2013
Men
95.82
11