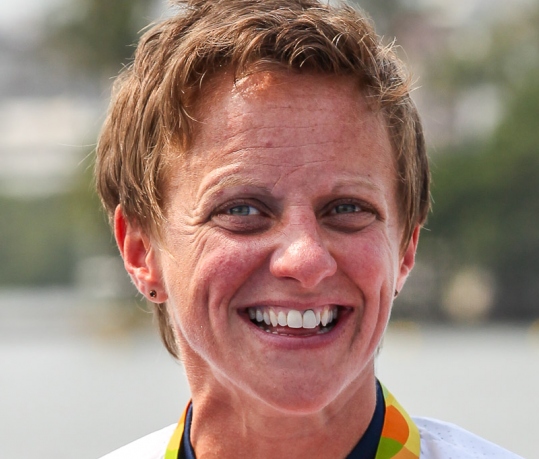 Emma Wiggs (GBR)

United Kingdom
Paracanoe
Date of birth
14 June 1980
Residence
Nottingham, ENG
Occupation
Athlete, Motivational Speaker
Higher education
Sports Science, Teaching - Chichester University: England
Biography
General Interest
Hobbies
Cooking, camping. (Tbritishcanoeing.org.uk, 19 May 2016)
Hero / Idol
British rower Steve Redgrave, British middle distance runner Kelly Holmes. (emmawiggs.co.uk, 07 Sep 2011, channel4.com, 18 Nov 2011)
Sporting philosophy / motto
"I'm just making the best of the bits of me that still work." (bbc.com, 03 Mar 2016)
Other sports
She competed for Great Britain in sitting volleyball before switching to para-canoeing. (britishcanoeing.org.uk, 19 May 2016)
Ambitions
To win a medal at the 2016 Paralympic Games in Rio de Janeiro. (emmawiggs.co.uk, 05 Aug 2016
Impairment
At age 18 she contracted a virus that affected her neurological system while she was on a gap year in Australia. The illness resulted in paralysis in her legs. "I was chasing and shearing sheep and working on a farm. About six weeks in I contracted a virus, we still don't know where from, but it basically left me paralysed in my arms and legs overnight." (bbc.com, 03 Mar 2016; portsmouth.co.uk, 11 Oct 2011)
Other information
OTHER ACTIVITIES
She works as a Youth Sports Trust [YST] athlete mentor. (Twitter profile, 24 Aug 2016; britishcanoeing.org.uk, 19 May 2016)

PARALYMPIC LEADER
She captained the Great Britain national sitting volleyball team at the 2012 Paralympic Games in London. (skysports.com, 2014)
Sport Specific Information
When and where did you begin this sport?
She took up canoeing in 2012.
Why this sport?
After competing in sitting volleyball for Great Britain at the 2012 Paralympic Games in London, she decided to try a different sport afterwards.
Club / Team
Portsmouth Sharks: Portsmouth, ENG
Name of coach
Steve Harris [national]
Training Regime
She trains six days a week at the National Water Sports Centre in Nottingham, England.
Results
Competition
Event
Location
Date
Season
Gender
Result
Rank
Mentions
World Championships
Kayak single KL2 200m
Germany, Duisburg
19 May 2016
2016
Women
53.691
1

Latest result

Best result

World Championships
Kayak single KL2 200m
Italy, Milan
19 August 2015
2015
Women
53.023
1

Best result

World Championships
K1 200m TA
Germany, Duisburg
28 August 2013
2013
Women
56.982
1

Best result

Paralympic Games
Kayak single KL2 200m
Brazil, Rio de Janeiro
15 September 2016
2016
Women
53.288
1

Latest result

Best result