Fabien LEFEVRE (USA)

United States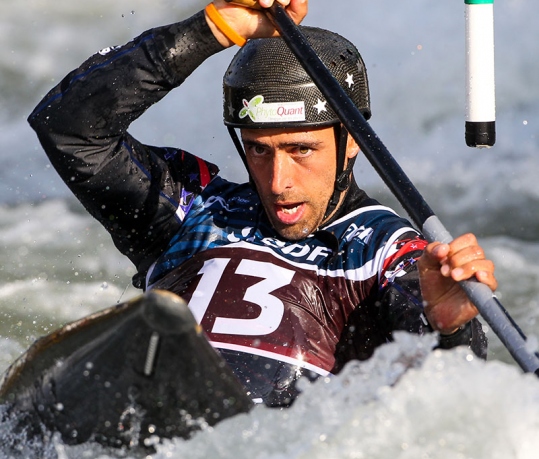 Biography
General Interest
Nicknames
The Fevre, FKL, Fabulous Fab, Frenchie (Athlete, 08 Feb 2004; reuters.com, 27 May 2008; teamusa.org, 15 Aug 2015)
Hobbies
Playing guitar, discussing wine, playing sports with his son. (teamusa.org, 15 Aug 2015)
Memorable sporting achievement
Winning gold at the 2014 World Championship in Deep Creek Lake, MD, United States, and becoming the first person to win a world title in men's C1 and men's K1. (sudouest.fr, 21 Sep 2014)
Injuries
He broke his wrist in February 2007 and was out of action for two months. (reuters.com, 27 May 2008)
Sporting philosophy / motto
"I like to see myself as an artist on the water, working with it, moving smoothly, a pleasure to watch. Above all, I like to feel that I am taking people along in my wake, carrying them with me as they carry me." (canoe-kayak-jo-2012.com, 01 Sep 2011)
Ambitions
To win gold at the 2016 Olympic Games in Rio de Janeiro. (teamusa.org, 15 Aug 2015)
Other information
NATIONALITY SWITCH
He raced for France until 2012 when he moved to the United States, and joined the US programme in 2013. He cites family and sporting reason for his change of allegiance. "Two reasons led to this choice. The first family, the second is sports, of course. I wanted to start a new challenge in an environment and a totally different approach. I needed, mid-career, this breath of oxygen." (fabienlefevre.com, 2016; canoekayak.com, 16 Sep 2014; sudouest.fr, 07 Apr 2013; sudouest.fr, 21 Sep 2014)

FROM KAYAK TO CANOE
He grew up competing in K1 and after the 2008 Olympic Games in Beijing he decided to also compete in the C2 event. Making the switch from kayak to canoe was not without its difficulties. "It's a radical change that often makes me feel I'm going to fall into the water on the left of the boat where I can no longer brace. In the kayak, each stroke is the engine that drives you, each stroke counts. At first, in the canoe, I wanted to return to the attack all the time. Now I've learnt how to accelerate by braking, how to widen my line and how to anticipate ahead of each gate." After failing to qualify for the 2012 Olympic Games in either K1 or C2 he began competing in the C1 event. (canoe-kayak-jo-2012.com, 01 Sep 2011; fabienlefevre.com, 2016)

SYNERGETICS 2
Working alongside osteopath Guillaume Caunegre, he has created a therapeutic training programme for elite athletes named Synergetics 2. (fabienlefevre.com, 2016)

BOOK
He co-authored his own book entitled "The King of Slalomia." He co-authored alongside slalom coach and author Bill Endicott and the book explores his life and career. (fabienlefevre.com, 2016)
Sport Specific Information
When and where did you begin this sport?
He began paddling at age five-and-a-half on the Loire and Saludre rivers near Orleans, France. He first competed at age seven.
Why this sport?
"When I first started this sport at age five-and-a-half, it became clear very quickly that I had a natural disposition for it. I won the third competition I ever entered, and everybody thought there was some kind of timing error as I had beaten kids three years older than me. Above all I just seemed to know how to use the current of the water to propel me, rather than fight against it."
Club / Team
Potomac Whitewater Racing Center: Bethesda, MD, USA
Name of coach
Sylvan Poberaj; Rafal Smolen
Further Personal Information
Date of birth
18 June 1982
Family
Wife Audrey, two children
Residence
Washington, DC, USA
Occupation
Athlete, Fitness Instructor, Personal Trainer, Real Estate Agent
Languages
English, French
Higher education
Sports Science - Sport University: Toulouse, FRA