Fiona PENNIE (GBR)

United Kingdom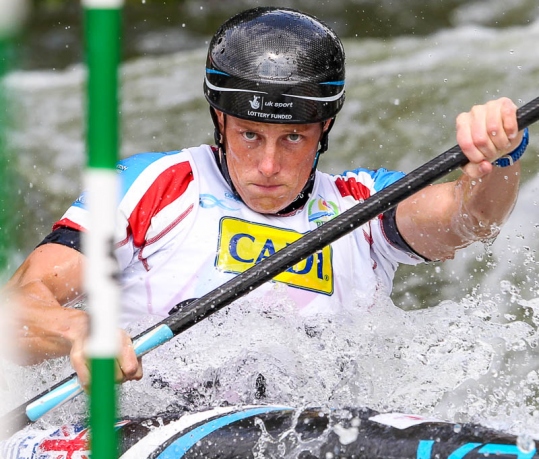 Biography
Further Personal Information
BIOGRAPHY
Date of Birth: 09/11/1982
Born: Alexandria, Dumbartonshire, Scotland
Hometown: Crieff, Perthshire, Scotland
Lives: Waltham Abbey, Essex
Occupation: Athlete
Height / weight: 1.69m / 73kg
Olympic Games: Beijing 2008
 
Class: Canoe Slalom - Women's K1
Paddling since: 1992
Club: C.R. Cats
Coach: Paul Ratcliffe
Boat: Vajda Ego 36L
Paddles: G'Power Rile Ergo
 
Sponsors: Peak UK, Vajda Canoes and Kayaks, G'Power Paddles
Lottery Funding: UK Sport Podium Programme
 
Hobbies: DIY, Drum Kit, Golf, Photography
Website www.fionapennie.co.uk
Notes:
Beijing Olympian Fiona Pennie is an experienced women's K1 slalom kayaker. She learnt to kayak in Scotland with her then coach Johnny Brown. She is a member of the 2012 GB Senior Team.
Fiona missed out on a place in the GB team in 2009 and during that time learnt to paddle and competed internationally in the relatively new Women's Canoe Single event.
Her mother was an international canoe sprint paddler, which probably explains why Fiona has played in boats since she was just a few months old!

ICF WORLD CHAMPIONSHIPS
K1 - 5th
ICF WORLD CHAMPIONSHIPS
K1 - 8th
ICF WORLD CHAMPIONSHIPS
K1 - Silver
ICF WORLD CUPS
WC1 Prague:
K1 - Silver
WC2 La Seu d'Urgell:
K1 - Bronze
ICF WORLD CUPS
WC1 Cardiff:
K1 - 6th
WC2 Pau:
K1 - 35th
ICF WORLD CUPS
WC4 Prague:
K1 - 7th
CONTINENTAL CHAMPIONSHIPS
Augsburg
K1 - Bronze
CONTINENTAL CHAMPIONSHIPS
K1 - 10th
CONTINENTAL CHAMPIONSHIPS
K1 - 14th
HIGHER EDUCATION
Bachelor of Science in Sports Technology
WHEN/WHERE DID YOU START CANOEING/ KAYAKING?
My mother first had me sitting in a kayak at a few months old, but my first time paddling my own boat was when I was 5 or 6 years old on Loch Earn in Scotland.
REASON FOR TAKING UP THE SPORT
My mother was an International Sprint Kayaker and got me into the sport. I joined Perth Canoe Club who predominantly did slalom and loved the competitive nature of the sport. No run is ever the same as the last as it's always changing and there are always ways in which to improve.
HOBBIES
Boat repairs, DIY, hockey, photography, drum kit and my dog, Scamp.
HOBBIES
Hockey
Favourite TV Show - Orange is the New Balck
Perfect day - Getting to be outisde and even better if I have my Westie, Scamp with me. 
NATIONALITY OF YOUR COACH
SINCE WHEN HAVE YOU BEEN COACHED BY HIM/ HER?
TRAINING REGIME
I give attention to detail in everything I do and this carries into my paddling. I never give up on achieving the best I can do.
SENIOR INTERNATIONAL DEBUT YEAR
SENIOR INTERNATIONAL DEBUT COUNTRY
SENIOR INTERNATIONAL DEBUT COMPETITION
SENIOR INTERNATIONAL DEBUT LOCATION
MEMORABLE SPORTING ACHIEVEMENT
Coming 10th in the Prague World Cup race in 2001 when I was still 18 was quite an achievement for me at the time.

Becoming European Champion in 2013 was huge for me after a difficult 2012.
MOST INFLUENTIAL PERSON IN CAREER
HERO/IDOL
Katherine Grainger: GBR Rower, 3 x olympic silver medallist & finally a gold medallist at London 2012. She never gave up on her dream.
SUPERSTITIONS/ RITUALS/ BELIEFS
If I do a good run I usually have to repeat everything the same for the next run, down to wearing the same kit!
SPORTING PHILOSOPHY/ MOTTO
FAVOURITE PADDLING COURSE
Lee Valley Whitewater Centre
FAVOURITE MUSIC
A broad range of everything!
AMBITIONS
To race consistently to the best of my ability; pushing the boundaries of what is capable for a kayak woman.
AWARDS AND HONORS
Perth and Kinross Sportsperson of the Year: 2000, 2010.
Essex Sportsperson of the Year 2013.
SPORTING RELATIVES
Mother competed internationally in Canoe Sprint. Father was Scottish 50m Indoor Track & Field Champion in 1973.
OTHER SPORTS
Shot Putt: selected for Scottish Schools athletics team for Shot Putt in 2000.