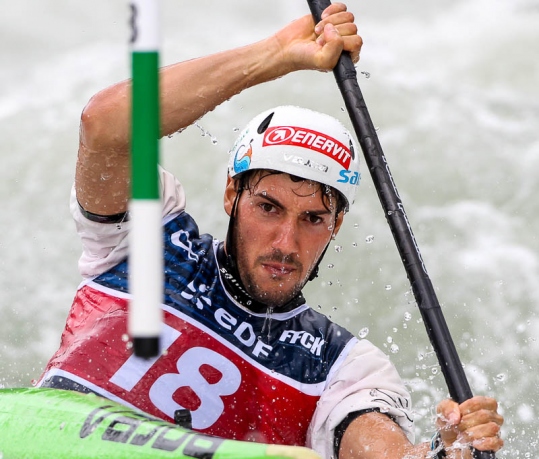 Giovanni De Gennaro (ITA)
Italy
Canoe Slalom
Date of birth
21 July 1992
Residence
Roncadelle, ITA
Occupation
Athlete, Police Officer
Languages
English, Italian
Biography
General Interest
Hobbies
Playing music with friends, rafting. (azzurridigloria.com, 01 Apr 2016)
Most influential person in career
Coach Gianni Zanardello. (corriere.it, 13 Sep 2013)
Famous relatives
His brother Riccardo De Gennaro has represented Italy in canoe slalom World Cup events. Riccardo's wife, Stefanie Horn, will compete for Italy in canoe slalom at the 2016 Olympic Games in Rio de Janeiro. (SportsDeskOnline, 09 Sep 2015; corriere.it, 13 Aug 2015; rio2016.coni.it, 01 Jul 2016)
Sport Specific Information
When and where did you begin this sport?
He began paddling at age eight at Canoe Club Brescia in Italy.
Why this sport?
His father encouraged him and his brother to try the sport.
Club / Team
GS Forestale: Italy
Name of coach
Pierpaolo Ferrazzi [national], ITA
Training Regime
He trains up to five hours a day during the most intense stage of preparation.
Results
Competition
Event
Location
Date
Season
Gender
Result
Rank
Mentions
Olympic Games
K1
Brazil, Rio de Janeiro
10 August 2016
2016
Men
91.77
7

Latest result

Best result

World Championships
K1
England, London
20 September 2015
2015
Men
94.57
12

Best result

World Championships
K1 Team
England, London
20 September 2015
2015
Men
122.48
12

Best result

World Championships
K1
United States, McHenry, MD
20 September 2014
2014
Men
106.85
6

Best result

World Championships
K1 Team
United States, McHenry, MD
20 September 2014
2014
Men
125.97
5

Best result

World Championships
K1
Czech Republic, Prague
15 September 2013
2013
Men
153.73
10

Best result

World Championships
K1 Team
Czech Republic, Prague
15 September 2013
2013
Men
109.60
1

Best result

World Championships
K1
Slovakia, Bratislava
11 September 2011
2011
Men
93.37
45

Best result

World Championships
K1 Team
Slovakia, Bratislava
11 September 2011
2011
Men
112.44
3

Best result

European Championships
K1
Slovakia, Liptovský Mikuláš
14 May 2016
2016
Men
97.90
16

Latest result

Best result

European Championships
K1 Team
Slovakia, Liptovský Mikuláš
14 May 2016
2016
Men
172.53
9

Latest result

Best result

European Championships
K1
Germany, Markkleeberg
30 May 2015
2015
Men
103.63
12

Best result

European Championships
K1 Team
Germany, Markkleeberg
30 May 2015
2015
Men
109.81
3

Best result

European Championships
K1
Austria, Vienna
31 May 2014
2014
Men
140.07
29

Best result

European Championships
K1 Team
Austria, Vienna
31 May 2014
2014
Men
150.35
14

Best result

European Championships
K1
Poland, Kraków
8 June 2013
2013
Men
84.34
5

Best result

European Championships
K1 Team
Poland, Kraków
8 June 2013
2013
Men
103.93
8

Best result

Oceania Open Championships
K1
Australia, Penrith
21 February 2016
2016
Men
88.43
23

Latest result

Best result

Oceania Open Championships
K1
Australia, Penrith, NSW
26 February 2012
2012
Men
58

Best result

World Cup
K1
11 September 2016
2016
Men
9

Latest result

Best result

World Cup
K1
16 August 2015
2015
Men
20

Best result

World Cup
K1
17 August 2014
2014
Men
30

Best result

World Cup
K1
25 August 2013
2013
Men
39

Best result

World Cup
K1
2 September 2012
2012
Men
45

Best result

World Cup
K1
13 August 2011
2011
Men
22

Best result