Jakub GRIGAR (SVK)

Slovakia
Languages:
Slovak, English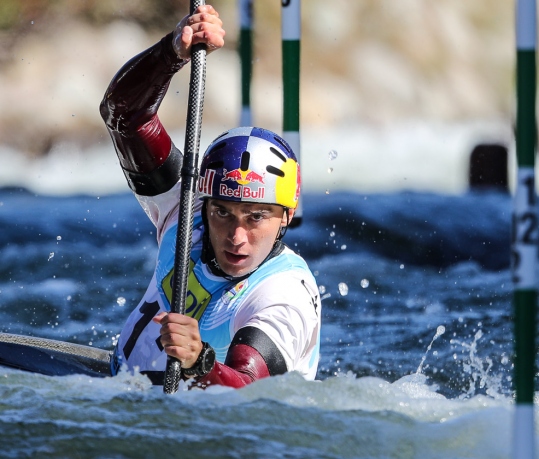 Biography
Further Personal Information
PLACE OF RESIDENCE
Liptovský Mikuláš
OCCUPATION
Athlete, Student
WHEN/WHERE DID YOU START CANOEING/ KAYAKING?
I started kayaking when i was 9 years old in Kanoe Tatra Klub Liptovský Mikuláš
REASON FOR TAKING UP THE SPORT
I didn't really want to be a kayaker. My father wanted me to try it so we made a deal and i tried it for few weeks. That was the moment when i fell in love with this sport :) I met so much great people, I've seen so many beautiful places and had so much fun!! Becoming a kayaker was the best thing that happened to me in my life :) 
HOBBIES
Guitar, climbing, cooking
CLUB
Dukla Liptovský Mikuláš
SINCE WHEN HAVE YOU BEEN COACHED BY HIM/ HER?
2014
TRAINING REGIME
I try to spend as much time as i can on the water and then i do as many sports as i can...
SENIOR INTERNATIONAL DEBUT YEAR
2012
SENIOR INTERNATIONAL DEBUT COUNTRY
Spain
SENIOR INTERNATIONAL DEBUT COMPETITION
World Cup
SENIOR INTERNATIONAL DEBUT LOCATION
La Seu D'Urgell
MEMORABLE SPORTING ACHIEVEMENT
Bronze medal at 2012 Junior World Championships, Wausau, USA Gold medal at 2013 Juior World Championships, Liptovský Mikuláš, Slovakia Gold medal at 2013 Junior European Championships, Bourg St Maurice, France Bronze medal at 2014 Junior World Championships, Penrith, Australia Silver medal at 2014 Youth Olympic Games, Nanjing, China Gold medal at 2015 Junior World Championships, Foz Do Iguacu, Brasil
MOST INFLUENTIAL PERSON IN CAREER
Everyone around me :) 
TRAINING PARTNER(S)
Marko Mirgorodský
HERO/IDOL
Kayaker Vávra Hradílek
SUPERSTITIONS/ RITUALS/ BELIEFS
I have to lay down and listen to Three Little Birds by Bob Marley before every race
SPORTING PHILOSOPHY/ MOTTO
Life is too short to waste it with negative vibes...
FAVOURITE PADDLING COURSE
Trója, Prague, Czech Republic
FAVOURITE FOOD
Beef Steak
FAVOURITE MUSIC
Bob Marley, John Butler Trio