Jiri PRSKAVEC (CZE)

Czech Republic
Languages:
Czech, English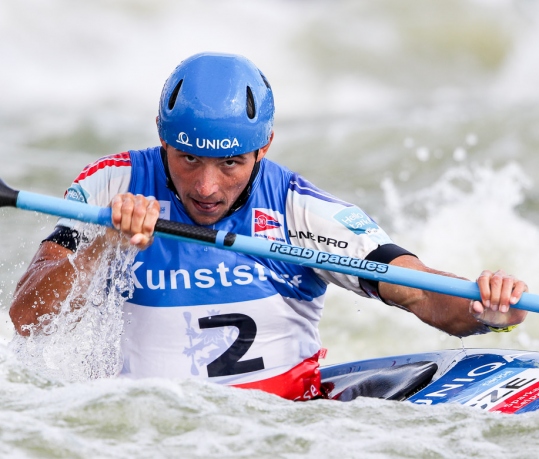 Biography
Further Personal Information
WEBSITE
http://www.jiriprskavec.cz
WHEN/WHERE DID YOU START CANOEING/ KAYAKING?
I started kayaking when I was 8 years old in Prague
REASON FOR TAKING UP THE SPORT
I started paddling because I grew up around this great sport and wanted to paddle ever since I was watching my dad race the world cups.
HOBBIES
Skateboard, surfing, old computer games, poker
CLUB
Univerzitní sportovní klub Praha
NATIONALITY OF YOUR COACH
SINCE WHEN HAVE YOU BEEN COACHED BY HIM/ HER?
SENIOR INTERNATIONAL DEBUT YEAR
SENIOR INTERNATIONAL DEBUT COUNTRY
Spain
SENIOR INTERNATIONAL DEBUT COMPETITION
SENIOR INTERNATIONAL DEBUT LOCATION
MEMORABLE SPORTING ACHIEVEMENT
Probably final run at Lee Valley 2015 or the Olympics in Rio.
MOST INFLUENTIAL PERSON IN CAREER
TRAINING PARTNER(S)
Ondrej Tunka, Ondrej Cvikl, Lukas Rohan
HERO/IDOL
Jaromír Jagr, my father, Michal Martikan - they all do or did what they loved and it felt like they do it because they just like it, money or glory was never the goal.
SUPERSTITIONS/ RITUALS/ BELIEFS
I guess it is just my blue Lucka color.
SPORTING PHILOSOPHY/ MOTTO
Keep paddling and love every moment of it.
FAVOURITE PADDLING COURSE
FAVOURITE MUSIC
Little but of everything, Favourite artist - Karel Gott
AWARDS AND HONORS
8th and 10th place at the national sport awards 2015, 2016
SPORTING RELATIVES
My father was 3rd at the WCH in Nottingham 1995 and has been to 1996 and 2000 Olympics, my mum has been 2nd at the European cup in 1982
OTHER SPORTS
X- country ski, downhill ski