Kaitlyn MCELROY (USA)

United States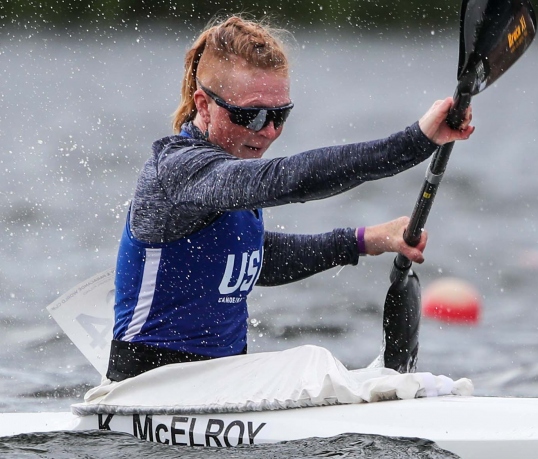 Biography
General Interest
Nicknames
Captain, Kaitie (Facebook profile, 09 Jan 2016; toronto2015.org, 13 Jul 2015)
Hobbies
Running, skiing, boxing, reading, listening to music, snowboarding. (h2ofactor.blogspot.com, 08 Jun 2015; teamusa.org, 2015)
Hero / Idol
US marathon runner Joan Benoit Samuelson. (teamusa.org, 2015)
Sporting philosophy / motto
"Innate talent is nothing, success is 99% hard work." [chess player Susan Polgar] (teamusa.org, 2015)
Other sports
She has competed in marathon kayaking and dragon boat racing at international level, and in cross-country skiing at university level in the United States of America. (teamusa.org, 2015; espn.go.com, 27 Aug 2013)
Other information
TRAINING ACCIDENT
She was competing in cross-country skiing at Bates College, ME, United States of America. One evening her class ran late and she missed a training session, so to compensate went roller skiing instead. She was going down a hill but hit a pothole and fell in the dark conditions. She suffered fractures to her back and ribs, and the injuries made it difficult for her to return to her previous level of cross-country skiing. She chose to switch to canoe sprint instead. (newsok.com, 21 Apr 2012)
Sport Specific Information
When and where did you begin this sport?
She took up canoe sprint in 2008.
Why this sport?
She competed in cross-country skiing at university level in the United States of America, but after suffering a training accident she was unable to get back to her previous standard, so switched to canoe sprint. "There is huge transfer in the base I had for skiing that worked well for kayak."
Club / Team
Oklahoma City Riversport: United States
Name of coach
Claudiu Ciur [national], ROU
Further Personal Information
Date of birth
19 March 1985
Residence
Oklahoma City, OK, USA
Occupation
Athlete, Consultant, Health Care Professional
Higher education
Behavioral Science, Biology, Psychology - Georgetown University/Bates College/Oklahoma City University/University of Central Oklahoma: United States