Kayla IMRIE (NZL)
New Zealand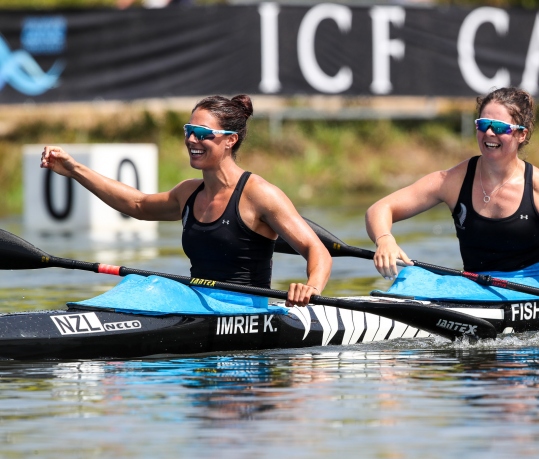 Biography
Further Personal Information
PLACE OF RESIDENCE
Auckland, New Zealand
HIGHER EDUCATION
Bachelor of Science in Biological Sciences
WHEN/WHERE DID YOU START CANOEING/ KAYAKING?
I started paddling when I was age 16 at Mana Kayak Racing Club in Wellington. 
REASON FOR TAKING UP THE SPORT
I saw an awesome opportunity when I raced at the Australian Youth Olympics in 2009 and decided to take it seriously. 
CLUB
Mana Kayak Racing Club (Wellington). BUT am Auckland based with the New Zealand High Performance Sports Centre. 
NATIONALITY OF YOUR COACH
Danish
SINCE WHEN HAVE YOU BEEN COACHED BY HIM/ HER?
October 2014
SENIOR INTERNATIONAL DEBUT YEAR
2015
SENIOR INTERNATIONAL DEBUT COUNTRY
Portugal
SENIOR INTERNATIONAL DEBUT COMPETITION
World Cup 1
MEMORABLE SPORTING ACHIEVEMENT
Qualifying for the Olympics in the NZ WK4 in 2015 World Championships Milan. 
MOST INFLUENTIAL PERSON IN CAREER
My family
TRAINING PARTNER(S)
Aimee Fisher, Caitlin Ryan and Jaimee Lovett
HERO/IDOL
Mountaineer Sir Edmund Hillary, Boxer Muhammad Ali
SPORTING PHILOSOPHY/ MOTTO
"Success is not measured by how high you climb, but how high you bounce when you hit the bottom."
FAVOURITE PADDLING COURSE
Duisburg, Germany
FAVOURITE FOOD
Ice cream and chocolate
PREFERRED DISTANCE
200m & 500m
POSITION IN BOAT FOR TEAM BOATS
Boot K4
OTHER SPORTS
Surf Lifesaving