Kelly ALLEN (USA)

United States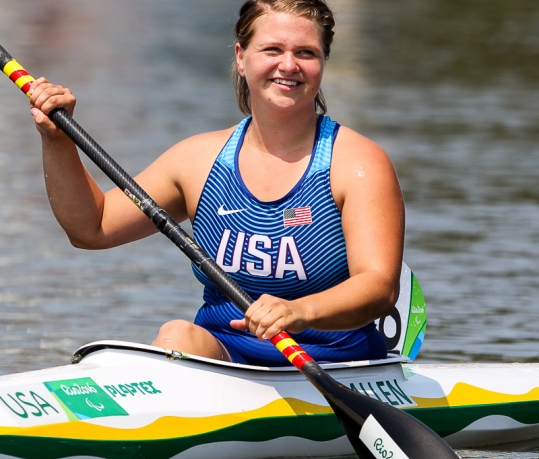 Biography
Further Personal Information
BIOGRAPHY
Rank
Event
Year
Location
Result
World Championships
4
K1 200m LTA
2012
Poznan, POL
1:04.287
7
K1 200m LTA
2013
Duisburg, GER
59.220
8
KL3
2016
Duisburg, GER
54.885
9
K1 200m LTA
2014
Moscow, RUS
55.873
PLACE OF RESIDENCE
Oklahoma City, Oklahoma
OCCUPATION
Student, Dicks Sporting Goods
HIGHER EDUCATION
Recreation Management - University of Central Oklahoma, Oklahoma City, OK, USA
WHEN/WHERE DID YOU START CANOEING/ KAYAKING?
I started my kayak career at the Extremity Games at the age of fourteen. 
REASON FOR TAKING UP THE SPORT
I started kayaking as a recreational paddler with just friends and family. I then fell in love with the feeling of freedom the boat gave me. When I was in my boat I was able to keep up with my able bodied peers. I was then introduced to Paracanoe and discovered that I could be competitive with other adaptive athletes. 
Her parents bought her and her siblings their first recreational kayaks when they were in primary school. They would spend weekends paddling at Lake Michigan. She began competing at the Extremity Games at age 14. "The first year I entered I was the youngest person in the competition, and I think the only female in the kayaking event. I was up against grown men so I felt content not placing in the top three. The next year I told my father I wanted to take the competition more seriously. He signed me up for a 'learn the forward stroke' class. I took one lesson and won the Extremity Games, both men's and women's categories for the next seven years. It was there I was discovered by [slalom paddler] Ben Kvanli. He saw me race and later found me on Facebook and extended an offer to move to Texas and train for the new event being added to the Paralympic Games, sprint kayak." (ymcdn.com, 06 Sep 2016)
HOBBIES
Crafts, hiking, biking, camping
NAME OF COACH
Shaun Caven
SINCE WHEN HAVE YOU BEEN COACHED BY HIM/ HER?
2015
TRAINING REGIME
We have workouts twice a day six days a week. Morning sessions vary between gym workouts and on the water paddle programs. The afternoon practice is some sort of the water workout, from sprints to longer technique work. 
MEMORABLE SPORTING ACHIEVEMENT
The first time I ever competed at the Extremity Games. It was a life changing event for me and one I am very grateful for. 
MOST INFLUENTIAL PERSON IN CAREER
My parents/grandparents
TRAINING PARTNER(S)
Kaitilyn McElroy, Nicole Mallory, Bria Cornforth
SUPERSTITIONS/ RITUALS/ BELIEFS
I always pray before a race. 
SPORTING PHILOSOPHY/ MOTTO
Paddle hard, stay dry. 
FAVOURITE PADDLING COURSE
Poznan, Poland
AMBITIONS
To win a gold medal at the Paralympic Games. I would love to represent the United States at the Paralympic Games. I also plan on forming my own non-profit to introduce adaptive sport to a new audience. 
AWARDS AND HONORS
2013- Named an Amy Poehler "Smart Girl" - Changing the world by being yourself. 
2010- Youth Ambassador at the 2010 Winter Paralympic Games
2009- Gil Heard Courageaous Athlete Award by the Upper Peninsula Sportswriters and Sportscasters Association. 
2009- Inducted into the Athletes with Disabilities Hall of Fame as a Rising Star
OTHER INFORMATION
Classification
KL3 (SportsDeskOnline, 24 Aug 2017)

Type of Impairment
Limb deficiency (oneandonehalf.com, 30 Apr 2016)

Origin of Impairment
Congenital (oneandonehalf.com, 30 Apr 2016)

Impairment Details
She was born with proximal femoral focal deficiency type D. She is missing her left femur, patella, fibula and her left hip is not fully developed. She uses a prosthetic leg on a daily basis. "Literally the only way my leg is attached to my body is through muscle and skin. It looks like I only have one half of a leg." (thecontenders.com, 10 Aug 2016; oneandonehalf.com, 30 Apr 2016; usack.rallyme.com, 2016)

Awards
She was United States of America's flag bearer at the opening ceremony of the 2017 World Championships in Racice, Czech Republic. (ironmountaindailynews.com, 26 Aug 2017)

She received the 2009 Rising Star Award from the National Disability Hall of Fame in United States of America. (oneandonehalf.com, 30 Apr 2016)

She received the 2009 Gil Heard Courageous Athlete Award from the Upper Peninsula Sportswriters and Sportscasters Association [UPSSA] in Michigan, United States of America. (oneandonehalf.com, 30 Apr 2016)

General
OTHER EDUCATION
She did her first year of studies at Northern Michigan University in Marquette, MI, United States of America, before moving to University of Central Oklahoma in Oklahoma City, OK, United States of America, so she could train with able-bodied sprint paddlers from the US national team. (teamusa.org, 21 Aug 2017)


OTHER SPORTS
She has competed in Para-alpine skiing and was ranked in the top 30 in the world in slalom and giant slalom, tennis