Lani BELCHER (GBR)

United Kingdom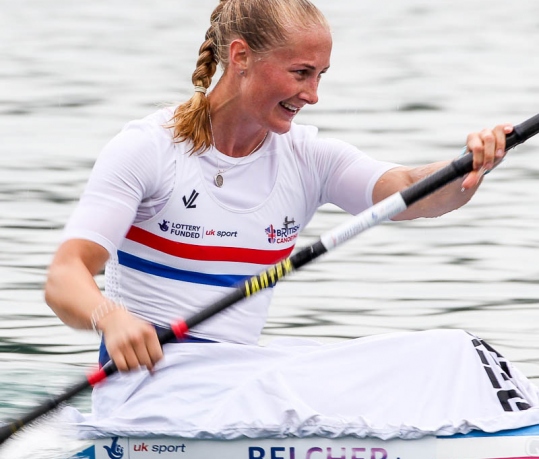 Biography
Further Personal Information
BIOGRAPHY
Date of Birth: 10/06/1989
Born: Cobram, Victoria, Australia
Hometown: Brisbane, Queensland, Australia
Lives: Maidenhead, Berkshire
Class/Distance: Canoe Sprint - K2 500m & K4 500m
Paddling since: 2004
Club: Elmbridge Canoe Club
Coach: Trevor Hunter
Boat: Nelo Vanquish 3
Paddles: Jantex Gamma Medium
 
Sponsors: Nelo, Sweaty Betty
Lottery Funding: UK Sport Podium Programme
 
Hobbies: Going to the beach, Shopping, Painting canvasses, Listening to music
Website: Coming soon!
Twitter: @lanibelcher
Notes:
Lani Belcher is a women's K2 & K4 500m sprint kayaker. She is also extremely successful at the non-Olympic distance of K1 5000m and in 2011 was the European and World silver medallist.
Lani was introduced to the sport through her parents as they both represented Great Britain and Australia in marathon canoeing. Lani decided to give kayaking a go after competing in triathlon and track cycling.
Lani started kayaking in Australia at a local club then moved to the Gold Coast where she was based at the Australian Institute of Sport canoeing facility, as part of the Queensland Academy of sport programme.
In 2007 she spent six months in England training at Elmbridge Canoe Club and then in November 2008 she was released from the Australian team to compete for Great Britain. Lani says this is something she has always wanted to do and feels strongly that Great Britain is where her roots lie.
ICF WORLD CHAMPIONSHIPS
 K1 5000m - Silver
ICF WORLD CHAMPIONSHIPS
K2 500m - 8th
K2 500m - 5th
ICF WORLD CHAMPIONSHIPS
K1 5000m - 7th
ICF WORLD CUPS
WC2 Racice:
K2 500m - Bronze
K1 5000m - Gold

WC3 Duisburg:
K2 500m - 4th
ICF WORLD CUPS
WC2 Duisburg:
K2 500m - 11th
CONTINENTAL CHAMPIONSHIPS
CONTINENTAL CHAMPIONSHIPS
K2 500m - 9th
K1 5000m - Silver
HOBBIES
Perfect Day - A good lie in, shopping and the beach.
Love being outdoors