Laurence VINCENT-LAPOINTE (CAN)
Canada
Languages:
English, French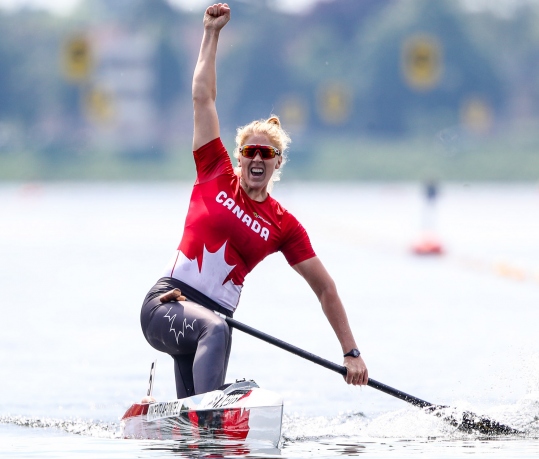 Biography
Further Personal Information
PLACE OF RESIDENCE
Trois-Rivières, Quebec
HIGHER EDUCATION
Medical Science - University of Montreal
WHEN/WHERE DID YOU START CANOEING/ KAYAKING?
She began paddling at age 12 or 13.
REASON FOR TAKING UP THE SPORT
She followed her friend into the sport. "At first I was really bad because I was tall. It was hard for me to keep my balance and I didn't like kayaking. I would keep tipping and in canoe too, even more so in canoe, but I liked it. It was more of a challenge to do canoeing. I kept going, but it took me two years of falling before I did a practice without falling."
HOBBIES
Working with her hands, reading, spending time with friends.
CLUB
Trois Rivieres: Quebec
NAME OF COACH
Mathieu Pelletier [personal]
NATIONALITY OF YOUR COACH
Canada
MEMORABLE SPORTING ACHIEVEMENT
Winning gold at the 2010 World Championships in Poznan, Poland
MOST INFLUENTIAL PERSON IN CAREER
Coach Mathieu Pelletier
HERO/IDOL
Canadian sprint paddlers Mallorie Nicholson and Dave Frost
AMBITIONS
To compete at the Olympic Games, and to become a doctor. (cbc.ca, 2015)
OTHER INFORMATION
OLYMPIC FRUSTRATION As a multiple world championship winner in the C1 200m, she has not competed at the Olympic Games as only kayak sprint events are on the Olympic programme for female paddlers. "What I am sad about is that we have been working hard over the last few years to make sure that we would be ready whenever they wanted us to race. I'll be waiting, but I am impatient for the 2020 Games [in Tokyo], hoping that we will be there." (cbc.ca, 2015)TRAINING SLOWDOWNDuring her studies she had less time to train, but her coach Mathieu Pelletier believes that period could help to extend her career. "She had to slow down her training volume in the off-season, so it helped her body to heal a little bit. She will be able to keep going a year or two more than she could have because of those slowdowns." (cbc.ca, 2015)