Lena STOECKLIN (GER)
Germany
Languages:
German fluently, English and a little bit French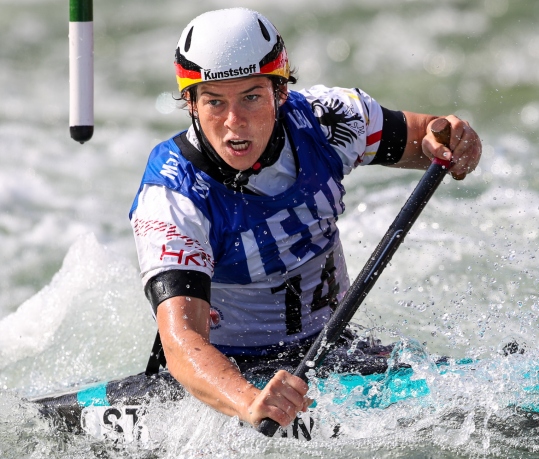 Biography
Further Personal Information
PREV. NAMES
Lena STOCKLIN
PLACE OF RESIDENCE
I live in Leipzig and train at the Kanupark Markkleeberg
OCCUPATION
Prospective sports police officer
HIGHER EDUCATION
I completed Bachelor of Sport Management in 2014 through University of Leipzig
WHEN/WHERE DID YOU START CANOEING/ KAYAKING?
I've started training canoe slalom in 2005 at my home club near Freiburg, which is close to the French border.
HOBBIES
Climbing, snowboarding, cross country skiing and drawing
NAME OF COACH
Felix Michel
SENIOR INTERNATIONAL DEBUT COMPETITION
2011 European Championships in La Seu
MEMORABLE SPORTING ACHIEVEMENT
Making the final at the World Cup in Markkleeberg in front of a home crowd and finishing 5th in a super close final
MOST INFLUENTIAL PERSON IN CAREER
My dad, because he always supported me and found exactly the right words when I was just on the verge of ending my paddling career
HERO/IDOL
Of course Jess Fox because she's the G.O.A.T
SUPERSTITIONS/ RITUALS/ BELIEFS
I only wear chosen combos during competition
SPORTING PHILOSOPHY/ MOTTO
Success has nothing to do with luck, it is just the result of hard work that pays off
FAVOURITE PADDLING COURSE
I love paddling the course in Penrith because I love its kind of whitewater and the possibility to have a quality loaded training during the German winter period.
AMBITIONS
I would like to reach another final at a World Championships
AWARDS AND HONORS
I signed the golden book of my village ??