Liam HEATH (GBR)

United Kingdom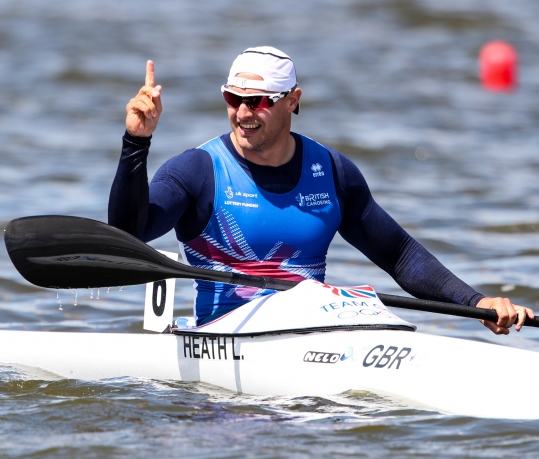 Biography
Further Personal Information
ICF WORLD CHAMPIONSHIPS
K2 200m -Bronze
K1 200m Relay - Silver
ICF WORLD CHAMPIONSHIPS
K2 200m - Silver
ICF WORLD CUPS
WC1 Poznan:
K2 200m - Silver

WC2 Racice:
K2 200m - Silver
ICF WORLD CUPS
WC2 Szeged:
K2 200m - Gold

WC3 Duisburg:
K2 200m - Gold
K1 200m Relay - Silver
ICF WORLD CUPS
WC1 Poznan:
K2 200m - Silver
WC2 Duisburg:
K2 200m - Silver
K1 200m Relay - Gold
CONTINENTAL CHAMPIONSHIPS
K2 200m - Gold
PLACE OF RESIDENCE
Maidenhead
HIGHER EDUCATION
Industrial Design, Industrial Technology - Loughborough University: England
WHEN/WHERE DID YOU START CANOEING/ KAYAKING?
He began paddling in 1995 at the Wey Kayak Club in Guildford
REASON FOR TAKING UP THE SPORT
In amongst other sporting activities he chose to pursue kayaking as it came quickly and naturally to him.
REASON FOR TAKING UP THE SPORT
Liam was first introduced to kayaking as part of an organized 'holiday fun' activity week at Wey Kayak Club at the age of 10. 
HOBBIES
Art, Design and 3D design Liam can name and make over 150 different cocktails.
CLUB
Wey Kayak Club: Guildford
NAME OF COACH
Alexander Nikonorov [national]; Scott Gardner [national]
SENIOR INTERNATIONAL DEBUT YEAR
2010
MEMORABLE SPORTING ACHIEVEMENT
Winning bronze in the K2 200m at the 2012 Olympic Games in London
HERO/IDOL
British sprint paddler Tim Brabants
SPORTING PHILOSOPHY/ MOTTO
"Arriving at one goal is the starting point to another."
AWARDS AND HONORS
Member British Empire (MBE)
OTHER INFORMATION
Olympic Champion K1 200m Rio 2016, Silver Medalist K2 200m Rio 2016, Bronze Medalist London 2012, multiple European Champion, World Champion 2017. Boat: Nelo Vanquish III Paddles: Jantex Gamma Large Sponsors: Jantex, Lifeplan, Nelo, Assist, Speedstroke Lottery Funding: UK Sport Podium Programme
DEBUT
In 2010 Liam was crowned European Champion in the K2 200m; with his partner Jon Schofield, they went on to take the bronze medal at the World Championships. They went one better in 2011 winning silver at the World Championships and now have the ultimate goal of becoming Olympic champions.