Luuka JONES (NZL)
New Zealand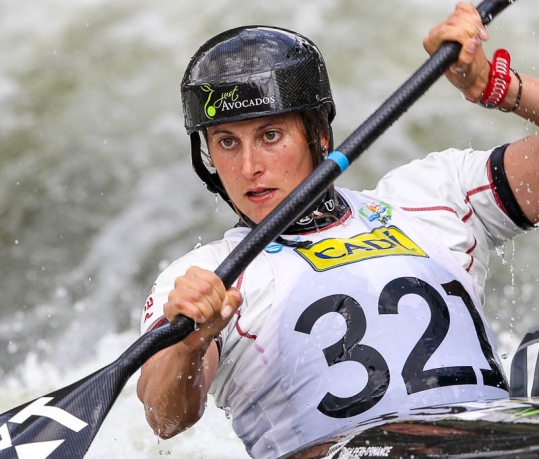 Biography
Further Personal Information
BIOGRAPHY
Became the first female canoe slalom athlete at the Beijing Olymics.
Qualified for London at the World Champs 2011.
Best result in 2011 was Leipzig 19th.
PLACE OF RESIDENCE
I live in Auckland, New Zealand from October to May and then spend the season living in Europe
HIGHER EDUCATION
Currently studying a bachelor of business and a certificate in graphic design
WHEN/WHERE DID YOU START CANOEING/ KAYAKING?
I started paddling when I was 11 years old when my parents moved next to a kayaking adventure park. I started working in exchange for kayaking lessons. I competed in my first canoe slalom race when I was 14 years old.
REASON FOR TAKING UP THE SPORT
My parents moved next to a kayaking adventure park and I started spending all my time there kayaking. I first tried Canoe Slalom when I was 13 years old when all of my friends were going to the school championships and I didn't want to miss out. I borrowed somebody's kayak and loved the experience. When I was 14 I was selected to be a part of the New Zealand development squad and started training a bit. When I competed in the Junior World Championships in Slovenia in 2006 it was my first experience of international competition and I realised how good everybody was. I wanted to get better so in 2007 once I finished school I moved to Nottingham to watch the British team train. I have been based in Nottingham nearly every year since then.
HOBBIES
Mountain biking, paddleboarding, surfing, travelling, coffee, arts and crafts
CLUB
Canoe Slalom Bay of Plenty
NATIONALITY OF YOUR COACH
SINCE WHEN HAVE YOU BEEN COACHED BY HIM/ HER?
TRAINING REGIME
I like to focus on quality, not quantity and when I am in Europe/Uk and have access to good courses I do all of my training except for gym on the white water. I am focussed a lot on improving my technique and being efficient in the kayak.
SENIOR INTERNATIONAL DEBUT YEAR
SENIOR INTERNATIONAL DEBUT COUNTRY
SENIOR INTERNATIONAL DEBUT COMPETITION
SENIOR INTERNATIONAL DEBUT LOCATION
MEMORABLE SPORTING ACHIEVEMENT
Winning silver at the Rio Olympics
PREFERRED POSITION / STANCE / STYLE / TECHNIQUE
My favourite upstream technique are sweep ups
MOST INFLUENTIAL PERSON IN CAREER
There have been many influential people in different stages of my career
TRAINING PARTNER(S)
Sometimes Mike Dawson, Campbell Walsh, anybody who is keen to do a session
HERO/IDOL
Louise Jull - she is an amazing paddler and friend and inspires me (and many others) to live life to the fullest.
SUPERSTITIONS/ RITUALS/ BELIEFS
SPORTING PHILOSOPHY/ MOTTO
Success is a moment, but what we're always celebrating is creativity and mastery. We often want the moment of completion, but what really propels us is the unfinished, the process.
FAVOURITE PADDLING COURSE
One of my favourite places to paddle is the Kaituna river. It is not great for canoe slalom training but it is a beautiful natural river and I have a lot of great memories there.
AMBITIONS
To continue improving in the sport and to be the best athlete I can.
AWARDS AND HONORS
Nominated for the NZ Halberg awards in 2017
OTHER INFORMATION
I love not only the sport of Canoe Slalom but the whole environment. It is unique in that every race the ultimate competition is against yourself, it is about putting down the best run you can do. There is a great atmosphere on the international circuit and everybody is really friendly. Often people outside the sport are surprised at how the competitors are friendly with each other and many are good friends. It is nice to be in a sport that so strongly promotes the Olympic values of excellence, friendship and respect.