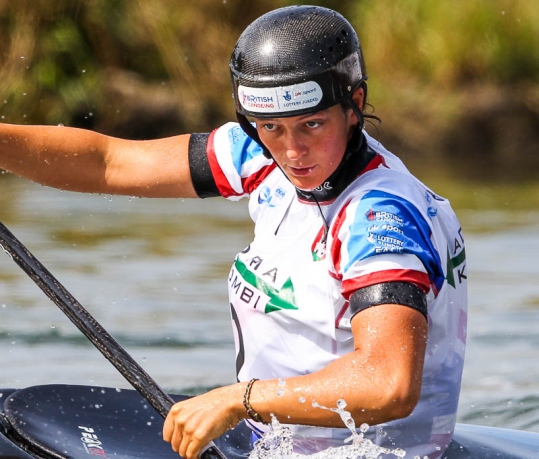 Mallory Franklin (GBR)

United Kingdom
Canoe Slalom
Date of birth
19 June 1994
Occupation
Athlete, Student
Higher education
Loughborough University/University of Bedfordshire: Loughborough, ENG
Biography
General Interest
Hobbies
Canoeing. (britishcanoeing.org.uk, 31 Aug 2015)
Memorable sporting achievement
Winning a gold medal at the 2013 U23 European Championships in Bourg St Maurice, France. (canoekayak.co.uk, 09 Jun 2015)
Injuries
She suffered a knee injury in September 2014 when she tried to do a human plank exercise on a pole and slipped. It did not prevent her from competing in the 2014 World Championships in Deep Creek, MD, United States. (bbc.co.uk, 16 Sep 2014)

She has a long-standing back problem, a fracture on one of the joints that comes off the spine, that flared up at the 2013 U23 European Championships in Macedonia. (bbc.co.uk, 16 Sep 2014)
Sporting philosophy / motto
"I guess I have one main goal in my canoeing career, I would be happy with my career if I could look back and say I did my best in every situation and worked my hardest to do my absolute best. As anyone in the sport does, I do have a goal to go to the Olympics and hopefully win a gold medal, but I am heavily of the opinion that if you base all your happiness on an outcome, you risk never being happy." (canoekayak.co.uk, 09 Jun 2015)
Awards and honours
She was named the 2012 Luton Sports Women of the Year. (malloryfranklin.co.uk, 30 Aug 2015)
Famous relatives
Her brother, Zak, is also a member of the British senior team in canoe slalom. (london.worldchampionships.events.slalom.canoeicf.com, 29 Jun 2015)
Ambitions
To win a gold medal at the Olympic Games.(canoekayak.co.uk, 09 Jun 2015)
Other information
SUPPORT
She is supported by the Talented Athlete Scholarship Scheme [TASS], and the UK Sport Podium Potential Programme, which support athletes who have medal-winning chances at the 2016 Olympic Games in Rio de Janeiro. (tass.gov.uk, 01 Sep 2011; britishcanoeing.org.uk, 31 Aug 2015)

YOUNG PRODIGY
At age 12 she was promoted to compete in the UK's canoe-slalom Premier Division, which at the time made her the youngest ever British female to compete at that level. (sports.tmcnet.com, 27 Jul 2010)
Sport Specific Information
When and where did you begin this sport?
She began paddling at age five.
Club / Team
Windsor and District Canoe Club: England
Name of coach
Craig Morris [national]
Training Regime
"I train around 20 hours a week including gym, cardio and on-water sessions in my boat. I train mostly at home [in Windsor] although I travel to Lee Valley White Water Centre for my whitewater sessions and gym."
Results
Competition
Event
Location
Date
Season
Gender
Result
Rank
Mentions
World Championships
C1
England, London
20 September 2015
2015
Women
130.98
7

Best result

World Championships
C1 Team
England, London
20 September 2015
2015
Women
153.72
4

Best result

World Championships
K1
United States, McHenry, MD
21 September 2014
2014
Women
119.83
31
World Championships
C1
United States, McHenry, MD
20 September 2014
2014
Women
138.78
2

Best result

World Championships
C1 Team
United States, McHenry, MD
20 September 2014
2014
Women
181.83
2

Best result

World Championships
K1 Team
United States, McHenry, MD
21 September 2014
2014
Women
148.30
8

Best result

World Championships
C1
Czech Republic, Prague
15 September 2013
2013
Women
139.08
2

Best result

World Championships
C1 Team
Czech Republic, Prague
15 September 2013
2013
Women
208.67
4

Best result

World Championships
C1
Slovakia, Bratislava
11 September 2011
2011
Women
225.25
9

Best result

World Championships
C1
Slovenia, Tacen
12 September 2010
2010
Women
181.79
7

Best result

European Championships
C1
Slovakia, Liptovský Mikuláš
14 May 2016
2016
Women
126.27
3

Latest result

Best result

European Championships
C1 Team
Slovakia, Liptovský Mikuláš
14 May 2016
2016
Women
185.03
1

Latest result

Best result

European Championships
C1
Germany, Markkleeberg
30 May 2015
2015
Women
125.85
2

Best result

European Championships
C1 Team
Germany, Markkleeberg
30 May 2015
2015
Women
161.19
3

Best result

European Championships
C1
Austria, Vienna
31 May 2014
2014
Women
161.88
14

Best result

European Championships
C1 Team
Austria, Vienna
31 May 2014
2014
Women
140.28
1

Best result

European Championships
K1 Team
Austria, Vienna
1 June 2014
2014
Women
111.51
5

Best result

European Championships
C1
Poland, Kraków
8 June 2013
2013
Women
183.49
14

Best result

European Championships
C1
Germany, Augsburg
12 May 2012
2012
Women
130.29
2

Best result

European Championships
C1 Team
Germany, Augsburg
12 May 2012
2012
Women
2:10.09
3

Best result

European Championships
C1
Spain, La Seu d'Urgell
12 June 2011
2011
Women
190.94
9

Best result

European Championships
C1
Slovakia, Cunovo
15 August 2010
2010
Women
293.30
6

Best result

World Cup
K1
11 September 2016
2016
Women
45

Latest result

World Cup
C1
11 September 2016
2016
Women
1

Latest result

Best result

World Cup
C1
16 August 2015
2015
Women
21
World Cup
K1
17 August 2014
2014
Women
31
World Cup
C1
17 August 2014
2014
Women
3

Best result

World Cup
K1
25 August 2013
2013
Women
49
World Cup
C1
25 August 2013
2013
Women
5

Best result

World Cup
C1
2 September 2012
2012
Women
9

Best result

World Cup
K1
14 August 2011
2011
Women
55
World Cup
C1
13 August 2011
2011
Women
7

Best result

World Cup
C1
4 July 2010
2010
Women
9

Best result