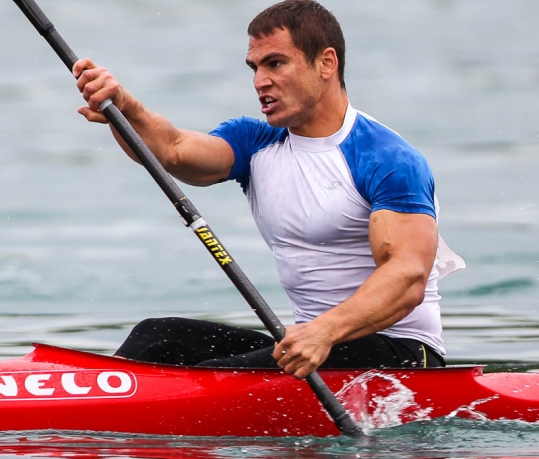 Marko Tomicevic (SRB)
Serbia
Canoe Sprint
Date of birth
19 April 1990
Languages
English, Serbian
Biography
General Interest
Nicknames
Tomi (baku2015.com, 15 Jun 2015)
Hobbies
Wrestling. (baku2015.com, 15 Jun 2015)
Memorable sporting achievement
Winning two gold medals at the 2008 European Junior Championships in Szeged, Hungary. (baku2015.com, 15 Jun 2015)
Awards and honours
He was named the 2013 Male Athlete of the Year in Becej, Serbia. (becejski-mozaik.co.rs, 27 Dec 2013)
Sport Specific Information
When and where did you begin this sport?
He began competing in canoe sprint in 2003 on the Tisa river.
Why this sport?
He decided to go to watch some canoe training because of a girl he liked. "I had fallen in love and I came to the Tisa river to see this girl. I saw some other guys from water polo who had learned to paddle and it seemed to be interesting. I decided to give it a try and at the beginning I was catastrophically unstable. However, I liked the feeling of being in a canoe and that I could do whatever I liked, and spent all day on the Tisa river."
Club / Team
KK Val: Sremska Mitrovica, SRB
Name of coach
Miroslav Aleksic [personal]; Miroslav Rodic [national]
Training Regime
He trains three times a day, with two water sessions and a session at the gym.
Results
Competition
Event
Location
Date
Season
Gender
Result
Rank
Mentions
Olympic Games
K2 1000m
Brazil, Rio de Janeiro
18 August 2016
2016
Men
3:10.969
2

Latest result

Best result

Olympic Games
K4 1000m
Brazil, Rio de Janeiro
20 August 2016
2016
Men
3:10.241
8

Latest result

Best result

Olympic Games
K1 1000m
England, London
8 August 2012
2012
Men
3:30.754
10

Best result

World Championships
K2 1000m
Italy, Milan
22 August 2015
2015
Men
3:11.502
3

Best result

World Championships
K1 500m
Russia, Moscow
10 August 2014
2014
Men
1:59.524
35

Best result

World Championships
K1 5000m
Russia, Moscow
9 August 2014
2014
Men
20:22.330
4

Best result

World Championships
K2 1000m
Russia, Moscow
9 August 2014
2014
Men
3:09.857
3

Best result

World Championships
K1 1000m
Germany, Duisburg
31 August 2013
2013
Men
3:34.973
10

Best result

World Championships
K1 1000m
Hungary, Szeged
19 August 2011
2011
Men
3:43.052
6

Best result

World Championships
K1 500m
Poland, Poznan
22 August 2010
2010
Men
1:41.541
14

Best result

World Championships
K1 1000m
Poland, Poznan
21 August 2010
2010
Men
3:32.912
5

Best result

European Championships
K2 1000m
Russia, Moscow
25 June 2016
2016
Men
3:13.832
3

Latest result

Best result

European Championships
K4 1000m
Russia, Moscow
26 June 2016
2016
Men
3:02.044
9

Latest result

Best result

European Championships
K1 5000m
Czech Republic, Racice
3 May 2015
2015
Men
20:28.230
4

Best result

European Championships
K1 500m
Germany, Brandenburg
13 July 2014
2014
Men
1:42.165
4

Best result

European Championships
K1 5000m
Germany, Brandenburg
13 July 2014
2014
Men
20:16.080
6

Best result

European Championships
K1 1000m
Croatia, Zagreb
23 June 2012
2012
Men
3:33.476
12

Best result

European Championships
K1 1000m
Serbia, Belgrade
18 June 2011
2011
Men
3:25.935
4

Best result

European Championships
K1 5000m
Serbia, Belgrade
19 June 2011
2011
Men
22:18.558
11

Best result

European Championships
K1 1000m
Spain, Trasona
3 July 2010
2010
Men
3:37.043
5

Best result

European Championships
K1 5000m
Spain, Trasona
4 July 2010
2010
Men
21:06.677
10

Best result

European Championships
K1 500m
Germany, Brandenburg
28 June 2009
2009
Men
1:42.142
22

Best result

European Championships
K1 1000m
Germany, Brandenburg
27 June 2009
2009
Men
3:35.782
10

Best result

World Cup
Individual Kayak
5 June 2016
2016
Men
16

Latest result

Best result

World Cup
Individual Kayak
10 August 2014
2014
Men
27

Best result

World Cup
Individual Kayak
1 September 2013
2013
Men
11

Best result

World Cup
Individual Kayak
21 August 2011
2011
Men
12

Best result

World Cup
Individual Kayak
22 August 2010
2010
Men
20

Best result