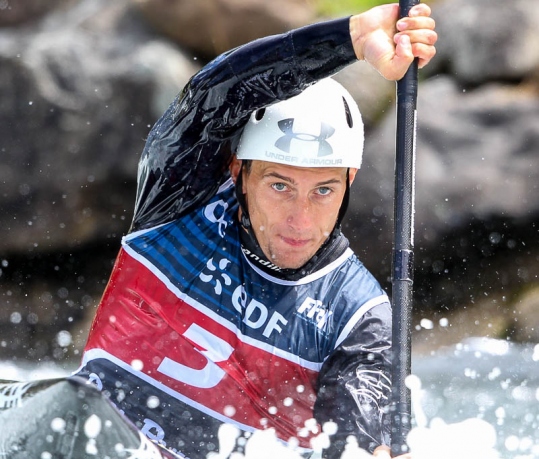 Mateusz Polaczyk (POL)

Poland
Canoe Slalom
Date of birth
22 January 1988
Occupation
Athlete, Serves in the Army
Languages
English, Polish
Higher education
Journalism, Public Relations - Bogdan Janski University: Kraków, POL
Biography
General Interest
Nicknames
Filo (sportscene.tv, 27 Aug 2015)
Hobbies
Sports. (polsatsport.pl, 28 Mar 2016)
Memorable sporting achievement
Winning a gold medal at the 2006 World Junior Championships. "It's s very unique medal, because somehow I took it back to home, not only won it. My brother Grzegorz won this medal in 2002 and four years later I took back this medal and it was my dream." (polsatsport.pl, 28 Mar 2016)
Hero / Idol
Norwegian biathlete Ole Einar Bjorndalen, Austrian alpine skier Hermann Maier, Polish ski jumper Adam Malysz, Polish mountain biker Maja Wloszczowska. (sportowepodhale.pl, 27 Jul 2012)
Injuries
He suffered a shoulder injury that caused him to miss the first half of the 2013 season. (dziennikpolski24.p, 05 Aug 2015)
Sporting philosophy / motto
"Aim high and do not be afraid to admit it." (sportowepodhale.pl, 27 Jul 2012)
Other sports
As a junior he competed in alpine skiing at regional level in Poland. (sportowepodhale.pl, 27 Jul 2012)
Famous relatives
His brothers Henryk, Lukasz, Rafal and Grzegorz, and his sisters Iwona and Joanna Mendon-Polaczyk compete in canoe slalom and have all represented Poland. His brother Henryk has also worked as a canoeing coach. (pzkaj.pl, 18 Feb 2015; bydgoski.pl, 06 Jan 2015; polsatsport.pl, 26 Mar 2016)
Ambitions
To win gold at the Olympic Games, world championships, European championships and to win the overall World Cup title. (polsatsport.pl, 28 Mar 2016)
Sport Specific Information
When and where did you begin this sport?
He began paddling in 1994 in Szczawnica, Poland.
Why this sport?
"I love the fact that canoe is an unpredictable sport. I love the contact with nature, the fight against it. Another advantage is that our training never gets boring. Every course, every wave is different, so we have to learn them each time."
Club / Team
Zawisza Bydgoszcz : Poland
Name of coach
Henryk Polaczyk [club, brother], POL; Jaroslaw Miczek [national], POL
Results
| Competition | Event | Location | Date | Season | Gender | Result | Rank | Mentions |
| --- | --- | --- | --- | --- | --- | --- | --- | --- |
| Olympic Games | K1 | England, London | 1 August 2012 | 2012 | Men | 96.14 | 4 | Best result |
| World Championships | K1 | England, London | 20 September 2015 | 2015 | Men | 89.43 | 2 | Best result |
| World Championships | K1 Team | England, London | 20 September 2015 | 2015 | Men | 111.29 | 6 | Best result |
| World Championships | K1 | United States, McHenry, MD | 20 September 2014 | 2014 | Men | 108.82 | 7 | Best result |
| World Championships | K1 Team | United States, McHenry, MD | 20 September 2014 | 2014 | Men | 175.66 | 11 | Best result |
| World Championships | K1 | Czech Republic, Prague | 15 September 2013 | 2013 | Men | 95.98 | 3 | Best result |
| World Championships | K1 Team | Czech Republic, Prague | 15 September 2013 | 2013 | Men | 111.10 | 2 | Best result |
| World Championships | K1 | Slovakia, Bratislava | 11 September 2011 | 2011 | Men | 97.22 | 2 | Best result |
| World Championships | K1 | Slovenia, Tacen | 12 September 2010 | 2010 | Men | 99.52 | 41 | |
| World Championships | K1 Team | Slovenia, Tacen | 12 September 2010 | 2010 | Men | 103.71 | 4 | Best result |
| World Championships | K1 | Spain, La Seu d'Urgell | 13 September 2009 | 2009 | Men | 200.57 | 10 | Best result |
| World Championships | K1 Team | Spain, La Seu d'Urgell | 12 September 2009 | 2009 | Men | 109.82 | 12 | Best result |
| World Championships | K1 | Brazil, Foz do Iguaçu | 22 September 2007 | 2007 | Men | 208.28 | 58 | |
| World Championships | K1 Team | Brazil, Foz do Iguaçu | 21 September 2007 | 2007 | Men | 212.73 | 6 | Best result |
| World Championships | K1 | Czech Republic, Prague | 5 August 2006 | 2006 | Men | | 35 | |
| World Championships | K1 Team | Czech Republic, Prague | 4 August 2006 | 2006 | Men | 230.72 | 3 | Best result |
| European Championships | K1 | Slovakia, Liptovský Mikuláš | 14 May 2016 | 2016 | Men | 98.29 | 19 | Latest result |
| European Championships | K1 Team | Slovakia, Liptovský Mikuláš | 14 May 2016 | 2016 | Men | 226.01 | 13 | Latest result |
| European Championships | K1 | Germany, Markkleeberg | 30 May 2015 | 2015 | Men | 96.08 | 7 | Best result |
| European Championships | K1 Team | Germany, Markkleeberg | 30 May 2015 | 2015 | Men | 112.95 | 5 | Best result |
| European Championships | K1 | Austria, Vienna | 31 May 2014 | 2014 | Men | 89.67 | 21 | |
| European Championships | K1 Team | Austria, Vienna | 31 May 2014 | 2014 | Men | 98.90 | 3 | Best result |
| European Championships | K1 | Germany, Augsburg | 12 May 2012 | 2012 | Men | 147.17 | 10 | Best result |
| European Championships | K1 Team | Germany, Augsburg | 12 May 2012 | 2012 | Men | 157.54 | 6 | Best result |
| European Championships | K1 | Spain, La Seu d'Urgell | 12 June 2011 | 2011 | Men | | 12 | |
| European Championships | K1 Team | Spain, La Seu d'Urgell | 12 June 2011 | 2011 | Men | 106.53 | 2 | Best result |
| European Championships | K1 | Slovakia, Cunovo | 15 August 2010 | 2010 | Men | 92.47 | 6 | Best result |
| European Championships | K1 Team | Slovakia, Cunovo | 14 August 2010 | 2010 | Men | 108.49 | 1 | Best result |
| European Championships | K1 | England, Nottingham | 31 May 2009 | 2009 | Men | | 16 | |
| European Championships | K1 Team | England, Nottingham | 30 May 2009 | 2009 | Men | 94.84 | 4 | Best result |
| European Championships | K1 Team | Poland, Kraków | 9 May 2008 | 2008 | Men | 204.76 | 1 | Best result |
| European Championships | K1 | Slovakia, Liptovský Mikuláš | 17 June 2007 | 2007 | Men | | 11 | Best result |
| European Championships | K1 Team | Slovakia, Liptovský Mikuláš | 15 June 2007 | 2007 | Men | 269.71 | 15 | |
| Oceania Open Championships | K1 | Australia, Penrith, NSW | 26 February 2012 | 2012 | Men | | 27 | |
| World Cup | K1 | | 11 September 2016 | 2016 | Men | | 23 | Latest result |
| World Cup | K1 | | 16 August 2015 | 2015 | Men | | 9 | Best result |
| World Cup | K1 | | 17 August 2014 | 2014 | Men | | 22 | |
| World Cup | K1 | | 25 August 2013 | 2013 | Men | | 24 | |
| World Cup | K1 | | 2 September 2012 | 2012 | Men | | 13 | |
| World Cup | K1 | | 13 August 2011 | 2011 | Men | | 13 | |
| World Cup | K1 | | 4 July 2010 | 2010 | Men | | 41 | |
| World Cup | K1 | | 3 August 2009 | 2009 | Men | | 36 | |
| World Cup | K1 | | 6 July 2008 | 2008 | Men | | 26 | |
| World Cup | K1 | | 15 July 2007 | 2007 | Men | | 71 | |