Max HOFF (GER)
Germany
Languages:
German and english, a little little bit french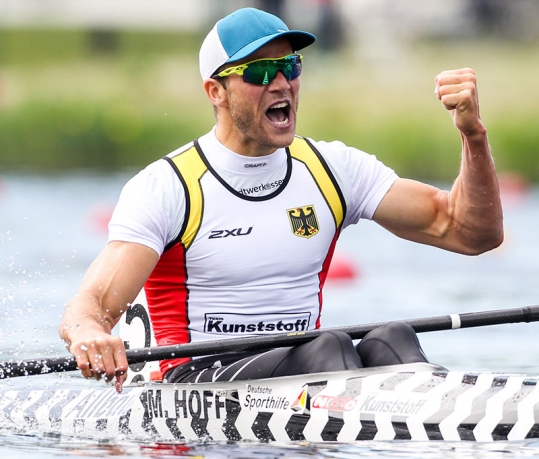 Biography
Further Personal Information
PLACE OF RESIDENCE
My hometown is Essen where also my home club is located at the Baldeneysee, close to the regatta course in Duisburg. Mainly im training there, in the winter time a lot in the USA and Spain. In the Summertime we stay a lot in Kienbaum (close to Berlin), Munich and Duisburg with the national team.
OCCUPATION
Professional athlete and working a little bit at DB Schenker 
HIGHER EDUCATION
I finished my master degree in molecular biology at the university in Cologne in 2010. In the moment doing my MBA and hopefully ready after the season 2018.
WHEN/WHERE DID YOU START CANOEING/ KAYAKING?
I started downriver kayaking in 1994 at the little club STV Siegburg close to Cologne. My godmother asked me if I want to join into a new group of kids learning kayaking. And there I was caught from the sport...
REASON FOR TAKING UP THE SPORT
He likes the fact that the sport is in nature and that he is always in contact with the water.
HOBBIES
Skiing, water sports, cycling
CLUB
Kanusport-Gemeinschaft Essen [KGE]: Germany
NAME OF COACH
Robert Berger and Stephan Stiefenhv?fer; National Team coaches are Arndt Hanisch and Stefan Ulm
SENIOR INTERNATIONAL DEBUT YEAR
Downriver 2001 world cup Lofer, Sprint racing 2007 Worldcup Gerardmer 
SENIOR INTERNATIONAL DEBUT COMPETITION
Downriver 2001 world cup Lofer, Sprint racing 2007 Worldcup Gerardmer 
MEMORABLE SPORTING ACHIEVEMENT
Winning Gold at the Olympics in RIO 2016 in the K4 1000m was super special. Also, my first K1 1000m world-champs-title in 2009 was special, as well this one in 2013 in front of my home crowd in Duisburg
MOST INFLUENTIAL PERSON IN CAREER
Stephan Stiefenhv?fer. Friend and coach. He took me after the death of my mom when I was 20, coached me to the top of wildcatter racing and pushed me to make the step to flatwater racing in 2007. There he always gave me his experience and his right feeling what I had to do in the special moments.
HERO/IDOL
My girlfriend because she accepts and supports my what I'm doing.
Inspiration is Michael Phelps because he has reached incredible results. As well in my own sports family Ronald Rauhe and Lutz Liwowski. But there are a lot of guys who are giving everything every day and pushing me and themselves to the limits and not everybody reached his childhood dream.
SUPERSTITIONS/ RITUALS/ BELIEFS
a little bit stupid... but on my personal start number at a regatta is the place written I can reach
SPORTING PHILOSOPHY/ MOTTO
"Anyone who sets a serious goal will achieve it." (maxhoff.de, 12 Apr 2016)
SPORTING PHILOSOPHY/ MOTTO
If you set a real goal to yourself and you are doing because you love it, you do whatever is possible and have no excuses for nothing you can and will make it. 
FAVOURITE PADDLING COURSE
Puh, there are a lot! Fish river South Africa, Fvºhlinger See in cologne (my original home regatta course until 2017), Newport beach California for training, and for sure a lot of rivers in the Alps. Best crowd in a competition we had 2012 in London. Always special is Szeged and for us germans Duisburg.
FAVOURITE FOOD
A good pasta and a nice fillet
FAVOURITE MUSIC
House and indy rock
AMBITIONS
Winning medals at the competitions doing what I love. Es well watching on Tokyo with a big last chance.
AWARDS AND HONORS
He was voted Best German Athlete of the 2015 European Games in Baku, Azerbaijan. (sport1.de, 01 Jul 2015)He was named Male Athlete of the Year in 2008, 2009 and 2014 in Cologne, Germany. (kanu-nrw.de, 11 Mar 2015)He was voted the 2011 Champion of the Year in Germany. (tui-deutschland.de, 07 Nov 2011)
Champion des Jahres 2011. (election of the athlete of the year in Germany, voted only by all other German athletes). Silbernes Lorbeerblat - highest award from the german government.
OTHER INFORMATION
NATIONAL FIRST He became the first German athlete from any sport to win an individual gold medal at European Games after claiming victory in the K1 1000m at the 2015 Games in Baku, Azerbaijan. "It's pretty cool, and nicer than winning at the European championships. The true value of this medal will be known later." (derwesten.de, 17 Jun 2015) SWITCH After starting out his career in wildwater canoeing, where athletes compete in races on rivers, he made the switch to flatwater ahead of the 2007 season. He made the decision as there was a lack of depth in Germany in the K1 1000m event. One of the initial challenges he faced was that he had to change his stroke technique to increase his power and reduce his stroke rate. (canoeicf.com, 10 Jan 2011) FURTHER EDUCATION In 2011 he began a post-graduate degree in business administration at the AKAD College in Leipzig, Germany. (maxhoff.de, 12 Apr 2016)
OTHER SPORTS
He was world champion in wildwater canoeing in 2006. He has also competed in canoe marathon. (canoeicf.com, 10 Jan 2011)
OTHER SPORTS
interested in everything, but being with skies in the snow in winter is great.