Michal JANE (CZE)

Czech Republic
Languages:
Czech, English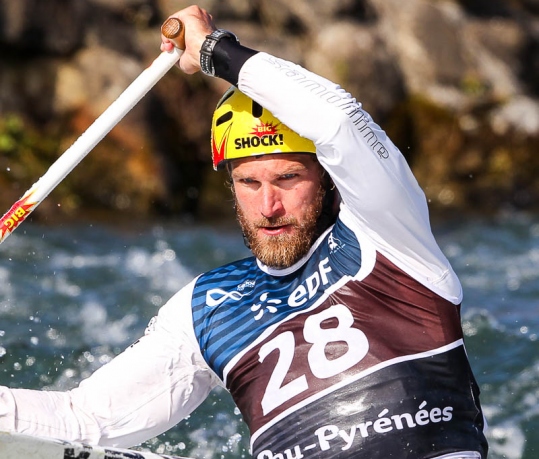 Biography
Further Personal Information
HIGHER EDUCATION
BSc degree at Physiotherapy
WHEN/WHERE DID YOU START CANOEING/ KAYAKING?
I started to paddle in my hometown - Hradec Králove, at year 1998.
REASON FOR TAKING UP THE SPORT
Since my age of 8 I used to paddle in a tourist canoe, and at spring in 1998 i was brought to the club which was specialized for slalom - C1 and leaded by Petr Sodomka, famous czech paddler from 70s and 80s. And at autumn i took bronze at czech junior championships as my first competiton.
I really like it because its quite hard work during whole year, especially during winter months, but when racing or training and you hit the good line, that feeling is special, and it will not cost you any unnecessary power...
CLUB
Dukla Brandýs - czech army club
NATIONALITY OF YOUR COACH
SINCE WHEN HAVE YOU BEEN COACHED BY HIM/ HER?
TRAINING REGIME
I usualy train 12-14 times a week, with sunday off. During the competing season a lot of paddling with few gym and running sessions added. During the off-season i try to be at water 5times a week at least, the rest is gym, swiming and some other dry prep. During winter, cross country skiing as well.
And i do a lot of skateboarding!
SENIOR INTERNATIONAL DEBUT YEAR
SENIOR INTERNATIONAL DEBUT COUNTRY
SENIOR INTERNATIONAL DEBUT COMPETITION
SENIOR INTERNATIONAL DEBUT LOCATION
MEMORABLE SPORTING ACHIEVEMENT
2010 WC praha - 1st
2013 WC cardiff - 3rd
2013 WC seu - 4th
2013 WCH praha - 8th
2015 czech championships - 1st
MOST INFLUENTIAL PERSON IN CAREER
my girlfriend/partner Simona
SUPERSTITIONS/ RITUALS/ BELIEFS
before start i splash water into my mouth and spit it out
FAVOURITE PADDLING COURSE
SPORTING RELATIVES
brother Jakub - C2 - Karlovský-Jáne