Michal MARTIKAN (SVK)

Slovakia
Languages:
Slovak, English, German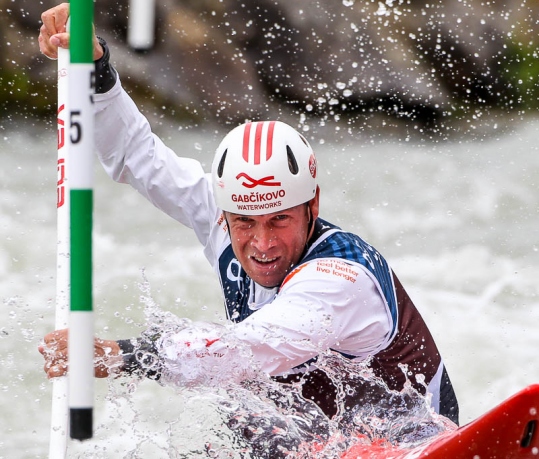 Biography
Further Personal Information
PLACE OF RESIDENCE
Liptovsky Mikulas
WHEN/WHERE DID YOU START CANOEING/ KAYAKING?
Started aged 9
HOBBIES
ice hockey, golf, windsurfing, ski mountaineering, ultra light aircraft
CLUB
Kanoe Tatra Klub Dukla Liptovsky Mikulas
NAME OF COACH
Jozef Martikan
NATIONALITY OF YOUR COACH
Slovakian
SINCE WHEN HAVE YOU BEEN COACHED BY HIM/ HER?
1988
TRAINING REGIME
Canoe slalom - 4 hours a day Regeneration - 12 hours a day Compensation exercise - 1 hour a day Other training - 1 hour a day
SENIOR INTERNATIONAL DEBUT YEAR
1994
SENIOR INTERNATIONAL DEBUT COUNTRY
UK
SENIOR INTERNATIONAL DEBUT COMPETITION
World Cup
SENIOR INTERNATIONAL DEBUT LOCATION
Nottingham
MEMORABLE SPORTING ACHIEVEMENT
Olympic golds. Winning gold at the 1996 Olympic Games in Atlanta
MOST INFLUENTIAL PERSON IN CAREER
Jozef Martikan
HERO/IDOL
British paddler Richard Fox
SPORTING PHILOSOPHY/ MOTTO
"Victories are wonderful, but losses give much more motivation. You cannot win without analysing your losses and mistakes."
FAVOURITE PADDLING COURSE
Athens canoe slalom course
FAVOURITE FOOD
"bryndzove halusky", sushi
AWARDS AND HONORS
He was named Slovak Canoe Association whitewater Athlete of the Year eight times between 2003 and 2014. (canoeslalom.sk, 23 Dec 2015)In 2010 he was inducted into the Whitewater Hall of Fame in Bretton Woods, NH, United States of America. (NOC, 14 Jul 2012)He was named Slovakian Athlete of the Year four times, in 1996, 1997, 2007 and 2008. (tvnoviny.sk, 22 Dec 2015)
OTHER INFORMATION
At Athens in 2004 he became the first slalom canoeist to win three Olympic medals. Since then he has become the only slalom canoeist to win five Olympic medals, which he achieved at five consecutive Games from 1996 to 2012 [also an unprecedented feat]. In 2014 he won his fifth overall World Cup title, more than any other C1 paddler, and he won a medal at 13 consecutive world championships from 1995 to 2014. In 1995, at age 16, he became the youngest canoe slalom World Cup winner. Then in 1996, at age 17, he became the first Olympic champion in any sport from the newly independent nation of Slovakia. (IOC, 13 Sep 2005; sport.pravda.sk, 20 Sep 2014)
SPORTING RELATIVES
His father and coach, Jozef Martikan, also competed in slalom canoeing