Michal SMOLEN (USA)

United States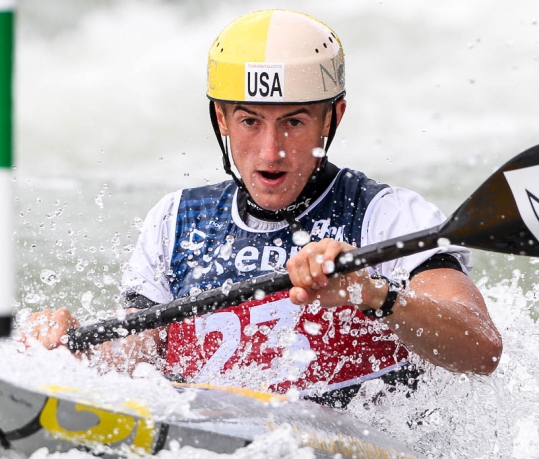 Biography
General Interest
Nicknames
Meesh (teamusa.org, 10 Jun 2015)
Hobbies
Mountain biking, climbing, playing the guitar. (teamusa.org, 10 Jun 2015)
Hero / Idol
British slalom paddler Campbell Walsh. (teamusa.org, 10 Jun 2015)
Sporting philosophy / motto
"Winning is not everything, but making the effort to win is." (teamusa.org, 10 Jun 2015)
Famous relatives
His father Rafal Smolen represented Poland in canoe slalom, and was an alternate for the Polish team at the 1992 and 1996 Olympic Games. His mother Agnieszka represented Poland in handball. (Facebook page, 08 Apr 2016; canoekayak.com, 16 Sep 2014; teamusa.org, 05 Apr 2016)
Other information
FROM POLAND TO THE UNITED STATES
Born in Krakow, Poland, he moved to the United States with his family at age nine when his father was appointed coach of Nantahala Racing Club in North Carolina. Despite finishing second at the 2012 US Olympic Trials, he was unable to take part in the 2012 Olympic Games in London because he was not yet a US citizen. He was granted US citizenship in February 2013. During his citizenship troubles, he considered competing for Poland, but ultimately decided against the idea. "We decided that it was not a good idea. I didn't really want to move back to Poland and represent a country that I didn't grow up in. I just wanted to represent the country that represented me." (canoekayak.com, 16 Sep 2014; teamusa.org, 05 Apr 2016)

MEDICAL CONDITION
At age 13 he was diagnosed with epilepsy. "When it first started happening, I wasn't going kayaking much because I was scared and I didn't want that to cause some problems in my life." However, doctors advised him it was safe to resume training as the seizures only occurred when he was asleep. "To this day, I have to take medication and periodical brain scans. Fortunately, my type of epilepsy is less severe than other kinds and the doctors have always told me that it is common to grow out of this condition." (michalsmolen.com, 15 May 2015; teamusa.org, 05 Apr 2016)
Sport Specific Information
When and where did you begin this sport?
He began paddling at age 10 and entered his first race the following year.
Why this sport?
His father Rafal represented Poland in canoe slalom and Smolen wanted to emulate him. He was initially scared of being alone in a boat on the water and took up swimming before later returning to paddling.
Club / Team
Nantahala Racing Club : United States
Name of coach
Rafal Smolen [national, father]
Training Regime
He trains at the US National Whitewater Center in Charlotte, NC, United States.
Further Personal Information
Date of birth
13 September 1993
Residence
Gastonia, NC, USA
Occupation
Athlete, Student
Languages
English, Polish
Higher education
Biology - Belmont Abbey College: United States