Pernille Brandstrup KNUDSEN (DEN)

Denmark
Languages:
Danish, English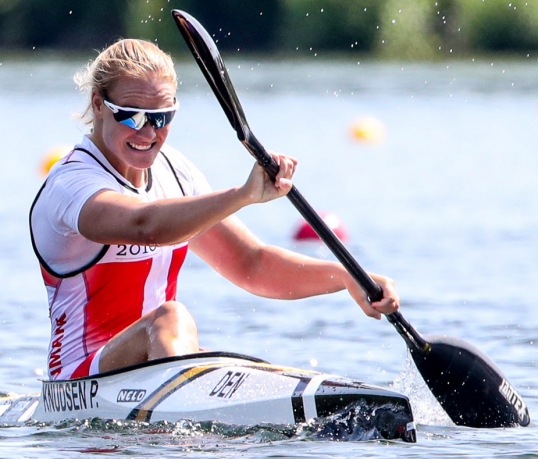 Biography
Further Personal Information
ICF WORLD CUPS
Year: 2016 - 2017 - 2018 - 2019
CONTINENTAL CHAMPIONSHIPS
OCCUPATION
Financial Economics Student
HIGHER EDUCATION
Studying at the business academy
WHEN/WHERE DID YOU START CANOEING/ KAYAKING?
6 years old in Gladsaxe Canoe & Kayak Club
REASON FOR TAKING UP THE SPORT
I have been a part of the sport since I was born because my mother was a big part of the sport, even though she had stopped her career. I was with her to competition etc., where she was starter and I was part of the medal ceremonies where I went in with the medals for the winning athletes.
NATIONALITY OF YOUR COACH
SINCE WHEN HAVE YOU BEEN COACHED BY HIM/ HER?
PREFERRED POSITION / STANCE / STYLE / TECHNIQUE
TRAINING PARTNER(S)
Emma Jørgensen, Julie Frølund, Bolette Nyvang, Emma Bock, Sara Milthers
SUPERSTITIONS/ RITUALS/ BELIEFS
I always visit my grandfather's grave and light candles before a competition.
SPORTING PHILOSOPHY/ MOTTO
Don't talk, just act! Don't say, just show! Don't promise, just prove!
FAVOURITE PADDLING COURSE
SPORTING RELATIVES
My Grandfarther started paddle canoe many years ago. 
My mother and aunt have paddle kayak and been to the Olympics twice. 
My brother and I are on the same National Team now. My cousins also paddle kayaks and are on the U23 and U16 National team.
DEBUT
Year: 2003 (6 years old).